Embrace the Life-Changing Connection with Your Archangels
Top Psychic Medium and Women's World Columnist Shows You How to Strengthen Your Spiritual Bonds
Through my transformative teachings, I have empowered thousands to forge life-changing connections with their guardian angels. Having personally experienced the miraculous intervention of archangels during the birth of both my children, I hold a deeply rooted passion for sharing this divine wisdom. My unwavering dedication to guiding others in building their personal relationships with these celestial beings stems from a profound understanding of the impact they can have on our lives. Let me help you unveil the extraordinary power of archangels and uncover the limitless potential that lies within you.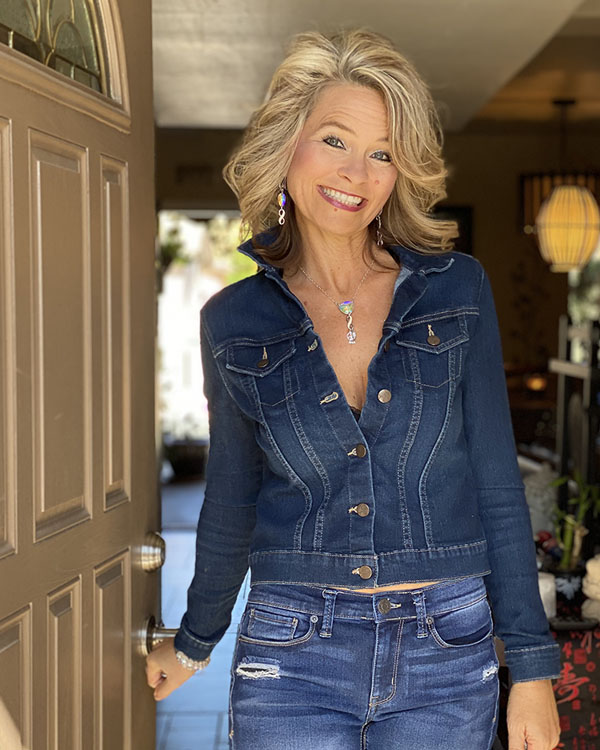 Unveil the 7 Life-Saving Archangels
and Unlock the Secrets to Identifying and Communicating with Your Guardian Angels! Embark on this remarkable journey today!
My Journey with the Angels
Step into the mystical domain of angelic beings, guardians of humankind. Their mission? To uplift, protect, and illuminate our lives.

Have you ever pondered their existence? Welcome them into your world. Allow these divine guides to steer you towards self-love, wellness, abundance, peace, and joy. Reach out. Invite them. You see, in doing so, you grant them the privilege of intervening on your behalf.
But remember: free will is sacred. Angels? They'll never infringe upon it. They'll act only when called upon. So, go on. Ask. Seek their guidance.
Click play to hear me talk about Ask – Allow – Believe – Receive.
Ask
Begin by asking for assistance: For the angels to help in any area of your life, you must first "ask" for their assistance. There is no right or wrong way to do this.
Allow
Release the need to control the situa­tion and be open to receive: Allowing is as easy as "getting out of your own way."
Believe
Trust that the Angels will guide you in perfect divine time: Trust can be one of the most difficult attitudes to adopt, especially when you do not have any evidence that you will receive what you desire.
Receive
Listen to your intuitive guidance and give thanks: You've asked, allowed, and believed. The last step is to now receive.
Discover More About Angels
Discover How You Get Your Messages from Spirit
Everyone is intuitive. However, it can manifest in different ways. Find out how you get your messages by taking my quiz!!
Discover Which Archangel is BEST for you to Work With!
Angels are powerful partners, especially during times of great change.  Take this quiz to reveal which Archangel is BEST for you!
All
Afterlife
Angel Numbers
Elevate Your Life
Full Moon
Intuition
Spiritual Biz
All
Afterlife
Angel Numbers
Elevate Your Life
Full Moon
Intuition
Spiritual Biz
Let's Continue this Journey Together

Books, Jewelry, Essential Oils, Card Decks, Intuition Kits, T-Shirts, Sweat Shirts, Meditation & Music, Home & Living Products, Stones, Crystals and LIVE Online Sales from my store.
SHOP HERE
Angel Day, Mystery Trips, Destination Travel, Sedona Retreats
Sunny's gifts of healing and inspiring people to live their most authentic lives speaks for themselves. Sunny's wisdom and compassion is endless. Whether it's watching her work her magic on stages all across the country, or seeing her work with someone on a one to one personal level, her integrity, light, kindness, honesty, support, and love are undeniable.
Sunny's infectious warm heartedness comes through in every aspect of her that I know. Whether it be as teacher, friend, speaker, author, or just authentic Sunny, her deep strength combined with her genuine humility is refreshing to see in this current paradigm. She is also a smart, funny, and beautiful human being. Most of all, I am proud to call her my friend!