I truly believe that writing can heal our hearts … Even if you never share your writing, the release of the energy and emotion within your body can be truly life saving. So, for those of you that are interested in sharing your story in a bigger way, this blog, The Writing Nook, is for you. And, for those of you that just want to heal and release your story, this blog is for you too … For those of you that don't know if writing is for you or not, I'm sure you'll find something in here to resonate with as well. Enjoy … and please … I'd love to hear what your thoughts are in the comments below. Can you relate? Let us know what you think – Blessings SDJ♥


Developing a Daily Journaling Habit

Developing a daily journaling habit is beneficial in many ways and is thought to unlock creativity for writers and artists. Not to mention, journaling has been proven as a healing and therapeutic process, yet some of us slack on the practice of journaling because we simply run out of things to write about.
While journaling can be an effective tool to work through problems and process emotions as they arise, it may also be beneficial for someone who is looking to strengthen the writing muscle and develop a daily writing ritual. A fun way to get into the habit of daily journaling is to utilize journal prompts, and what better way to do that than through a Journal Jar!
 
What's a Journal Jar?
A decorative jar filled with writing prompts … created by you! This will help on those days when you feel stuck and just don't know what to write about. Simply pull out a prompt and see what you get! Chances are, you'll pull exactly what's needed at the moment. Before long, you'll look forward to your special journaling time and it will become an exciting part of your daily writing routine.
 
How to Make a Journal Jar:
Find a jar to decorate. This can be anything from a mason jar to a flower vase. Decorate it with twine, ribbon, bows, paint, stickers—whatever your heart desires!
Cut up a minimum of thirty pieces of paper (leave enough room to write out a prompt), but if you are feeling inspired, by all means, create more!
Write one prompt or inspiration per piece of paper. This could be anything from your favorite inspirational quotes to writing prompts you come up with on your own. I've added a list to get you started:
20 things I'm grateful for today…
If life were a journey, mine would be about….
When I reflect on my life story, these are the patterns I recognize…
Here's something nobody knows about me…
If I met me, would I like me?
The one thing I regret the most…
The person I'm missing the most today…
Dear _________, I wish I had told you…
50 things on my bucket list…
A day in the life of my dreams…
The most influential book I've ever read and how it changed my life…
Dear Past Me…
Dear Future Me…
Dear Body…
Dear Fear…
If a genie were to grant me three wishes…
My book-writing goals…
My short- and long-term goals…
Dear unfinished manuscript…
Ten years from now…
Who am I when no one is looking?
In hindsight, it wasn't the best idea I've ever had….
This is my "Why"…
Fold your prompts and place them inside your jar. Give it a good shake to mix them up!
Each day, vow to spend a minimum of twenty minutes writing in your journal. You might even set a goal to journal for 30 minutes each day and set a timer when you begin. This is your special time so enjoy it! Grab a cup of tea, perhaps go outside in nature. The goal is to take some time each day just for you.
 
"When we meet our creativity, we meet ourselves, and that encounter happens in the moment."
~ Julia Cameron

Take your time and have fun with this! You might even decide to round up the girls and have a ladies night IN!  To host your own journal jar party, have a nice cache of supplies and jars available for everyone to choose from. Maybe even have a prize at the end for "best decorated" jar or "most creative" prompt. With a room full of friends swapping journal prompt ideas, you shouldn't have any trouble coming up with enough prompts to fill your jar.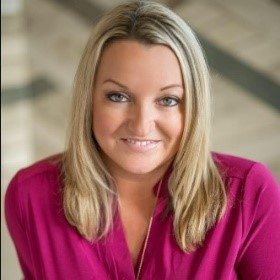 Shanda Trofe is a best-selling author, publisher, and author coach. As the founder of Spiritual Writers Network and Transcendent Publishing, she's made it her life's work to assist aspiring authors through the book-writing process and on to publication. Shanda helps writers find their voice and extract the unique messages from within. She resides in St. Petersburg, FL with her husband and two fur babies. www.shandatrofe.com.