SUNNY'S STORE
It was Saturday, August 26th of 2017 – I was in the midst of Sunny's Body Revival class – when Hurricane Harvey blew into the Houston area. I reached out to my Soul Sisters for love, prayers and support for everyone involved. At that time, I felt underwhelmed by the media hype due to the fact that I had experienced numerous hurricanes and various types of storms in the past here in the south. As the storm system kept circling the area however, I began to get anxious and fearful. The media kept us informed and warned us about potential flooding that would occur later that Sunday evening due to the release of damn water from two reservoirs. In preparing for impending doom, my neighbors and I raised my prized possessions off the floor anticipating the worst. As I began to pray to God, the universe, angels, saints and ascended masters (and whoever else was listening, LOL) to keep the water out of my house, I burned and blessed every room with Palo Santo wood. The water continued to rise, and fear began to take over. I received many calls and text messages with a sense of urgency to leave as soon as I could. I heard an inner voice telling me "It's time to go." With strong convictions I persuaded my neighbors to leave too. We eventually evacuated our homes by boat with very few belongings. As we were floating down the street I remember thinking to myself, "What will I find when I come back after all of this is over." As I was standing in the rain, waiting to be rescued, I felt like a limp noodle. Once I reached a dry area, I was rescued by my cousins. I have never felt so happy to see their smiling faces. They drove me to my friend Monica's house. Ironically, she lives on a street named Drybank Creek Lane. Frightened and weakened at this point, I knew that I was safe, and that God, and my angels had saved me from any potential harm.
One week later, as the water receded, I was able to return to my home safely to find very little damaged by the flooding. I felt so blessed, full of gratitude for myself, but was so heartbroken for those who were not so fortunate. This included my own neighbors, family members and coworkers. I had a flood of emotions for the next few weeks to say the least. I felt as though I needed to do more and render aid somehow to people in need.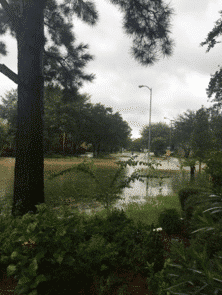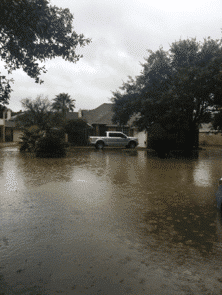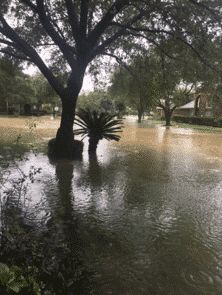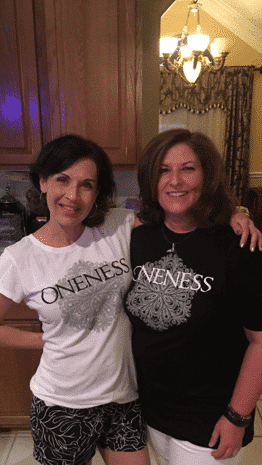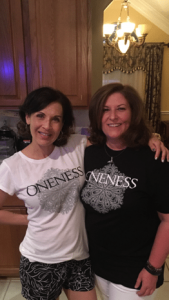 Sunny reached out to me to see what people needed and if I would be willing to distribute goods (personal care items and money) directly to the people in need. I graciously and confidently said "Yes!" Numerous packages began to arrive daily for a couple of weeks. Feeling a bit overwhelmed, I asked my friend and coworker, Lisa Marie, to help me with all of the donations we received from Sunny's alliance. I am an emergency nurse practitioner and Lisa Marie is a medical assistant at Next Level Urgent Care in the greater Houston area. Every day we provide excellent care and service to our community … but this was a God-sent assignment, channeled by Sunny. Once everything was organized in the trunk of my car, Sunny's Store was born and open for whoever was in need and willing to receive.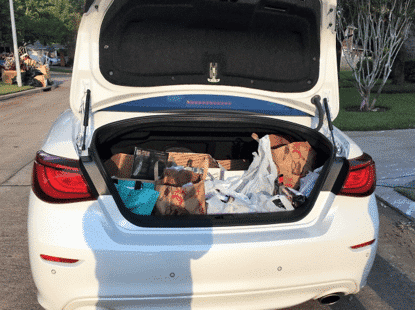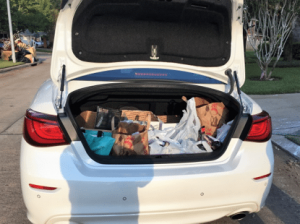 We began our journey in the Cinco Ranch neighborhood in Katy, where every house had three to five feet of water from the release of water from the Barker Damn.  Here are a few pics of the tragic damage. My heart sank to my toes and tears fell down our faces as we drove through the streets witnessing the piles of life-long possessions rotting and molding on their front lawns. Even though the exterior part of the houses looked intact, the interior part of the houses were completely destroyed. Just like the people we met, their physical appearance looked normal, but their inner world was completely shattered. Even in their shattered states we witnessed neighbors helping neighbors. In the spirit of oneness, all barriers were broken – no matter color, creed, race or religion. We stood – Houston strong.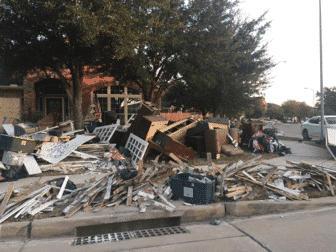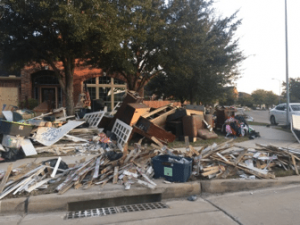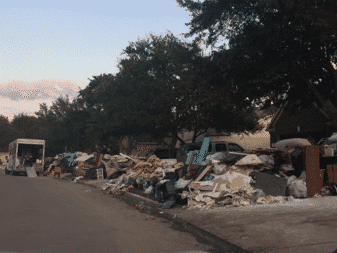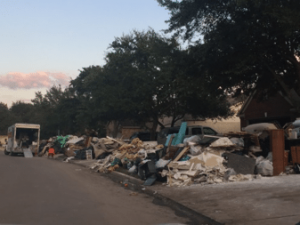 We had the pleasure of meeting many people who wanted to share their stories and experiences from the flood. These people were broken but were full of hope to rebuild their homes and lives. One of the first people we met was Lisa. As we pulled up to her house and rolled down the window, Lisa Marie asked her if she needed anything like personal care items. Tears began to roll down her face as Lisa Marie jumped out of the car to hug her neck. She told us that she lost her job that morning because she had to make a choice between going to work or dealing with the rebuild of her house.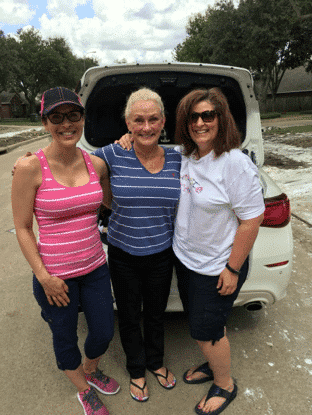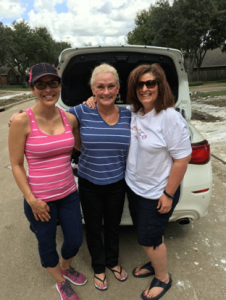 The people that were open to receiving our donations were deeply grateful, but surprised that we were going directly to the people that were most affected by Harvey. Many voiced that as the weeks went by, they felt forgotten. We brought new life and hope to their current situation. While some people were open to our presence and donations, we found some who were reluctant to receiving "handouts" and came across closed to having any conversation and would send us on our way.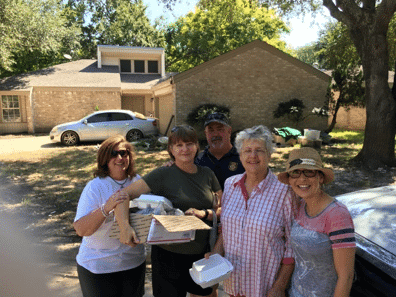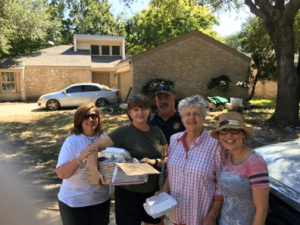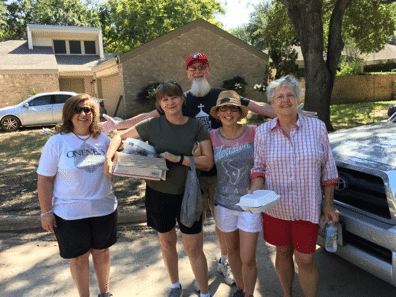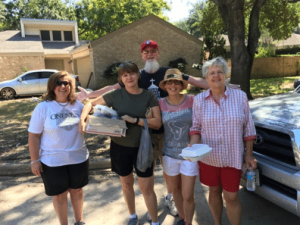 This is the fire chief for the area and their neighbors in the Mayde Creek subdivision next to mine. This is the third time they have flooded, and they have decided to move this time. There were also good Samaritans from a local church giving BBQ to the flood victims in the Mayde Creek neighborhood.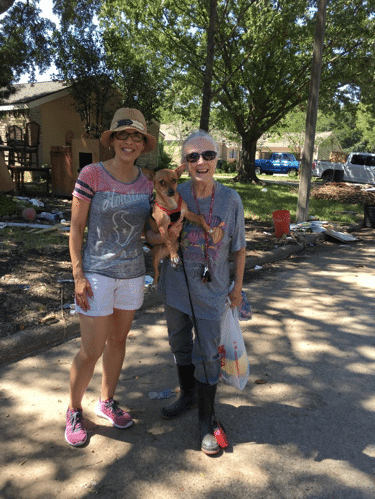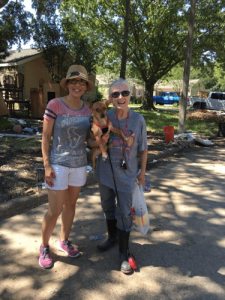 This is Leslie an eighty-three-year-old woman and her dog. She affected us the most because she was so vibrant and full of hope. She was such a beautiful spirit that we could have talked to her all day. We could see God's love working through her as she told us about her childhood, all the places that she had lived and the jobs she had. She openly embraced our presence and invited us into her home to show us the damage and her lifelong treasures and antiques. We will definitely be back to visit her very soon.
It's amazing how small acts of kindness bring people to tears, especially those who have been affected by Hurricane Harvey. Just the words "do you need anything" can mean so much. No one could get through their story without breaking down. Every time we would hug someone's neck we could feel everything they were feeling. We were hoping that the love we were giving to them would ease some of their pain. Lisa Marie and I were just two people pouring out love to complete strangers experiencing some of the darkest times of their lives. But after our encounters they would never be strangers again. Our hearts were full and filled with a plethora of feelings and emotions. After handing out donations in the Bear Creek area we met one last family on our way out. I decided to give this woman and her family some money (in the second photo below). When I approached the woman, Lisa Marie was sitting in the car. She told me later "I could feel the love wash over me as I watched the tears stream down the woman's face."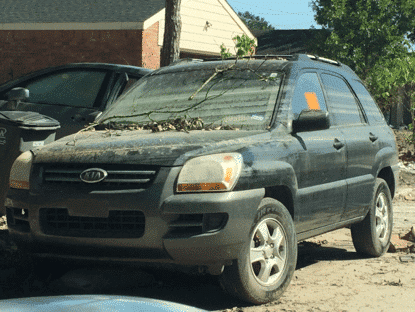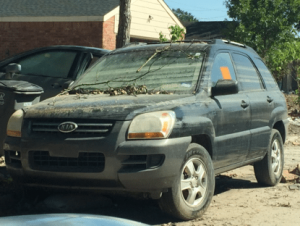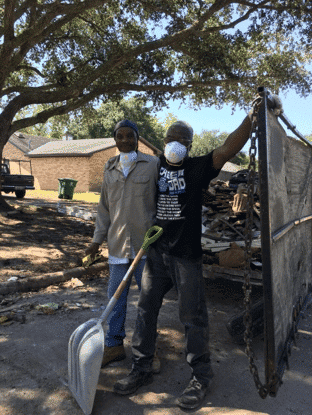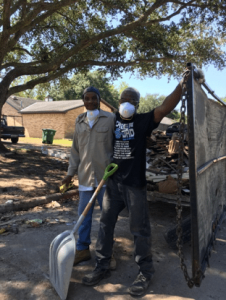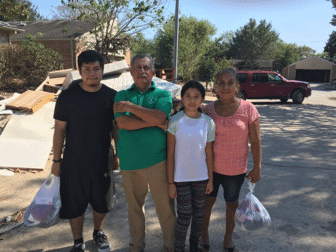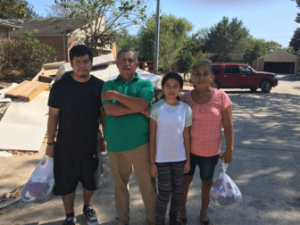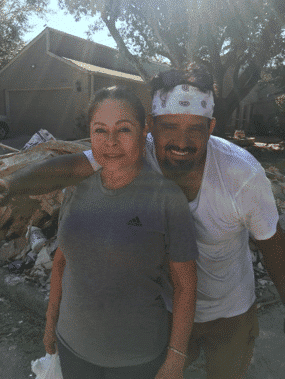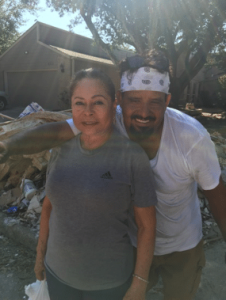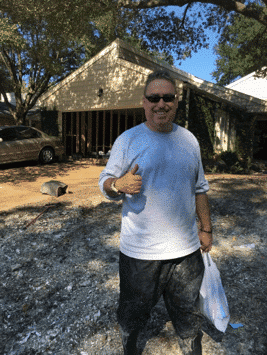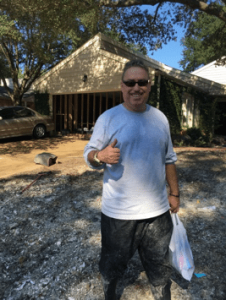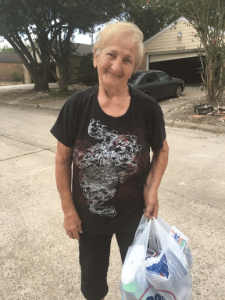 This is Juliana, an eighty-three-year-old woman from Romania. She lives here all alone while the rest of her family lives back home. She had people from Alabama volunteer to demolish and help to rebuild her house. She was extremely thankful for goods and money. She could not stop kissing and hugging on us.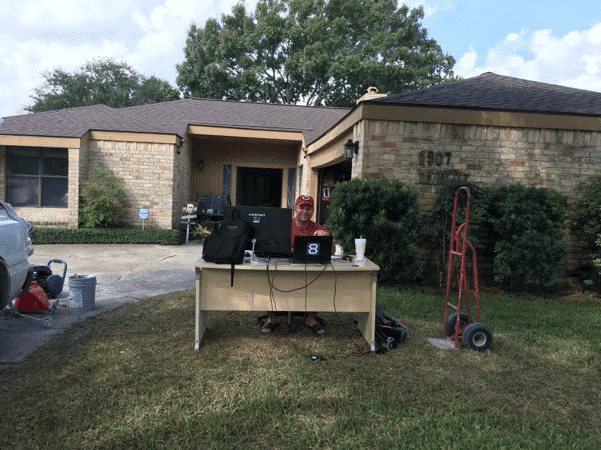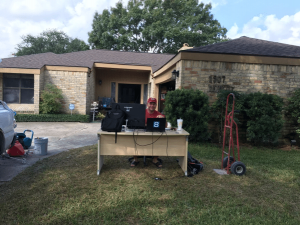 This is Jim. He works from home. He decided to take his office outside to his front lawn to enjoy the fresh air while the workers were rebuilding his house. He expressed how blessed he was through the whole ordeal and that things were progressing well for he and his family. He had a great attitude but declined personal goods because he felt there were others who needed them more than he did.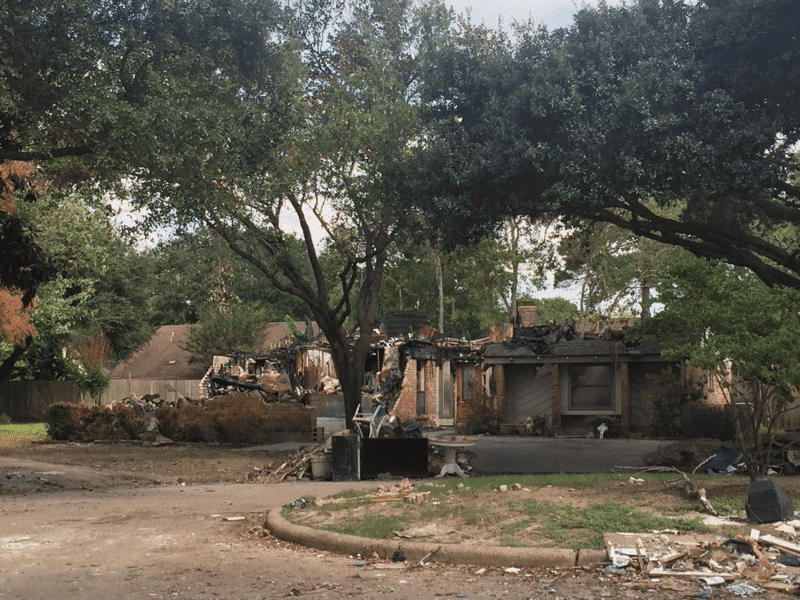 Jim told us about a house a few streets over that had burned down.  As the story goes, the woman who owned the house had evacuated but returned to rescue her cat … and as she closed the door to leave, the house exploded. The woman and her cat escaped, and they are safe and sound.
In conclusion, we have learned that in the midst of tragedy and devastation, there are people wanting to give and receive love. People wanted to tell their stories and we were willing to listen and embody all of their experiences. It felt gratifying to go out into the community, shine our light, to listen and give love where it was welcomed. I thank Sunny Dawn Johnston for this opportunity to serve people in a unique way. Thank you for trusting me to do the work of God. I am a firm believer that everything happens for a reason and for our highest good, and indeed it did. And so it is.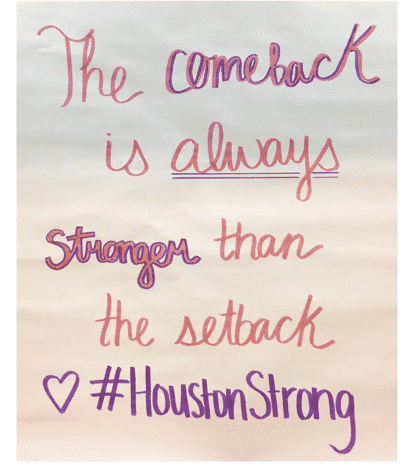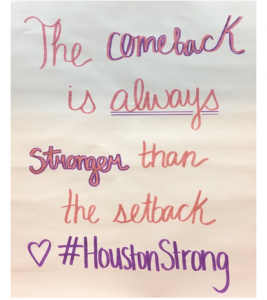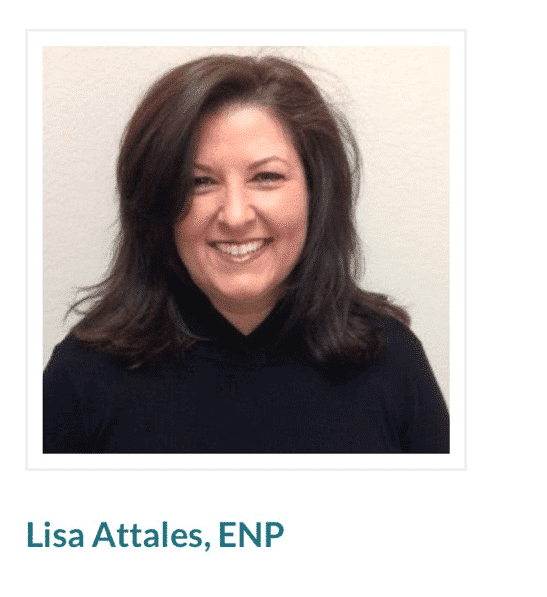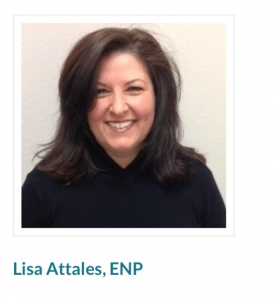 Lisa Attales, an emergency nurse practitioner, is a native of Louisiana where she attended LSUMC in New Orleans and graduated with her BSN in1991. She then traveled and explored the United States from coast-to-coast, working in numerous emergency departments for a few years. She came to Houston in 1999 to pursue her Master's Degree at UTHSC and graduated from the emergency practitioner program in 2001. She has worked in emergency departments throughout the Greater Houston area for thirteen years.  For the last four years she has been employed at Next Level Urgent Care.