I always love the energy of the full moon – well … almost always. Sometimes it gets a bit intense, which is why I ask people that tune into moon energy to let me know, in advance … what to be mindful of. I'm one of those types of people that would rather have awareness ahead of time … than not … so … Here is some great info for this month's FULL MOON by Melissa Corter – Enjoy – SDJ ♥
September 14th 2019 Full Moon in Pisces
 This Full Moon is a special one, being so close to the autumn equinox on September 22nd/23rd. The energy of this full moon highlights the various ways we "gather". How do you gather your thoughts, resources, and come together in unifying ways? This Full Moon casts light to the many forms of abundance we have always all around us. It is a choice to see through the eyes of plenty and to feel it with a heart of appreciation.
Water signs may feel a bit more emotional during this Full Moon; this can be beautiful, bringing you in touch with the deeper layers of your being. You may have a sense of "being home" within yourself more fully. Let this feeling of contentment shine into the other areas of your life. Express this form of abundance by giving of self, while including yourself within the gifts you give. Pisces tend to have tender, gentle hearts – the perfect essence complimented and accentuated with this Full Moon.
Pisces are at home with water, having a sincere appreciation for all thing nourishing. With any Full Moon we can feel an excess of emotion; and for those who are out of touch with their emotions, it can bring up resistance. The key is to surrender into the discomfort; that act alone soothes the nervous system and engages the higher self. Full Moons also have a supportive energy to allow forgiveness to take place; mix this intent with the emotional nature of Pisces energy, and you may just surprise yourself in how good it can feel to let go of long standing grudges or resentments.
With all Full Moons there is also an essential force blessing us with the potentiality tucked within our cells and hearts. Allow this essence to guide you into the secret desires you hold, some so deep they may even be a mystery to your own mind. The Moon can bring them up, usually through the illusion of something else moving away; this is a gift, all that no longer serves can go to its rightful and perfect place within the universe.
September is also known as the Full Corn Moon or the Full Harvest Moon. This full Moon name is attributed to Native Americans because it marked when corn was supposed to be harvested. Most often, the September full Moon is actually the Harvest Moon, which is the full Moon that occurs closest to the autumn equinox. In two years out of three, the Harvest Moon comes in September, but in some years it occurs in October. At the peak of harvest, farmers can work late into the night by the light of this Moon. Usually the full Moon rises an average of 50 minutes later each night, but for the few nights around the Harvest Moon, the Moon seems to rise at nearly the same time each night: just 25 to 30 minutes later across the U.S., and only 10 to 20 minutes later for much of Canada and Europe. Corn, pumpkins, squash, beans, and wild rice – the chief Indian staples – are now ready for gathering.
(Farmer's Almanac)
"The moon does not fight. It attacks no one. It does not worry. It does not try to crush others. It keeps to its course, but by its very nature, it gently influences. What other body could pull an entire ocean from shore to shore? The moon is faithful to its nature and its power is never diminished."
~ Deng Ming-Dao
 
Tips for the September 14th Full Moon:
Be gentle, humble, and yet serving of self with self-care and nourishing acts of the body, mind, and soul. Allow emotions to surface, all while remembering to witness them, not attaching to them. The water element teaches us to rest back into our natural state of being; all else can rise to the surface and flow out in our state of surrender and cooperation.
Ways you can allow this Full Moon to support you:
Find out when the moon rise is in your city by going here: http://www.timeanddate.com/moon/
Find a place where you can see or sense the energy of the full moon. Preferably a comfortable position with the moon in sight. If you can sit outside, on the earth for this exercise you may notice a larger shift.
Bring a journal/notebook, writing utensil, and glass of water for this experience.
As you sit in the moonlight, hold the glass of water in your hands, allowing the Moonlight to touch it. Imagine the light of the moon infusing the water.
Bring to mind, something you are ready to let go of or find yourself struggling to figure out.
Imagine now, as you sip the water, the answers are awakening with you. Spend five to ten minutes slowly savoring and drinking the water.
When you have finished the water, bring your awareness to your heart. Write down anything you notice or feel, free writing in the Moonlight and letting the words flow.
Stay with this experience for a few more minutes allowing the Moon to support you in releasing or receiving.
*Reminder: each full moon will impact you for up to 3 days prior to the full moon and 3 days after the full moon.
Full moons are always powerful times for releasing and letting go. Try creating your own ceremony or honoring of this time to embrace the energy that this time has to help you create space in your life for what you truly desire. As always remember, you are not alone in experiencing this phase, be mindful of this when encountering others over these next few days. Send them love as they are also shining a light on themselves and may be extra sensitive during this time. The next full moon is in the sign of Aries on October 13th and is known as the Full Hunter's Moon or Full Harvest Moon.
Melissa Kim Corter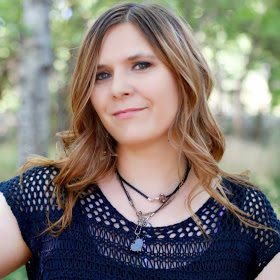 Melissa Kim Corter is a Certified Hypnotherapist and Shamanic practitioner certified over 20 healing modalities. She helps clients release fear & clear away the emotional clutter from their life experiences. Through various modalities coupled with her heightened intuition, she connects with your spirit for expanded truth and guidance on how to shift limiting beliefs. The earth, moon, and elements have been a channel for deeper levels of healing and connection for Melissa, stirring a passion within her to teach others to embrace the natural world.
Do you feel erratic, wonky, or emotional during the Full Moon? The Moon holds the key to the subconscious mind. Book a session with Melissa during the Full Moon to move the energy, uncover the blocks and find your own natural rhythm and harmony within the moon cycles.
http://melissacorter.com/product/private-session-with-melissa/
www.melissacorter.com