September's Full Moon will provoke you in the best ways possible – go for the dream, move words into action, and witness your reality shapeshift to match the desires tucked deep within your heart. This Full Moon coincides with Mercury Retrograde, a reminder of working with subtle energy to find your footing in this cosmic terrain that can sometimes feel disorienting or confusing. This occurs any time we experience various forces converging and drawing out inner feelings, stuck emotions, or stagnant energy. Trust the process; the lunar pull will not always make sense to the conscious mind because it cannot be faced with logic – it is worked with presence, intuition, and feeling.
This Full Moon will offer gifts of 'knowing' and expanded connection for those who are willing to trust the intangible and follow their inner guidance. Be mindful to discern between old emotion surfacing and intuition; presence will be your compass to navigate these invisible currents. The watery nature of Pisces offers a fluidity of movement and amplification of intuitive awareness. Trust and intention are intentional guideposts – lean on them as your journey through this time. Water can be an overwhelming element – if you find yourself feeling "swallowed up by" or "flooded with" emotion, go outside and ground, touch bare feet on the Earth or soil.
"Full Corn Moon" Meaning: Corn was ready to harvest at this time. In the 1760s, Captain Jonathan Carver came across this Native American term during his travels. Similarly, the Western Abenaki called this the Corn Maker Moon, and the Dakota, the Corn Harvest Moon. Harvest Moon refers to the Full Moon closest to the September equinox. Moon When Rice is Laid Up to Dry (Dakota) refers to the time of harvesting and processing rice. Autumn Moon (Cree), Falling Leaves Moon (Ojibwe), Leaves Turning Moon (Anishinaabe), Moon of Brown Leaves (Lakota), and Yellow Leaf Moon (Assiniboine) all speak to the leaf-changing season. Child Moon (Tlingit) occurs when young animals are weaned. Mating Moon and Rutting Moon are Cree terms that describe the time when certain animals, such as moose, are ready to mate. (Farmer's Almanac)
"The day of the full moon, when the moon is neither increasing nor decreasing, the Babylonians called Sa-bat, meaning "heart-rest." ~ Tom Robbins
Tips for The September 2022 Pisces Full Moon:
A massive component of working with the energy of this Full Moon is surrender, a word that often summons resistance. Keeping in mind the flexible energy of Pisces, going with the flow and surrender become tools of the time, and finding comfort in the release invites a sense of what the Greeks referred to as kathairein. This word translates to catharsis, which means to cleanse or to purge – the natural movement of the Full Moon in this particular phase of the lunar cycle.
There might be a nudge to clean out the cabinets and release old unused items or clutter around the home; a cleanse or fast might also feel in alignment. This need not feel heavy, intense, or like a struggle if you allow the purge to become a ritual or ceremony, honoring each item before letting it go. Do not be surprised if people or situations resurface from long ago; this is common during a Mercury Retrograde period. Try not to make it mean anything more than a deeper excavation happening beyond the level of sight. Trust the process, let the past remain in the past, and work through the inner conflict that might arise in fully letting go.
Not everything is meant to be dealt with directly or literally; some things can be done energetically as you focus on the intention and work with the energy or the higher self of an individual. Surrender and hot salt baths are your allies at this time. Before making a move or opening a closed door, take some time to be … try to wait out the urge until the Full Moon intensity has lessened; you will be glad you waited and refrained from the impulse.
Ways You Can Connect to This Full Moon:
Find out when the moon rise is in your city by going here: http://www.timeanddate.com/moon/
Find a place where you can see or sense the energy of the Full Moon, preferably a comfortable position with the moon in sight. (You may choose to do this exercise while sitting in a hot bath)
Begin breathing deeply, feeling the air move in and out of your lungs, expanding with each breath in. Begin moving inward, connecting with the element of water.
Notice any feelings or emotions and give yourself the patience, presence, and gift of allowing the energy to move through you. If old thoughts, patterns, or cycles are resurfacing, allow them to come forward in this moment. Giving attention in this way can soften their impact and help you retrieve the wisdom they offer.
Spend a few moments feeling and sensing into these qualities. Allow your breath (and the water if in the tub) to help move the energy through.
Once complete, visualize filling back up with golden light, filling in all the spaces and shadows with light.
Take time with this, do not rush. If you feel guided, you can journal and then safely burn and release your pages during this Full Moon cycle. In addition, you can go outside and plant your feet on the Earth to continue the release while grounding and filling with the light of the moon.
*Reminder: each Full Moon can impact you for up to 3 days prior to the Full Moon and 3 days after the Full Moon.
Full Moons are always powerful times for releasing and letting go. Try creating your own ceremony or honoring of this time to embrace the energy that this time has to help you create space in your life for what you truly desire. As always, remember, you are not alone in experiencing this phase. Be mindful of this when encountering others over these next few days. Send them love as they are also shining a light on themselves and may be extra sensitive during this time. The next Full Moon is in the sign of Aries on October 9th and is known as the Full Hunter's Moon.
Want to clear your space during the Full Moon? Try out Sunny's organic White Sage. A smudging ceremony completed with white sage is a simple way to relieve the negativity in your soul or your home and replace it with positive intentions and energy! Check it out HERE in the SDJ Boutique.
Melissa Kim Corter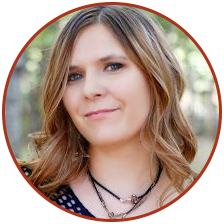 Melissa Kim Corter is a best-selling author, intuitive coach, and clinical hypnotherapist. She helps women overcome money and visibility blocks with evidence-based and spiritual approaches. She guides entrepreneurs to manifest increased levels of financial and emotional success with her heightened intuition. Melissa mentors entrepreneurs to hone their message and gifts, while activating potential. She feels we're here to live a legacy, not just leave one behind. Melissa builds business with magic, ritual, and strategy; weaving joy into the talents our souls came to express. She's the founder of Wild Woman Inc., a sacred online gathering space and marketplace for the woman "who knows her magic" and seeks to celebrate it with other conscious, collaborative, women. Check out the Wild Woman Marketplace for witchy, wise, magical, and mystical products and services for women. http://wild-woman.com/