This guest blog is from a client, student, colleague and friend, Shanda Trofe. She lives in St. Petersburg Florida and was forecast to be at the eye of IRMA. Her family made a choice to stay put, and with that choice came a lot of insight. I truly believe that Harvey, Irma and many others are coming to teach us … so much. What have you learned? Here's Shanda's story and what she became aware of. I'd love to hear what your thoughts are. Please share in the comments below. For those of you that have been touched by the hurricane, in whatever form, I send you Love and Light … And stand as a LIGHTHOUSE!!!  – Blessings SDJ♥

I normally write a guest blog post for The Writer's Nook on Sunny Dawn Johnston's blog, but this month I was unable to submit my article in time. As the deadline drew near, so did the impending news of Hurricane Irma, one of the deadliest and largest storms in history, according to the media, but more on that later. Needless to say, I had a hard time concentrating on my writing when the fate of our future was drawing closer each day—hour by hour, minute by minute, second by second. Would we survive such a storm headed right toward us? That was the question on millions of Floridians' minds as we heard the forecast that we would indeed be hit by this massive storm. Where it would hit … well, nobody knew for sure.
As an empath, I have a personal rule for self-care not to watch the news. It fact, my loved ones and those close to me understand that I refuse to watch and know that if something in the world is life-threatening or requires my immediate attention, they will alert me or fill me in on the details. This is a personal choice I made when I was studying journalism back in college. That's when I learned the ethics of the media and the motives of some journalists, deciding that wasn't a world I wanted to be a part of either as a journalist myself or by feeding into their hype.
As you can imagine, it wasn't long before the frantic calls and messages about the hurricane starting to come in from concerned family members and friends out of state. I could feel their fear and concern, and knew this is something I might want to see. So, I flipped on the news and lo and behold, there was a hurricane named Irma off in the Atlantic heading toward the Caribbean. It would be several days before it reached us in Florida—six action-packed days of anticipation and torture, to be exact.
Do we stay or do we go?
That was the question of the hour. As the storm ripped through the islands and headed toward Cuba, it was initially projected that Irma would make landfall in southeast Florida. With only two major interstates out of South Florida, a mandatory evacuation of the Keys and then the greater Miami area had several-million people trying to evacuate the bottom of our peninsula of a state all at once.
On the west coast of the state, where I reside in Tampa, FL, we were starting to hear reports of stations running out of gas and motorists stranded on the side of the road. This is not where any of us wanted to be when a hurricane hit, and since it was projected to make landfall on the east coast of our state, we thought we might be a little safer. However, the storm was massive in size and looked larger than our entire state from the shots on the news and those being shared across social media.
In 2004 and 2005, a series of hurricanes ripped through Florida, and I lived on the southeast coast of the state at the time, so I know just how unpredictable these storms can be. In fact, it was Hurricane Wilma back in 2005 that prompted me to leave Florida for a few years, and I headed back home to Michigan. That storm was in the Gulf of Mexico when it made landfall, so we thought we were in the clear, but it crossed the state and pummeled us harder than any other storm that year. It knocked out power for nearly two weeks, and living through Wilma placed a fear deep within me that Irma was now stirring up. Flashbacks of Wilma had me riddled with fear, so this is about the time I decided to throw out my rule about the media; quickly I was glued to reports as we waited to see what would happen next. Watching the news started to become an obsession, and I found I couldn't turn it off. Even when I forced myself to turn the TV off, it wasn't long before I felt I had to tune back in to learn what was going on. This was causing me to have panic attacks for the first time in my life, and I would fall asleep watching the news only to wake up with night terrors every night leading up to the arrival of the storm.
Once the storm hit Cuba, it became unknown if Irma would actually make landfall in southeast Florida or come into the Gulf of Mexico to hit the west coast of our state. By now, we were receiving news that hotels were filled to capacity, traffic out of Florida was traveling at a rate of 5-7 mph, and gas was scarce. I was even getting word from friends as far north as Atlanta, Georgia that supplies, hotel rooms and gas were almost non-existent in outlying areas as well.
How could we risk leaving at this point? By the time it seemed necessary to go, it was almost too late. Even though our gas tanks were full, that wasn't enough to get us out of Florida, so by the time the storm was projected to come into the Gulf of Mexico, it would be too dangerous to risk leaving. This is something people outside of Florida couldn't quite understand.
We started receiving phone calls and messages from friends and loved ones out of state whose information was mostly from the Weather Channel and CNN.  The media seemed to have everyone in a frenzy, because I would answer my phone to hear people in an uproar, claiming I was "stupid" and "ignorant" for not leaving, and even telling me I was going to die.  Not what you need to hear when your stress level is off the charts! We were having judgment passed on us in fear from what I believe the media created. Yes, the potentially deadly storm was a massive threat, but I noticed something interesting while glued to the TV for those days leading up to the storm. When I would flip to the Weather Channel and CNN, those reports differed from what our local media was sharing. Yes, all stations were trying to hammer it home that we now needed to evacuate and get to safety, but I noticed the local news was focused on accuracy while the national news seemed to be bent on generating fear. This put people all over our nation in mass hysteria, and many of us living through the storm spent all our time trying to calm down loved ones from out of state while trying to keep ourselves calm as well. This caused a level of anxiety like nothing I've ever experienced.
I AM a lighthouse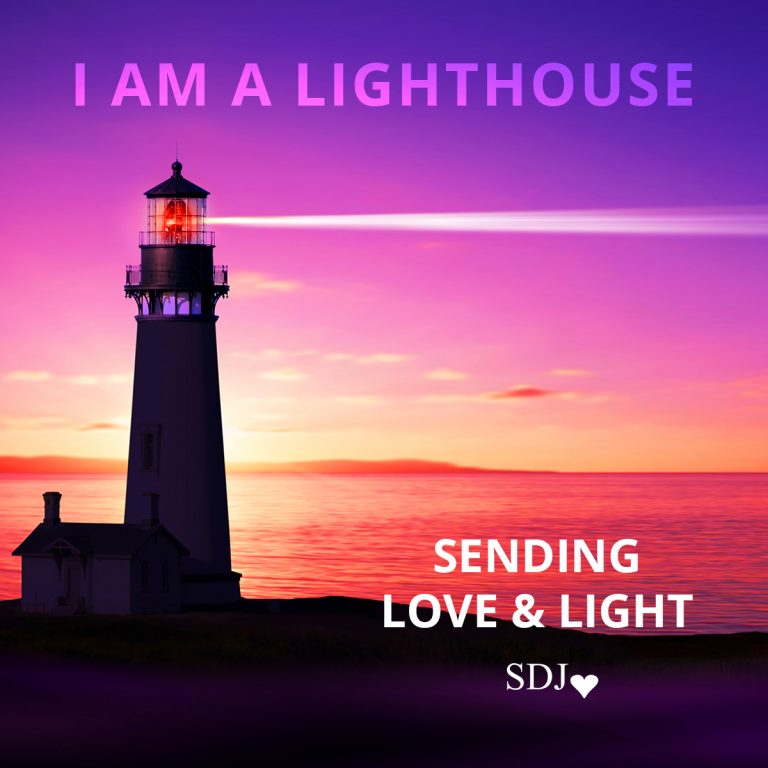 Throughout the entire ordeal, my loving mentor, Sunny, stayed by my side in spirit, a beacon of light in a very dark time. She reminded me that fear was feeding the storm, and it was our work to be the lighthouse outside the storm. She told me to stay present, place my hand on my heart, and listen; this would guide me. Every few hours she checked in and reminded me to breathe. At first, I rejected her advice, since I was in a dark place and at a low vibration. I actually retreated from life because I knew I wasn't being that beacon of light for others and I didn't want to pull anyone else into my internal storm. But she held strong, checked in with me every few hours and gently reminded me that I AM a lighthouse, and to trust my inner guidance. She never once judged me for my decision not to evacuate, although there was a time toward the end when Irma was in the Gulf and headed right toward us, and Sunny recommended we go to the shelter since we were in a mandatory evacuation zone, but yet she honored my decision to stay. Her unconditional love and support kept me calm, and slowly I decided to become a lighthouse, too.
While she held the vision of the highest good and least amount of impact for all, I decided to step into my role as a lightworker and put a positive post out on social media amongst all the negativity and fear that seemed to be circulating. What happened next was incredible. So many prayer warriors came out of the woodwork. People were commenting on my post with well wishes and prayers of protection, sending angels and love and light. It might be one of my most popular posts to date. It was heartwarming to watch the comments roll in, and honestly, the love and support from people all over the US and people I've never met in person or haven't seen or spoken to in years filled my heart with gratitude and hope, and slowly but surely, started to shift my vibration.
Now we had a pack of prayer warriors holding the vision along with us. As the post grew with love, the storm also drew closer, and by the time it made landfall on the east coast of Florida in Marco Island / Naples it was down to a Cat 3. Although still devastating for those who received the initial impact at landfall, it could've been far worse if the storm had remained a Cat 4 or 5, as it was at various points throughout its journey.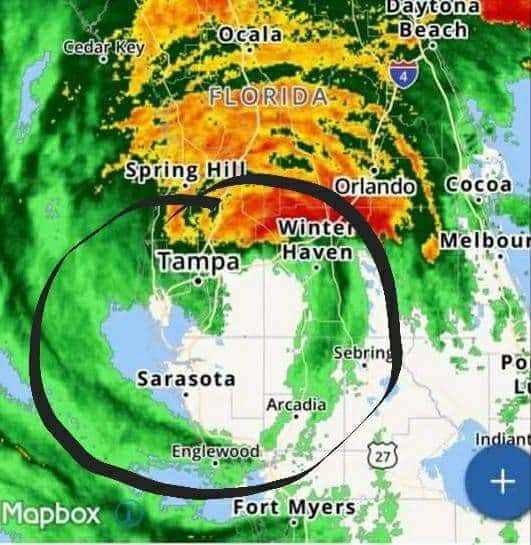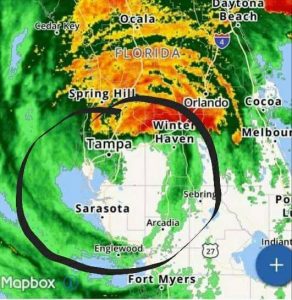 As Irma made her trek north toward Tampa, something miraculous occurred. The storm, initially projected to cross over just to the left of us, started to weaken and move north instead of northwest. It was now expected to be a Cat 2 or even Cat 1 when it hit our area, and by the time it arrived it was to the east of our coastal towns, which meant the storm surge we had all dreaded was no longer the threat it would've been if to the west of us.
Being on an island in the Gulf of Mexico, just south of St. Petersburg when Irma finally passed through, should probably have been one of the scariest moments of my life, but oddly enough, I was calm. I lay down in my bed and listened as the storm raged. Although it sounded like the roof might be ripped off at times, I had a peace about me and actually drifted off to sleep easily for the first time in a week, knowing in my heart we would be OK.
Archangel Michael
The next morning, I awoke during what should have been the storm surge, but there was no flooding and minimal damage to the surrounding area. From what we could see, just a few downed trees, fences and shingles from rooftops.  No damage to our home or ourselves. I felt deeply blessed, as this was nothing short of a miracle.
When I first told Sunny of our decision to stay put and ride out the storm, she advised me to light a candle, walk the property and call in Archangel Michael to send protection around us and our home.  I always start each day by invoking Archangel Michael and calling on him for protection, but I listened to Sunny's advice about walking the property, and each day I prayed and envisioned angels filling and surrounding our home.
As someone who works closely with Archangel Michael, I keep his angel card deck on my altar, and several times throughout the week as I would pass by my altar I would silently ask Michael if we would be safe, and I drew the same exact card EVERY SINGLE TIME: Your home and loved ones are safe and protected by angels. So, when the storm was near and projected to make a direct hit, and we had to make that final life-threatening decision to stay or go, I went to my deck and pulled a card, and again it was the same: Your home and loved ones are safe and protected by angels.
Between Sunny's guidance, the support I received from everyone on social media and trusting my inner guidance, we made a decision to stay, which some ridiculed me for and even showed anger and aggressiveness, but I knew in my heart we would be safe. We must learn to go within during times like these, to find our own answers and trust the guidance we are given.
What I learned from Hurricane Irma
Irma taught me so many lessons, but these few stand out most:
You can't make someone do something from bullying or fear. If someone is making a decision that doesn't make sense to you, the best thing you can do is send love and light and hold space. You can't control people, you can only love them. We all have our own lessons to learn and our decisions, good or bad, are our own to make.
The media, although tasked with informing us on worldly affairs and life or death situations, should be taken in small doses. Negativity breeds negativity, which lowers vibration, causing stress, anxiety and panic.
You never know how you would react in a situation unless you live through it. You can say what you think you might do, but there are many factors at play when decisions are made, and unless you are experiencing it for yourself, the truth is, you don't know for certain what decision you would make, so never tell anyone else what they should or should not do.
Believe in the miraculous power of prayer. Positivity is contagious, pass it on! I witnessed one of the largest and most powerful storms our country has ever faced dissipate rapidly over a very short time. You can give me all your scientific explanations, but as someone who lived each moment as the storm drew near, I know I was protected by a higher power, and you'll never convince me otherwise.
Above all else, always trust your intuition.
When in doubt, be a lighthouse.
"Darkness cannot drive out darkness, only light can do that."
~Dr. Martin Luther King
In closing, I'd like to sincerely thank everyone who reached out during the storm with your messages and prayers, and those who kept vigil silently from afar. Thank you to all the prayer warriors who held the vision for the highest good of all concerned and sent prayers of protection to those of us in Irma's path. I honestly believe it's our faith that dissipated the fear feeding the storm, which just goes to show our love and light can and will change the world and is needed now more than ever.
And finally, to Sunny, my mentor and teacher who guided me each step of the way, held space and sent unconditional love each hour of every day. Your support means more to me than you'll ever know. You truly are an angel on this earth.
Blessed and forever grateful, Shanda Trofe – Tierra Verde, FL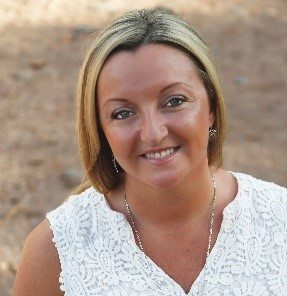 Shanda Trofe is a best-selling author, publisher, and author coach. As the founder of Spiritual Writers Network and Transcendent Publishing, she's made it her life's work to assist aspiring authors through the book-writing process and on to publication. Shanda helps writers find their voice and extract the unique messages from within. She resides in St. Petersburg, FL with her husband and two fur babies. www.shandatrofe.com.