In November, I received an email that altered the direction of my journey…
I'm sure that has happened to you many times over and again, right? One phone call, one email, one conversation, one meeting… and it changes the direction of your life. These experiences could be considered positive, negative or just neutral. They could change your course for a short time or forever. I've had a lot of these experiences… But most recently, it was just one little email 🙂
I LOVE that about life.
How one little thing… one little statement… one "seemingly" insignificant event can move you in a new direction. The synchronicities of life… it is one of my favorite things to experience. I get excited about it almost every day! And I find that when you are in flow, it comes with a lot of grace and ease… and when you are in resistance… not so much. I certainly prefer to be in flow, but have had many times where the resistance is what I was more aware of. In this experience I am about to share with you… it was FLOW & GRACE & EASE! I LOVE THAT!!!!!!!
So, back to November.
Just a random email from the publisher of a book I co-authored and was a cover author on 3 years earlier. She mentioned that they were moving in a different direction and looking to sell the book to a publishing company in California and wanted my permission to mention that I was a season sponsor and I would support the book by promoting it and such. To which I responded, and I quote, "I actually would love to hear what your proposal is? I have many publishing connections and might consider investing in it myself. Are you open to that?"
Now the funny thing is, I didn't really realize what I was saying in that email response. It was as though my angels guided my hands and I, Sunny, was oblivious to the whole thing. (Ever had that happen? That's always a sign.) A couple of weeks later, when she emailed me an update was when I realized what I had done… And the new journey began.

About a month later, I received another email, saying that the agreement with the publishing company in California didn't go through… and was I still interested? It was at that point that I had realized that my angels were truly guiding me to and through this new door… it was time to do something new. Not completely new…  I have now authored and/or co-authored a total of twenty books since the publishing of my first book on 11/11/11… Nine of those twenty books, I have self-published. Along with creating and publishing 10 CDs and several decks of cards. So, I do have quite a bit of experience in this area, but I certainly was not planning on becoming a publisher. Not a "real" one anyway.
However…
You know when Spirit gives you a nudge like that. When you ask questions you don't even know to ask. When you open the door to opportunities that you never considered… YOU KNOW then that you are in Divine flow… and SO it was for me… and this new journey!!! SDJ Productions was birthed in a new way! It came out of the shadows of just me and my personal books, CDs and projects… and opened a doorway for me to grow and expand and learn… A LOT!!!!!!!
So here I was… with the opportunity to bring some new energy and life into an already beautiful book. An opportunity to expand it into projects that I have seen and felt I would create… but didn't know how or when or in what way. Now, with the birth of this new project, I could see the Angel desk calendar, the Angel Prayer e-subscription, the Angel prayers in Spanish form… and more. Now I knew that the visions that I had of a 365 day desk calendar were for THIS BOOK! The dreams to help support other people in their messages, their passions and their stories… it all started to make sense now. This book would open the door for some amazing angel messengers and give them an opportunity to share their prayers and their work with the world… It was perfect!
And then…
There was another email a month later… (This story is still being written… but stay tuned as you won't believe what happened next).
I love how Spirit works, don't you? You just never know whats coming…  So, a week after the launch of my first multi-author publication with SDJ Productions, and achieving Amazon Best Seller status in several categories, I am now a publisher… out of the shadows of just my own projects, and into the light of those who are guided to work with me. I've already had many people ask if I would consider publishing their books, to which I have already said YES! I will be opening the door to several opportunities down the road. If you are interested in hearing about some of the upcoming projects I have in the works… or if you have a book/project that you are interested in publishing, shoot me an email at info@sdjproductions.net
It's so exciting and I feel absolutely blessed to be given the opportunity to work with Amazing people in such inspiring and life-changing ways. 152 Angel messengers have added a little more light to our beautiful and sometimes messy world. Angels and Prayers… How much better could it get??
So with all of that, I introduce you to …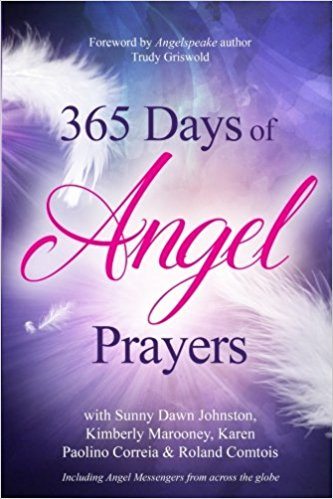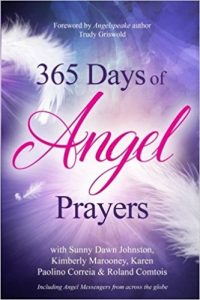 What if every day you could encounter the divine? What if you could regularly know the blessing of deep peace and abiding joy? What if you could talk to angels? Great news—you can!
365 Days of Angel Prayers
is a multi-author anthology of daily readings written to inspire and guide you to experience a rich and continuous communion with the angelic realm. Whether you choose to read that day's entry or take a more spirit-led approach, these prayers, blessings, invocations, and essays will help you learn how to communicate with angels. And as you allow the words to wash over your mind and heart, receiving the healing inherent within them, you will begin to see that there is no one way to pray for divine blessing or assistance. Soon, you may even find your own unique words pouring out—embrace them. Remember, this book is a collaboration, one you are warmly invited to join.
Soak in the deep peace, love, and joy of the angels. Through your daily connection, you will begin to shine their heavenly light and share their divine love with everyone you encounter.
This revamped second edition features Sunny Dawn Johnston, best-selling author of
Invoking the Archangels
, Kimberly Marooney, Karen Paolino Correia, Roland Comtois and 148 angel messengers from across the globe!
If you are looking for some daily support and inspiration… this is an excellent source. If you'd like to get the book, you can purchase it on Amazon here:
http://amzn.to/2mQRXFa
or get a signed copy on my website here:
https://sunnydawnjohnstonboutique.com/shop/365-days-of-angel-prayers/
If you love Angels and Affirmations you can also check out these two Facebook pages:
https://www.facebook.com/365daysofangelprayers/
and
https://www.facebook.com/AngelsandAffirmations/
I'd love to hear your experiences with Divine Guidance and/or Angelic suggestion.
Share with me below – SDJ♥
PS: If you have a copy of the book and already enjoy it, we would love a review on Amazon. Just go to the above link and share your experiences;) Thanks so much:)
Here are a few messages I love about changes and opportunities. Enjoy!