October's Full Moon in the fiery sign of Aries tends to old wounds and deeply held patterns. This Full Moon offers a mysterious form of magic in a therapeutic sense – the divine orchestration of the asteroid Chiron (the wounded healer) in close proximity reveals a potent elixir for those who choose to see through events into their energetic essence. This requires us to see beyond, see-through, and see the hidden wisdom here to activate a powerful form of healing present during this time. Transformation occurs with or without our permission – soften the shifts of this Aries Full Moon by choosing to surrender, allowing new perspectives to emerge.
The idea of surrender is not always welcomed; therefore, try to remain open and flexible and keep in mind that the gifts of this Full Moon arrive when we decide to see what had been hidden in the wound – part of healing is acknowledgment and observation. This begins to move energy and liberate us from the wound and allow emotions to move instead of feeling trapped or stuck in an experience, frozen in time. Healing is not a linear path, and the wounded healer wisdom of Chiron teaches us acceptance and peace within situations where we once only felt pain. This is a true testament to deep healing – the ability to see through the wound unto the wisdom and share it with others.
"As the Native Americans prepared for the cold months ahead, they looked to October's Full Moon as the signal to gather meat for winter. Because of this, the October Moon came to be known as the Full Hunter's Moon. Similar to the Harvest Moon, the Hunter's moon rises on successive days only about 40 minutes later than the previous day, making the periods of darkness between sunset and moonrise much shorter. Because the fields were traditionally reaped in late September or early October, hunters could easily see both deer and fox that have come in search of fallen grains by the light of the Moon." (Farmer's Almanac)
"You need to learn how to select your thoughts just the same way you select your clothes every day. This is a power you can cultivate. If you want to control things in your life so bad, work on the mind. That's the only thing you should be trying to control." ~ Elizabeth Gilbert
Tips for The October 2022 Aries Full Moon:
As with all healing, there are opportunities for greater compassion. Some will be under the grip of fear this month, flailing about as the mind spins and tensions build. This is not negative or anything to fear. These experiences occur each day, yet Full Moons can amplify what we become aware of. Compassion is an offering of love and respect to self and to others. It can also be the exact medicine required to soothe the aches invoked and stirred by this Aries moon and the healing of collective wounds being exposed.
Remember to honor intuitive feelings and impressions arriving during this time and to also become still enough to discern them without misinterpreting intuition from the wounded self, expressing and unwinding. Our nature is sometimes to pull away when afraid, and yet coming together contains medicine. Talking to others who understand, showing up in safe spaces, and expressing needs – these are all powerful ways to mindfully heal and feel supported through challenging times. There is a vulnerability in exposing one's deepest feelings, and the lunar energy is all about illuminating the hidden sides of self, the deep feminine (not female) quality of receptivity, and holding energy in a reciprocal manner. This same vulnerability can trigger other themes around the wound being healed. Trust the process, and trust that it also contains great purpose for you, especially if it feels uncomfortable or almost impossible to face. This is more the reason to look your fear directly in the eyes…and you will only discover a part of you calling for more love.
Ways You Can Connect to This Full Moon:
Find out when the moon rise is in your city by going here: http://www.timeanddate.com/moon/
Find a place where you can see or sense the energy of the Full Moon, preferably a comfortable position with the moon in sight, and bring a journal or paper and something to write with.
Begin breathing deeply, feeling the air move in and out of your lungs, expanding with each breath in. Place your hand on your heart and see if you can give presence to a pattern or cycle that calls for your attention at this time.
Notice the feelings and emotions; remain open and curious, allowing the energy to move through you as you breathe. Ask the moon to bring to consciousness a focal point of release. What needs your attention? Allow the body, sensation, or intuition to guide you.
Spend time in this part of the experience, breathing in and out. Remain open and present as you breathe. After a few moments of this process, begin free writing. This is a beautiful time to purge the old, to give attention to feelings you are ready to understand. To reveal, it first serves us to feel ... you may notice feelings or energy moving as you write. Try to stay in this flow and let the pen move the energy onto the paper.
Take time with this; do not rush. Once you are complete, safely burn and release your pages with the power of the fire element.
*Reminder: each Full Moon can impact you for up to 3 days prior to the Full Moon and 3 days after the Full Moon.
Full Moons are always powerful times for releasing and letting go. Try creating your own ceremony or honoring of this time to embrace the energy that this time has to help you create space in your life for what you truly desire. As always, remember, you are not alone in experiencing this phase. Be mindful of this when encountering others over these next few days. Send them love as they are also shining a light on themselves and may be extra sensitive during this time. The next Full Moon is in the sign of Taurus on November 8th and is known as the Full Beaver Moon.
Want to clear your space during the Full Moon? Try out Sunny's Vibe-Raiser essential oil spray. It's an organic aromatherapy spray you can use to clear your space and raise your vibes! Check it out HERE in the SDJ Boutique.
Melissa Kim Corter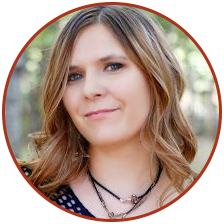 Melissa Kim Corter is a best-selling author, intuitive coach, and clinical hypnotherapist. She helps women overcome money and visibility blocks with evidence-based and spiritual approaches. She guides entrepreneurs to manifest increased levels of financial and emotional success with her heightened intuition. Melissa mentors entrepreneurs to hone their message and gifts, while activating potential. She feels we're here to live a legacy, not just leave one behind. Melissa builds business with magic, ritual, and strategy; weaving joy into the talents our souls came to express. She's the founder of Wild Woman Inc., a sacred online gathering space and marketplace for the woman "who knows her magic" and seeks to celebrate it with other conscious, collaborative, women. Check out the Wild Woman Marketplace for witchy, wise, magical, and mystical products and services for women. http://wild-woman.com/