This Taurus Full Moon is the second Full Moon in the month of October and it lands on Halloween! The second Full Moon in a single month is known as a blue moon – not in color, in the rarity of the event – and even more rare is a Blue Moon on Halloween, which has not occurred for over 75 years. Taurus is an Earth sign. It loves the physical nature of all things. A Taurus Full Moon invokes the qualities of comfort, security, and safety within us; we strive to feel grounded and connected to the Earth and people as well as the body and the physical constructs of the human experience.   
The instinctive nature of a Taurus Moon is important during this time; we can become stubborn when triggered or feel unsteady when there is too much unknown. This Full Moon also falls during a period while we are experiencing Mercury in Retrograde. Not to fear, this combination of energy can support us to feel some momentum from the previous five months and there will be a magical and mystical vibe in the air.
This potent, powerful, mystical Full Moon falls on Halloween, a time when it is believed the veil between worlds is at its thinnest; intuition is peak, and a spiritual connection is ripe with potential to transform, heal, and let go. As always, Full Moons represent the manifestation of the previous two weeks since the last New Moon phase. Recall what you wanted to receive then; the desires in your heart, noticing anything that has come full circle. Reflect and appreciate, even if you simply made it through a challenging time; it is worthy of your gratitude. 
Some folks believe that this full Moon was called the Full Hunter's Moon because it signaled the time to go hunting in preparation for winter. Since the harvesters had recently reaped the fields under the Harvest Moon, hunters could easily see the fattened deer and other animals that had come out to glean (and the foxes and wolves that had come out to prey on them).
(Farmer's Almanac)
The Moon + Business:
Take a grounded and steady approach to decision making; evaluate and adjust, but refrain from starting anything new
Earth element is all about practicality; you may feel a pull to examine foundations and structures
Write, write, and write! This is a powerful time to be in direct contact with your subconscious mind for solutions and ideas; writing is a powerful way to retrieve this guidance.
Refrain from making large purchases; budget accordingly and allow cost effective resources to come to you
Triple check communications, dates, details, and the fine print
Examine what has worked and what has not worked over the past six months; is there a pattern you can learn from?
"Nature-the word that stands for the baffling mysteries of the Universe. Steadily, unflinchingly, we strive to pierce the inmost heart of Nature, from what she is to reconstruct what she has been, and to prophesy what she yet shall be. Veil after veil we have lifted, and her face grows more beautiful, august, and wonderful, with every barrier that is withdrawn." — William Crookes

Tips for The October 2020 Taurus Full Moon:
This is a magical auspicious time, though so many unknowns…that is the beauty of what you have available at your fingertips. Weave and bend the unknown to your favor, the thinning of the veil is a gift, and opportunity to uncover guidance, wisdom, and support. You may feel a creative impulse; channel this energy outward in ways that honors the spirit behind it. Pull back from overly giving energy, time, or resources when it is time to conserve them, without fear or worry.  
Blue Moon Prosperity Chant/Ritual:
Find out when the moon rise is in your city by going here: http://www.timeanddate.com/moon/
Find a place where you can see or sense the energy of the full moon. Preferably a comfortable position with the moon in sight.
Take a clear glass and fill it halfway with water. Place a quarter (or large silver coin) into the glass. Let the moonlight "touch" the water, shining its light upon the glass. You may place the glass on the ground, hold it on your hands, or upon a windowsill to collect the light of the moon.
Close your eyes and breathe… feel your breath moving through you, breathing in and out deeply for five rounds of breath.
When you are ready, repeat the following chant out loud:
"Lovely Lady of the Moon,
Bring to me your wealth quite soon,
Fill my hands with silver and gold,
All you can, my purse can hold."
Pour the water onto the Earth, somewhere outside where the light of the moon can still be seen.
Let the coin fall to the ground; then pick it up and carry it with you. The coin represents prosperity, and the money and resources you wish to cultivate and attract into your life for the coming months and years.

*Reminder: each full moon will impact you for up to 3 days prior to the full moon and 3 days after the full moon.
Full moons are always powerful times for releasing and letting go. Try creating your own ceremony or honoring of this time to embrace the energy that this time has to help you create space in your life for what you truly desire.
As always remember, you are not alone in experiencing this phase. Be mindful of this when encountering others over these next few days. Send them love as they are also shining a light on themselves and may be extra sensitive during this time. The next Full Moon is in the sign of Gemini on November 30th and is a lunar eclipse.
Melissa Kim Corter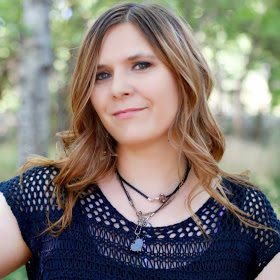 Melissa Kim Corter is a best-selling author, intuitive coach, and clinical hypnotherapist. She helps women overcome money and visibility blocks with evidence-based and spiritual approaches. She guides entrepreneurs to manifest increased levels of financial and emotional success with her heightened intuition. Melissa mentors entrepreneurs to hone their message and gifts, while activating potential. She feels we're here to live a legacy, not just leave one behind. Melissa builds business with magic, ritual, and strategy; weaving joy into the talents our souls came to express. She's the founder of Wild Woman Inc., a sacred online gathering space and marketplace for the woman "who knows her magic" and seeks to celebrate it with other conscious, collaborative, women.
Check out the Wild Woman Marketplace for witchy, wise, magical, and mystical products and services for women.