October's Full Moon is in the sign Taurus; this Full Moon is a partial lunar eclipse. Each eclipse offers closure to a particular event, experience, or situation. This eclipse is likely to bring some form of change or transformation; think of the October lunar eclipse as an energetic completion, closing the door on a situation that has been present for about two years. You may or may not have a conscious awareness of the exact nature of the situation, yet deep down, there is a shift occurring. Trust it is rearranging people and circumstances in your favor for a higher orchestrating principle. You need not know all the details, yet trust in the innate intelligence behind these moves. If there is something that has had a grip on you emotionally, this lunar eclipse period is the perfect time to allow it to loosen. The intense energy of an eclipse is often misunderstood; therefore, self-care and meditative practices are key to supporting you as you navigate the choppy emotional waters.
"This particular Full Moon is commonly referred to as the full Hunter's Moon. It is believed that this name originates from the fact that it was a signal for hunters to prepare for the upcoming cold winter by going hunting. This is because animals were beginning to fatten up in preparation for the winter season. Moreover, since fields had recently been cleared out under the Harvest Moon, hunters could easily spot deer and other animals that had come out to search for remaining scraps. Additionally, foxes and wolves would also come out to prey on these animals. The earliest use of the term "Hunter's Moon," cited in the Oxford English Dictionary, is from 1710. Some sources suggest that other names for the Hunter's Moon are the Sanguine or Blood Moon, either associated with the blood from hunting or the color of the changing autumn leaves" (Farmer's Almanac).
"Fall has always been my favorite season. The time when everything bursts with its last beauty, as if nature had been saving up all year for the grand finale." ~ Lauren DeStefano
Tips for The October 2023 Taurus Full Moon:
This time of year marks an inward movement, a descent into the self. We move from the outer world to the inner, and depending on where one lives geographically, this shift is guided by the change in temperature, directing the rhythms of the body and brain waves to slow down and move into a reflective and contemplative space. Although winter is where the deepest state of reflection occurs, the season of autumn prepares us, and begins this slow inner-facing process. As this movement unfolds, we may feel a sense of pulling back, retreating, or distancing. This is not a negative experience, just a personal one.
The subtle body is affected most by the seasons and the moon cycles; therefore, our emotions provide a picture of our internal state, noticing emotional shifts and a range of thoughts and internal dialogue. It is in this exact awareness of self where the power lies, harnessing the observations with curiosity, yet a soft approach as subtle energy shifts and fluctuates. It is not meant to be captured or contained, yet felt and experienced. Be gentle with yourself and others as we move through the unknown. As with every zodiac sign there is a shadow; be mindful of being too stubborn or digging your heels in. This may result in an experience that is the opposite of what you deeply desire. Taurus is an earth sign – grounding and feeling steady are qualities you can anchor into during this time. Try not to give in to compulsions or reactions that feel driven by ego; this is a possible signal that you are enacting the shadow aspect of Taurus. Try to release the need to be in control and use your breath to move through experiences. Utilize the grounding dynamic of this earth element, yet don't let it convince you to build a wall.
Ways You Can Connect to This Full Moon:
Find out when the moon rise is in your city by going here: http://www.timeanddate.com/moon/
Find a place where you can see or sense the energy of the Full Moon, preferably a comfortable position with the moon in sight. Bring a pen and paper or a journal with you.
Begin breathing deeply, tune in to the mind, and notice the quality of the thoughts. Taurus are excellent at noticing details; let's tap into this power and see what we can observe while working with the subtle body.
Scan the body and notice where there is tension or holding. Notice color, temperature shifts, textures, and sensations. As you tune in, notice if there are any energetic knots in a certain area, tensions, or holding that could use some spaciousness.
See what it would be like to send breath into these spaces while allowing the body to feel heavy and connected to the earth. Is it possible to feel both grounded and light? Let's just see and explore.
Spend a few moments feeling and sensing these qualities and directing your breath to help move the energy through.
Take your time; if you feel guided, journal about the experience and then safely burn and release the pages during this lunar eclipse.
*Reminder: each Full Moon can impact you for up to 3 days prior to the Full Moon and 3 days after the Full Moon.
Full Moons are always powerful times for releasing and letting go. Try creating your own ceremony to honor this time, embracing the energy this Full Moon has to help you create space in your life for what you truly desire. As always, remember you are not alone in experiencing this phase. Be mindful of this when encountering others over these next few days. Send them love, as they are also shining a light on themselves and may be extra sensitive during this time. The next Full Moon is in the sign of Gemini on November 27th and is known as the Beaver Moon.
Want to clear your space during the Full Moon? Try out Sunny's organic White Sage. A smudging ceremony completed with white sage is a simple way to relieve the negativity in your soul or your home and replace it with positive intentions and energy! Check it out HERE in the SDJ Boutique.
Melissa Kim Corter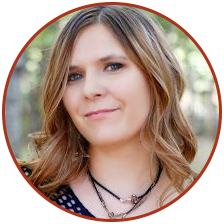 Melissa Kim Corter is a best-selling author, intuitive coach, and clinical hypnotherapist. She helps women overcome money and visibility blocks with evidence-based and spiritual approaches. She guides entrepreneurs to manifest increased levels of financial and emotional success with her heightened intuition. Melissa mentors entrepreneurs to hone their message and gifts, while activating potential. She feels we're here to live a legacy, not just leave one behind. Melissa builds business with magic, ritual, and strategy; weaving joy into the talents our souls came to express. She's the founder of Wild Woman Inc., a sacred online gathering space and marketplace for the woman "who knows her magic" and seeks to celebrate it with other conscious, collaborative, women. Check out the Wild Woman Marketplace for witchy, wise, magical, and mystical products and services for women. http://wild-woman.com/