This Aries Full Moon is all about risk taking – the fire element at its finest – burning away what no longer serves, blazing pathways forward. Full Moons bring closure; they represent an ending of one a cycle, creating space for the next phase in your life to emerge. Fire births new ideas and creative impulses. Even if you have been feeling uninspired or stuck, the fire elements can empower you with endless ideas and the courage to bring them into form.
Leadership is the undertone of this time; how you lead yourself is the most important energy to focus on. Leading in communication, emotional intelligence, relationships, business, and all areas of life. You are the self-driven leader, and you are being called into leadership from an elevated perspective not an egoic one. The shadow side of Aries is arrogance; be mindful of discernment with communication and emotional triggers, especially in the various relationships that bring forth opportunities to witness deeply hidden sacred wounds. The wounds can be discovered by examining your reaction – notice if there is a charge, or an awareness without the charge.
The lunar aspect of conscious and the psyche may contain a tendency to withdraw, hide, or covet that which we feel would be uncomfortable for us to have revealed or exposed. The Moon is a potent mirror of the hidden realm – open to the reflections stirring around and within you. Do not buy into the illusionary state of being. Come back to the enchantment of life; this is where the truth is. Notice the body, breath, and beliefs – these are the sacred gateways where spirit and matter meet. Everything you need to know can be found here, and once you find comfort in the observation of these gateways, they will open new potentials for you.
This Full Moon is often referred to as the Full Hunter's Moon, Blood Moon, Witches Moon, or Sanguine Moon. Many moons ago, Native Americans named this bright moon for obvious reasons. The leaves are falling from trees, the deer are fattened, and it's time to begin storing up meat for the long winter ahead. Because the fields were traditionally reaped in late September or early October, hunters could easily see fox and other animals that come out to glean from the fallen grains. Probably because of the threat of winter looming close, the Hunter's Moon is generally accorded with special honor, historically serving as an important feast day in both Western Europe and among many Native American tribes. (Farmer's Almanac)
Full Moon Inquiry
The symbol of Aries is the Ram, associated with initiation and courage. This is a powerful time to ignite your inner leader and embody the qualities of this aspect of self. Ask yourself the following questions during this Aries Full Moon:
How would you think, act, feel or believe, if you were in alignment with your inner leader?
How would you choose, decide, or set desires into motion if you were leading from your deepest desires?
"One isn't necessarily born with courage, but one is born with potential. Without courage, we cannot practice any other virtue with consistency. We can't be kind, true, merciful, generous, or honest." ~ Maya Angelou
As with every Full Moon comes a shadow. Do not feel fear about the term shadow – the Moon can illuminate the shadow aspects for you to see, release, heal, or embody. The shadow also contains gifts, insights, and unconscious contents ready to rise up through your being. The fire element can offer the courage to explore them with full trust that all is here to serve you. Relationships often come into view with an Aries Moon. Remain open to explore, hold your energy, and refrain from reacting on impulse – you cannot put the toothpaste back in the tube once it comes out.
Ways You Can Connect to This Full Moon:
Find out when the moon rise is in your city by going here: http://www.timeanddate.com/moon/
Find a place where you can see or sense the energy of the Full Moon – preferably a comfortable position with the moon in sight.
With pen and paper, write out the answers to the following: "What shadow quality am I ready to make known, bring forth into consciousness, and release?
Then breathe, and write it out… When complete ask this: "What shadow quality am I ready to make known, bring forth into consciousness, and embody?
Take 5 to 10 deep breaths as you feel into the question. Feel the breath moving through you and allow yourself to respond with ease and without an agenda.
Free write anything that comes up for you.
Pause, take 5 to 10 more deep breaths.
Examine what you wrote; Tune in… notice how you feel.
Do you feel guided to take any actions?
If you feel guided, safely burn the paper(s) in a ceremonial fire, intending for the energy to continue being transformed.
*Reminder: each Full Moon will impact you for up to 3 days prior to the Full Moon and 3 days after the Full Moon.
Full Moons are always powerful times for releasing and letting go. Try creating your own ceremony or honoring of this time to embrace the energy that this time has to help you create space in your life for what you truly desire.
As always remember, you are not alone in experiencing this phase. Be mindful of this when encountering others over these next few days. Send them love as they are also shining a light on themselves and may be extra sensitive during this time. The next full moon is on November 19th in the sign of Taurus.
Want to clear your space during the Full Moon? Try out Sunny's organic White Sage. A smudging ceremony completed with white sage is a simple way to relieve the negativity in your soul or your home and replace it with positive intentions and energy! Check it out HERE in the SDJ Boutique.
Melissa Kim Corter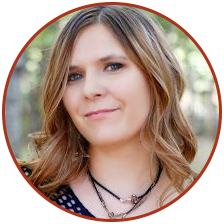 Melissa Kim Corter is a best-selling author, intuitive coach, and clinical hypnotherapist. She helps women overcome money and visibility blocks with evidence-based and spiritual approaches. She guides entrepreneurs to manifest increased levels of financial and emotional success with her heightened intuition. Melissa mentors entrepreneurs to hone their message and gifts, while activating potential. She feels we're here to live a legacy, not just leave one behind. Melissa builds business with magic, ritual, and strategy; weaving joy into the talents our souls came to express. She's the founder of Wild Woman Inc., a sacred online gathering space and marketplace for the woman "who knows her magic" and seeks to celebrate it with other conscious, collaborative, women. Check out the Wild Woman Marketplace for witchy, wise, magical, and mystical products and services for women. http://wild-woman.com/