This Aries Full Moon is the first of two Full Moons in the month of October! Aries is a sign fueled by the element of fire; a time when freedom and independence may be tugging at your heart. There is an opportunity to break free from things that no longer serve, yet mindfulness is needed in discerning if you are reacting to the Moon's influence or making a decision from a grounded inner knowing.
Get clear before taking steps, especially those that may involve others. Minimize the risk of burning bridges if at all possible; there will also be opportunities to lead more consciously, even if you have been comfortable hanging back and watching. Keep the ego in check; anytime we add in the element of fire, the mind can easily jump to conclusions, act rashly, or make assumptions. With any Full Moon cycle emotions can be stirred and running just below the surface of awareness.
The Full Moon affects the subconscious mind, the part of us hidden from the world, yet mysteriously shown through the body and behaviors. Pay attention to areas of self-sabotage or resistance – there is guidance in those moments that can serve you if you are open to receive it. Once way to gain clarity is to notice the emotional responses and triggers you find occurring; welcome them as information and be willing to stay present to them. If you resist the urge to distract or turn away, you will find profound healing is possible. This takes patience (often more challenging to have during a Full Moon) especially with the fire element toying with tempers and reactions.
This full Moon is often referred to as the Full Hunter's Moon, Blood Moon, Witches Moon, or Sanguine Moon. Many moons ago, Native Americans named this bright moon for obvious reasons. The leaves are falling from trees, the deer are fattened, and it's time to begin storing up meat for the long winter ahead. Because the fields were traditionally reaped in late September or early October, hunters could easily see fox and other animals that come out to glean from the fallen grains. Probably because of the threat of winter looming close, the Hunter's Moon is generally accorded with special honor, historically serving as an important feast day in both Western Europe and among many Native American tribes. (Farmer's Almanac)
The Moon + Business:
Refrain from making decisions when you are feeling heated or agitated
Fire can inflame or ignite; decide which you need more of and invite it in
Take action, but only from a place of alignment; otherwise, you may find yourself in a commitment that does not feel good to you
Begin to move inward and give decisions a day or two before accepting
Begin conserving for winter… it is a good time to review budgets and expenditures
Manage your boundaries and be clear; do not make assumptions.
Heat cannot be separated from fire, or beauty from The Eternal. ~ Dante Alighieri
Tips for The October 2020 Aries Full Moon:
This Aries Full Moon can encourage you to take action (especially involving relationships). You might be more compelled to use your voice or stand firm to honor your needs and desires. This inner urge can also stir the mind. Mediation is a great way to connect with your truth, separate from emotional reactions. This can be extremely potent if you can go out into nature, into direct sight of the full moon, and meditate there. A walking or moving meditations may free up mental energy and thoughts if you find yourself spinning. Create opportunities to move the body to move the energy out of the mind.
Ways You Can Connect to This Full Moon:
Find out when the moon rise is in your city by going here: http://www.timeanddate.com/moon/
Find a place where you can see or sense the energy of the full moon – preferably a comfortable position, with the moon in sight.
With pen and paper within reach, ask your higher self, "What limiting belief can I let go of? If I were able to let go right now, how would that feel? What could change for me?"
Take 5 to 10 deep breaths as you repeat the questions to yourself or out loud. Feel the breath moving through you and allow your higher self to begin answering those questions.
Begin to free write anything that comes up for you
Pause, take 5 to 10 more deep breaths
Now, on a new sheet of paper, ask yourself the following, "What blocks me or gets in the way of me showing up in my fullness?" Examine what you wrote; tune in… notice how you feel. Do you feel guided to take any actions?
If you feel guided, safely burn the paper(s) containing your blocks and barriers in a ceremonial fire, intending for the energy to continue being transformed. During the New Moon (in two weeks), take your first sheet of paper and set a goal to put one of the positive aspects of bravery and courage into motion.
*Reminder: each full moon will impact you for up to 3 days prior to the full moon and 3 days after the full moon.
Full moons are always powerful times for releasing and letting go. Try creating your own ceremony or honoring of this time to embrace the energy that this time has to help you create space in your life for what you truly desire.
As always remember, you are not alone in experiencing this phase. Be mindful of this when encountering others over these next few days. Send them love as they are also shining a light on themselves and may be extra sensitive during this time. The next full moon is on October 31st on Halloween!
Melissa Kim Corter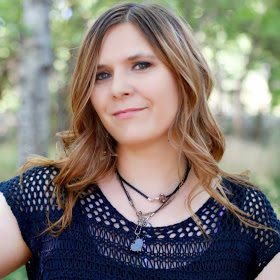 Melissa Kim Corter is a Certified Hypnotherapist and Shamanic practitioner certified over 20 healing modalities. She helps clients release fear & clear away the emotional clutter from their life experiences. Through various modalities coupled with her heightened intuition, she connects with your spirit for expanded truth and guidance on how to shift limiting beliefs. The earth, moon, and elements have been a channel for deeper levels of healing and connection for Melissa, stirring a passion within her to teach others to embrace the natural world.
Do you feel erratic, wonky, or emotional during the Full Moon? The Moon holds the key to the subconscious mind. Book a session with Melissa during the Full Moon to move the energy, uncover the blocks and find your own natural rhythm and harmony within the moon cycles.
http://melissacorter.com/sessions
www.melissacorter.com