November's total eclipse in the earth sign of Taurus moves us through Scorpio season, offering the last eclipse of 2022. This total eclipse will be visible to the northern hemisphere in the early morning hours (3:59 am PST/6:59 am EST). The potent vibes are palpable, stirring the emotional depths, tending to forgotten and uncharted territories. The energy of this eclipse is influenced by the stabilizing and grounding energy of Taurus; utilize this energy to anchor in while traversing surfacing emotions; the upward movement of energy symbolizes old and stuck energy rising to be healed.
Be mindful of default coping mechanisms disguised as reasons not to move forward with healing. Sometimes our wounding can convince us to react, revealing triggers and tender and vulnerable feelings of the heart. The energy of Taurus can amplify the stubborn side of self; this might appear as resistance or denial. Breathe in, reflect on the emotions, and sink deeper into the truth below the surface. Discernment is always key when moving through the lunar influence; remembering the moon supports us to lift the shadows into the light. This is a process of trust and finding your flow amidst any challenge that you find yourself in.
"November's Moon names highlight the actions of animals preparing for winter and the onset of the colder days ahead. Digging (or Scratching) Moon, a Tlingit name, evokes the image of animals foraging for fallen nuts and shoots of green foliage, and of bears digging their winter dens. The Dakota and Lakota term Deer Rutting Moon refers to the time when deer are seeking out mates and the Algonquin Whitefish Moon describes the spawning time for this fish. In reference to the seasonal change of November, this Moon has been called the Frost Moon by the Cree and Assiniboine peoples and the Freezing Moon by the Anishinaabe—for good reason, as winter is right around the corner" (Farmer's Almanac).
Tips for The November 2022 Taurus Full Moon Eclipse:
A powerful undercurrent to this lunar eclipse is the detachment and healing of toxic relationships, drama, misaligned ways of operating, and power struggles. Be mindful not to engage in bullying (overly exaggerated or Taurean energy out of balance) or becoming inflexible; strength is a powerful quality to embrace during this time, yet moving too far into the shadow aspect of the sign can result in rigidity. A divine gift of this eclipse is the potential clearing of blocks or patterns that affect safety and inner harmony.
Show up and trust, and watch as obstacles dissolve and past issues are resolved with greater ease, grace, and true forgiveness. The energies you are clearing and healing are not only yours; they are of previous generations and familial patterns. As these energies clear out, you may have unfamiliar feelings, visions, thoughts, or ideas… do not attach meaning to them; simply allow them to move through; if you are meant to know more, it will come to you with ease.
Eclipses move energy beyond conscious awareness; they affect us psychologically, emotionally, and physically. Rest if you need to, and take action as you are guided to; time in stillness and meditation, especially engaging in grounding practices, can be extremely beneficial. Try not to take things personally, observe and witness, and practice releasing with love. If you really find yourself struggling, take time sitting upon or walking barefoot on the earth to recharge, neutralize and release difficult feelings. The grounding support of the earth element can soothe and reorient you to a sense of center, especially when you practice walking with slower movements.
"The moon is always jealous of the heat of the day, just as the sun always longs for something dark and deep." ~ Alice Hoffman
Ways You Can Connect to This Full Moon:
Find out when the moon rise is in your city by going here: http://www.timeanddate.com/moon/
Find a place where you can see or sense the energy of the Full Moon, preferably a comfortable position with the moon in sight, and bring a journal or paper and something to write with.
Eclipses are the most potent times to set a powerful intention. The intention you set during this time is said to reveal itself within the next six months following the eclipse. Begin breathing deeply, feeling your body settling upon the earth, grounding and settling in. Place your hand on your heart and take the time to set an intention; what is it you desire to experience, receive, feel, or become?
See, sense, and feel this intention in the body; make it as real as you possibly can as you give it the power to grow from a desire placed in your heart. Visualize you intention moving into form as you breathe.
Spend time in this part of the experience, and after a few moments, begin free writing any of the potential obstacles you feel may stop this intention from manifesting. This is an extremely potent time to purge these beliefs and doubts.
Take time with this, do not rush; once you are complete, safely burn and release your pages of doubt, or concern.
*Reminder: each Full Moon can impact you for up to 3 days prior to the Full Moon and 3 days after the Full Moon.
Full Moons are always powerful times for releasing and letting go. Try creating your own ceremony or honoring of this time to embrace the energy that this time has to help you create space in your life for what you truly desire. As always, remember you are not alone in experiencing this phase. Be mindful of this when encountering others over these next few days. Send them love, as they are also shining a light on themselves and may be extra sensitive during this time. The next Full Moon is in the sign of Gemini on December 7th and is known as the Full Cold Moon.
Want to clear your space during the Full Moon? Try out the Palo Santo in Sunny's Boutique. Palo Santo or "Holy Wood" has been used for generations as a way to cleanse the air and environment. Check it out HERE in the SDJ Boutique.
Melissa Kim Corter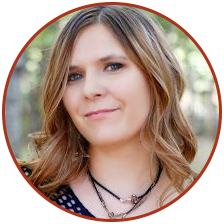 Melissa Kim Corter is a best-selling author, intuitive coach, and clinical hypnotherapist. She helps women overcome money and visibility blocks with evidence-based and spiritual approaches. She guides entrepreneurs to manifest increased levels of financial and emotional success with her heightened intuition. Melissa mentors entrepreneurs to hone their message and gifts, while activating potential. She feels we're here to live a legacy, not just leave one behind. Melissa builds business with magic, ritual, and strategy; weaving joy into the talents our souls came to express. She's the founder of Wild Woman Inc., a sacred online gathering space and marketplace for the woman "who knows her magic" and seeks to celebrate it with other conscious, collaborative, women. Check out the Wild Woman Marketplace for witchy, wise, magical, and mystical products and services for women. http://wild-woman.com/