I always love the energy of the full moon – well… almost always. Sometime it gets a bit intense, which is why I ask people that tune into moon energy to let me know, in advance….  what to be mindful of. I'm one of those types of people that would rather have awareness ahead of time… than not.. so… Here is some great info for this months FULL MOON – Enjoy – SDJ ♥
November 14th Full (Super) Moon in Taurus
November's full moon will appear as the largest and brightest Moon in the sky since 1948! This month's full moon can initiate a sense of abundance and fullness to our lives…..if we bring our attention and focus to what we have and emanate gratitude. You are being called to remember this simple truth regardless of what the media or people around you are buying into (news, social media, and united beliefs of our country and world). The full Beaver Moon is inviting you to tap into your divine birthright and innate gifts of intuition and truth. What do you believe? Do you trust yourself? Now is the time to forgive yourself and others for the past and believe you have the ability to create a new story and outcome.  There is a place deep within you that knows stillness and resilience, it knows how to draw to itself the resources, abundance, and tools that is required at this time. Calm the mental chatter and the inner well of divinity will rise to the surface of your awareness.
Ask for clarity if you feel overwhelmed or lost, ask for guidance if the mind is interfering with the truth of your present experience. There is plenty of good and blessings among you, tune out the common beliefs and attitudes of others if it is not from a place of love. They are finding their truth as they explore the contrast of their own world.

November's full moon is a Super Moon, a time when the full Moon appears larger than normal in the sky because of its approach to Earth during orbit. Although it is not technically larger, it appears to be so. Remind yourself that "issues, dilemmas, and problems often appear larger then they are, because fear engages and starts to steer the wheel. When love becomes your guiding principle, there is no room for fear and miracles abound. Tension will soften, fear will subside, and your dominant vibration of love will become the outer experience in your world….trust in the larger part of you to move into divine and inspired action.
 
This full Moon is often referred to as the Beaver Moon, this was the time to set beaver traps before the swamps froze, to ensure a supply of warm winter furs. Another interpretation suggests that the name Full Beaver Moon comes from the fact that the beavers are now actively preparing for winter. It is sometimes also referred to as the Frosty Moon. (Farmer's Almanac)

This full moon will surface the shadow aspect….do not fear this concept, it already happens on a daily basis for you. It will only be revealed for healing to take place. Honor your shadow, embrace it, it is nothing to fear or reject. It is beautiful and adds to the contrast of your life experience. Every full moon illuminates the hidden realms and places within us, let yourself witness it with curiosity and see it as a small child seeking comfort and love. Love the shadow and it will automatically become light.

"Hold the Vision…..Trust the Process"  ― Unknown
 
 Tips for The November 2016 Taurus Full Moon:
 
            Do not fear the unknown, take care of your self by maintaining your energy and ask for clarity as you navigate this new aspect of your being. They are not new in presences, simply new to acknowledgment of your attention. Be gentle, allow them to surface, and with the love you would give to a small frightened child, give that love to this side of yourself and then transformation will be graceful.

Show gratitude and appreciation for all that Is working and manifesting within your experience! Share it with others, shine a light on what resonates and works for you and the blessings will pour in. Do not strive for perfection of the mind, only progress and baby steps in the illumination of the subconscious patterns rising.
 
Ways You Can Connect to This Full Moon:
Find out when the moon rise is in your city by going here: http://www.timeanddate.com/moon/
Gather a pen, paper, and find a place where you can see, or sense the energy of the full moon. Preferably a comfortable position with the moon in sight.
Place the pen and paper aside, and take a deep breath, allowing yourself to be moved by the inhale and exhale for a series of 3 to 5 breaths. Continue focusing on your breathing.
Write a list of 10 things you want spirit to "handle" for you or to take over. It may be something you fear, want to release, a habit to transform, etc.
After you have written out what you are handing over to spirit for "Divine Delegation" find a safe way to burn and dispose of the paper for transmutation of the energy.
Next, write a gratitude list of 50 things that you are grateful for (go deep with this exercise). Do not just write "my home". Write "my home because I am safe and have a wonderful place to lay my head down at night".
Keep the gratitude list near you as you sleep, and refer back to it often, reminding yourself of all that is working in your world.


**Reminder: each full moon will impact you for up to 3 days prior to the full moon and 3 days after the full moon.
Full moons are always powerful times for releasing and letting go. Try creating your own ceremony or honoring of this time to embrace the energy that this time has to help you create space in your life for what you truly desire. As always remember, you are not alone in experiencing this phase, be mindful of this when encountering others over these next few days. Send them love as they are also shining a light on themselves and may be extra sensitive during this time. The next full moon is also a super moon in the sign of Gemini on December 13th, it is known as the Full Cold Moon or Full Long Nights' Moon
– Melissa Corter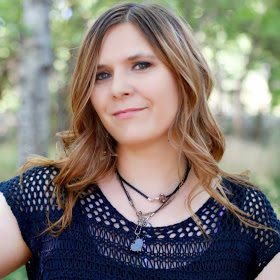 Melissa is a spiritual teacher, author, and soul artist. She has a gift of capturing the essence of her client's, while providing unconditional love and a safe space to help them release their fears of "being seen". Melissa recognized each client reflected back opportunities for healing, expansion, and discovering the power of their own light. This became the foundation of her company, "Soul Artistry®", founded to help women release fear, step into their power, and claim their place in this universe!
As a certified hypnotherapist and yoga teacher, Melissa also discovered the importance of listening to her spirit and "soul tribe" (her team of guides that help her). Melissa built a holistic practice of clients and students with her unique style and combination of healing modalities and artistic talent. She teaches others to tap into wisdom and to share their authenticity with the world. Her journey began as a photographer looking for beauty and discovered that everyone is a reflection of each other….we see in others what we want to see, or are not wanting to see. It then became her intention to see everyone to the eyes and lens of love.
Melissa offers private and group sessions to help you shift energy and perceptions to create change. For more information on spiritual guidance & Hypnotherapy sessions you may go here:
http://melissacorter.com/spiritualguidance/
Capture@melissacorter.com
www.melissacorter.com