Time for sacred reflection and ritual – this Full Moon in the sign of Taurus also happens to be the longest partial lunar eclipse in over 600 years! It will also be the longest until the year 2669 and it's the last eclipse of 2021. Eclipses are potent times of swift change and cosmically charged portals of transformation. A powerful benefit is the opportunity for deep healing of stubborn patterns and cycles, including those lived and experienced for decades.
Eclipses archetypically represent a dance between light and dark. The auspicious nature of an eclipse is a magical time to be honored in ritual and reflection. Many fear the dark, yet gifts unrealized live there – miracles, desires, and unmanifest potentials linger in the dark before they reach the light of consciousness.
Taurus is an Earth sign – it invokes deep desires to be nourished, to feel secure and safe, and to have needs met. Everything has two sides, and this Full Moon is no exception. Understanding the dualistic nature of Taurus provides spaciousness while moving through the emotional tides and fluctuations felt during this Full Moon. An excessive energy of Taurus can appear as insecurity, stubbornness, and reacting impulsively. Releasing insecurities, doubt, and lack are powerful themes to shed with this eclipse.
Taurus is a fixed Earth sign – this provides built-in forces to support the completion of a cycle or manifestation. Fixed signs are wired with the energy to follow through, to bring things into form. A key component is focus – when in service it will help you move things forward; the shadow side of focus can become being too fixated and rigid. Full Moons connect to the inner fluid nature, with the divine feminine qualities acting as vehicles of transformation.
Full Beaver Moon – This was the time to set beaver traps before the swamps froze, to ensure a supply of warm winter furs. Another interpretation suggests that the name Full Beaver Moon comes from the fact that the beavers are now actively preparing for winter. It is sometimes also referred to as the Frosty Moon. (Farmer's Almanac)
This partial lunar eclipse provides the energy to orient you to hidden desires, a guiding presence of innate intelligence calling you to let go. This may include letting go anything holding space or competing for your attention if there is an inner sense of disharmony. The revealing nature of a Full Moon makes certain not much can stay hidden for long, including anything you may have been suppressing or avoiding. Allow this Full Moon to be a conduit of release, igniting the power to change, and creating a healthy relationship with transition. Everything you experience is leading you to greater awareness of self and your magnificence.
Ultimately, to live an enchanted life is to pick up the pieces of our bruised and battered psyches, and to offer them the nourishment they long for. It is to be challenged, to be awakened, to be gripped and shaken to the core by the extraordinary which lies at the heart of the ordinary. ~Sharon Blackie
Tips for this Full Moon:
The moon gives us her offering of amplified light – take advantage of this energy with ritual or ceremony. She wields her light in service to you. Soak it in, allowing the cascade of wisdom to wash through the depths of your being. Your innate connection to nature ensures you will always be guided by her – in feeling, emotion, intuition – these are the love languages of the Moon. Utilize her power and strength to heal money wounds, insecurities, and self-doubt.
The Full Moon of November reminds us that winter is around the corner, nudging you to stock up for comfort during the colder months. This rhythm is instinctual, and you may feel it enhanced with the desire to collect and gather extra food, supplies, money, and resources. It is all about comfort and peace, not from a place of lack but of abundance and a desire to share with others in the times of Thanksgiving.
Ritual to Connect with the November Full Moon:
Find out when the moon rise is in your city by going here: http://www.timeanddate.com/moon/
Find a place where you can see, or sense the energy of the Full Moon, preferably a comfortable position with the moon in sight. Bring a journal and pen for this exercise.
Relax your body and connect to your breath, breathing in and out mindfully.
In your journal, write out all of your fears, doubts, insecurities, and concerns. Relax and breathe and allow the moon to pull these energies out as you write to release.
Empty … purge … let go … do not judge or censor the words as they leave your mind … and eventually they will also unwind from your tender heart. Write until you feel complete.
Put down your journal and move your attention inward. Imagine now…all the spaces you released from, calling light into them … the light of the moon flowing into each cell, organ, muscle, and aspect of your being.
Use your breath to bring the energy in … let it feel easy, simple, and nourishing. Allow the moonlight to charge you with divine light and connection. Let go of any worry … open to receive guidance from the Moon. Let her serve you…
If you feel led, you can safely burn your writings to bring the ritual to completion.
*Reminder: each Full Moon will impact you for up to 3 days prior to the Full Moon and 3 days after the Full Moon.
Full Moons are always powerful times for releasing and letting go. Try creating your own ceremony or honoring of this time to embrace the energy that this time has to help you create space in your life for what you truly desire. As always remember, you are not alone in experiencing this phase. Be mindful of this when encountering others over these next few days. Send them love as they are also shining a light on themselves and may be extra sensitive during this time. The next Full Moon is on December 18th. It is known as the Full Cold Moon.
Want to clear your space during the Full Moon? Try out Sunny's Vibe-Raiser essential oil spray. It's an organic aromatherapy spray you can use to clear your space and raise your vibes! Check it out HERE in the SDJ Boutique.
Melissa Kim Corter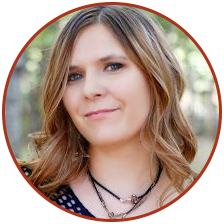 Melissa Kim Corter is a best-selling author, intuitive coach, and clinical hypnotherapist. She helps women overcome money and visibility blocks with evidence-based and spiritual approaches. She guides entrepreneurs to manifest increased levels of financial and emotional success with her heightened intuition. Melissa mentors entrepreneurs to hone their message and gifts, while activating potential. She feels we're here to live a legacy, not just leave one behind. Melissa builds business with magic, ritual, and strategy; weaving joy into the talents our souls came to express. She's the founder of Wild Woman Inc., a sacred online gathering space and marketplace for the woman "who knows her magic" and seeks to celebrate it with other conscious, collaborative, women. Check out the Wild Woman Marketplace for witchy, wise, magical, and mystical products and services for women. http://wild-woman.com/