The May Full Moon is in the sign of Scorpio, a water sign representing intense emotions and heightened sensitivity. Intuition revs up, bringing attention to the undercurrent of recent thoughts, feelings, and emotions of the past two weeks. Engaging with this energy requires a subtle discipline; refrain from lashing out or jumping to conclusions. This intensified emotion can serve you if you ride the current, trusting your inner muse to dictate which waves to ride and which to let pass by. Anger can be a healthy response – when it is harnessed, understood, and respected; this goes both ways, for you and in your response to witnessing others.
This Full Moon offers clarity on hidden beliefs and contains the potential to transform something in your life that may have felt "stuck" for a while now, especially an emotional block or pattern causing inner turmoil in some area of your life. If you are willing to feel and be open to explore this part of your being, you can harmonize it with love. Intuitively you will know the quality this part of you holds. It will mask itself in some type of discomfort, causing you to want to hide it or look away from it… this is how you know it needs you and needs your own love.
All Full Moons represent the hidden sides of self, the subconscious mind, and feminine yin qualities. This combined with the watery energy of Scorpio can exaggerate emotions, challenging you to practice mindfulness, centering back into your body, and anchoring into peace. Open your heart and work with this rhythm, igniting the intuitive nature of the divine intelligence within you.
In most areas of the northern hemisphere, flowers are abundant in late spring. Blossoms of brilliant color burst forth in both tree and meadow. Thus, the name of May's moon, the Full Flower Moon. May also marks the end of hard frost, making this the time of year when farmers begin to seed their fields. This led to May's moon also being known as the Full Corn Planting Moon.
In medieval Europe, the first day of May or Beltane, was the day cows were moved to their rich summer pastures, providing them with rich nourishment to feed their newborn calves. This is why May's moon is sometimes known as the Full Milk Moon. (Farmer's Almanac)
"Sorrow is deep, yet joy is deeper still."
~Unknown Author
Scorpio Full Moon Scrying Exercise:
You do need not any experience to create a powerful connection to the moon. This practice can help you open to the wisdom the moon has to offer you…all that we see is an extension of the world within us.
To prepare: Choose a night with the Full Moon is in view and gather the following:
A dark bowl (you do not want to see the bottom of it when filled with water)
A container of water to pour into the bowl
A journal or notepad to write in, and a pen
An open mind and heart
Begin by sitting upon the Earth, with the Full Moon in view, bringing awareness to your breath. Slow your inhalation and exhalation … breathing in and out. Allow your eyes to gently close, allowing your senses to engage, gently nudging the mind to recognize the energy from the moon all around you. Keep your eyes closed as you tell your mind to amplify your senses…begin to feel and sense more as you breathe. Imagine the light of the moon reaching down and gently embracing you as you breathe. Let yourself be held by her as you breathe for a few minutes in this state of silence and connection. Even if you do not feel anything happening, stay present and aware. Imagine the moon pulling something deep within you, tugging it forward for you to see.
When you are ready, open your eyes and let your eyes adjust to the space around you. Let your senses continue to guide you – they may begin to feel a little more amplified. Breathe through any resistance or thoughts popping into your consciousness … let them go with your breath as you trust.
Next, take the container of water and hold it over the bowl. As you hold this container, let the moonlight touch it, infusing it with guidance, wisdom, direction, and clarity. The moon has the ability to charge the water with its brilliant light and your intentions. Very slowly and with intention, pour the water into the bowl, stay open and present. When the bowl has enough water in it for you to see into, move and adjust yourself so you can see the light of the moon reflected in your bowl of water.
Have your pen and journal nearby as you gaze into the bowl … let it come alive, allow the mind to soften resistance, and open to wonder. Notice shapes, forms, movement, thoughts, emotions, sounds – invite all of your senses in, not just your eyes. Write down everything that comes to you, even if it feels silly or "made up". At this point you may ask questions and see how the answers appear or show up in the water reflection. If you are struggling with letting go of something, imagine the moon helping you shift this emotion as you gaze, practicing letting go and directing your breath. Continue gazing as long as you wish.
Have a blessed Full Moon sweet friends and as always, keep in mind each full moon will impact you for up to 3 days prior to the full moon and 3 days after the full moon.
Full moons are always powerful times for releasing and letting go. Try creating your own ceremony or honoring of this time to embrace the energy that this time has to help you create space in your life for what you truly desire.
Melissa Kim Corter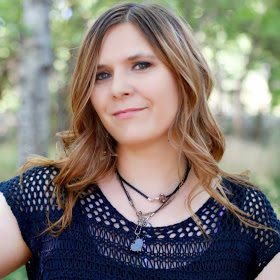 Melissa Kim Corter is a Certified Hypnotherapist and Shamanic practitioner certified over 20 healing modalities. She helps clients release fear & clear away the emotional clutter from their life experiences. Through various modalities coupled with her heightened intuition, she connects with your spirit for expanded truth and guidance on how to shift limiting beliefs. The earth, moon, and elements have been a channel for deeper levels of healing and connection for Melissa, stirring a passion within her to teach others to embrace the natural world.
Do you feel erratic, wonky, or emotional during the Full Moon? The Moon holds the key to the subconscious mind. Book a session with Melissa during the Full Moon to move the energy, uncover the blocks and find your own natural rhythm and harmony within the moon cycles.
http://melissacorter.com/sessions
www.melissacorter.com