The May lunar eclipse amplifies a potent experience of healing and growth through the multilayered influences of Mercury Retrograde and the eclipse. This particular eclipse signifies a shift in consciousness relating to your unique and individual path; themes of closure, validation, and synchronicity are key elements to note. Observing energy and allowing yourself to feel emotions as they awaken in dormant places is important.
Old energetic residue within the body is clearing, yet it asks you to become a witness, observing without absorbing. Also critical, these are old emotions with beautiful healing and creative potential, yet try not to make decisions based on the energy moving through. Compassion toward the self softens resistance and allows a quickening of internal movement. This may stir new ideas, intuitive feelings, and body sensations and sometimes feel confusing as you move emotion; in this type of dynamic, we are working with energy, not logic.
"The Full Moon May 2023 marks the peak of spring in many parts of North America that acts as a transition into summer's sunny days and warm nights. The May Full Moon is often called the "Flower Moon" with reverence to abundant flowers in bloom, a prelude to Mother Nature's coming attractions (Farmer's Almanac).
The water energy of Scorpio can feel overwhelming at times and simultaneously uncomfortable as the depths of hidden experience arise into consciousness. There is nothing to fear; this is a beautiful gift and the result of a mind in harmony with the influence of the lunar eclipse. The ego is a gatekeeper, and as the ego begins to feel more comfortable in our humanity, we can encourage it to lower our consciousness in a positive way, allowing access to things beneath the surface of awareness.
Scorpio is a powerfully intuitive and intense sign; embracing the discomfort ignites exponential growth. This force will propel you, deepening a sense of true self. Lunar cycles affect subtle energy. This is a bit of a paradox. Powerful emotions arise through cosmic encounters, unveiling layers not as accessible to the conscious mind without the lunar influence and the additional planetary prominence of Mercury.

"In order to move on, you must understand why you felt what you did, and why you no longer need to feel it." ~ Mitch Albom
Harnessing the Energy of the May 2023 Scorpio Lunar Eclipse:
A lunar eclipse can feel as if it is bringing things to the surface all at once, when in reality, these shifts and changes have likely been in motion for some time. They are simply in the right alignment to be expressed and brought forth from the depths. Mercury represents communication, and the retrograde motion tends to bring attention to previous matters, tricking us into thinking they are the present moment when something old is coming to a close or advancing into a new stage of experience.
There may be similarities or repetitive themes moving to mind; this is not a test. It is an opportunity to clarify, validate, or revisit something that still holds an emotional charge. Movement of the body partnered with journaling and contemplation can help settle fogginess and uncertainty, clearing the clutter and allowing a clear path to take form. Full moons, in general, are illuminating; their influence is not always smooth and poetic, sometimes it is erratic and obnoxious, and yet this is a part of the medicine they can offer in revealing truth.
Ways You Can Connect to This Full Moon:
Find out when the moon rise is in your city by going here: http://www.timeanddate.com/moon/
Find a place where you can see or sense the Full Moon's energy, preferably a comfortable position with the moon in sight (outdoors, weather permitting). Bring a pen, paper, notebook, and a burn bowl and lighter.
Connect to the breath, slowing down, opening, and settling in the body. Allow your attention to move to any area of the body where you are aware of 'holding' or even a lack of sensation. Use your breath as a guide and hold awareness of this internal space.
Imagine the cool soothing water element flowing into these spaces, using visualization to see, sense, or feel this happening. Deepen the breath as the water element carries forward a message or piece of wisdom for you to retrieve. Take a minute to sense this energy as it unfolds.
Stay here for a few rounds of breath before moving on, allowing the water to move through, collecting, gathering, opening, and clearing.
Begin free writing, uninterrupted and uncensored, for a few minutes. Let words move through you, do not focus on them at all, and release the need to control the words or make them positive. Once you feel complete, move to the next step.
Reflect on what came through. Once you feel complete, you may safely burn and release your pages during this lunar eclipse.
*Reminder: each Full Moon can impact you for up to 3 days prior to the Full Moon and 3 days after the Full Moon.
Full moons are always powerful times for releasing and letting go. Try creating your own ceremony to honor this time, embracing this Full Moon's energy to help you create space for what you truly desire. As always, remember you are not alone in experiencing this phase. Be mindful of this when encountering others over these next few days. Send them love, as they are also shining a light on themselves and may be extra sensitive during this time. The next Full Moon is in the sign of Sagittarius on June 3rd, known as the Strawberry Moon.
Want to clear your space during the Full Moon? Try out Sunny's Vibe-Raiser essential oil spray. It's an organic aromatherapy spray you can use to clear your space and raise your vibes!
Check it out HERE in the SDJ Boutique.
Melissa Kim Corter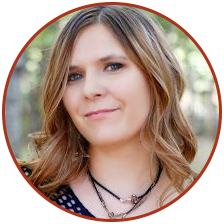 Melissa Kim Corter is a best-selling author, intuitive coach, and clinical hypnotherapist. She helps women overcome money and visibility blocks with evidence-based and spiritual approaches. She guides entrepreneurs to manifest increased levels of financial and emotional success with her heightened intuition. Melissa mentors entrepreneurs to hone their message and gifts, while activating potential. She feels we're here to live a legacy, not just leave one behind. Melissa builds business with magic, ritual, and strategy; weaving joy into the talents our souls came to express. She's the founder of Wild Woman Inc., a sacred online gathering space and marketplace for the woman "who knows her magic" and seeks to celebrate it with other conscious, collaborative, women. Check out the Wild Woman Marketplace for witchy, wise, magical, and mystical products and services for women. http://wild-woman.com/