The  Full Moon of May is a supermoon and a partial lunar eclipse influenced by the adventurous and free-spirited nature of Sagittarius. If you have been feeling stuck or stagnant, the vibe of this Full Moon will feel like a welcomed friend … after shaking things loose a bit first. The fiery nature of Sagittarius coupled with the lunar eclipse provides the perfect template for positive changes to unfold. Sometimes the change is preceded with uncertainty and overwhelm. Tune in to the optimistic aspect of your personality; it will be accentuated during this time.
Creativity and laughter are powerful vehicles to support any challenges arising during this time. The uplifting nature of Sagittarius allows medicine to arrive as fun, silly, and unexpected events intercepting the mind from being a little too serious. The Lunar eclipse can illuminate deep hidden inspirations and hidden desires of the heart. The inner pull of seeking and soul searching are nudges from the divine, inviting you to trust and let go as intuitive impulses rise to the surface.
Eclipses can amplify an already potent Full Moon; utilize this energy to help you expand your inner vision. Notice the aspects of life you are afraid to explore – go to these edges and let the discomfort stir within you, knowing you are expanding unconscious barriers. This energy can create a new story, releasing old and limiting beliefs. You might have a spontaneous idea, something seemingly out of the ordinary (or out-of-character for you). Trust it! Release any thoughts or beliefs in (unhealthy) competition; the shadow side of this fire sign can sometimes feel threatened and create unnecessary drama.
The May Full Moon is also known as the Full Flower Moon. Depending on the tribe, May's Full Moon was called the Full Flower Moon as well as Mother's Moon, Milk Moon, and Corn Planting Moon. The May Moon marked a time of increasing fertility with temperatures warm enough for safely bearing young, a near end to late frosts, and plants in bloom.
 (Farmers Almanac)
An eclipse is nature's way of creating opportunities of alignment; our natural tendency is to fight, suppress, or pull back from this offering. Find your flow, and know the process is rooted in re-orientating everything into harmony. Have discernment between an emotional reaction and a deep inner intuition. It is normal for it to feel a bit challenging to clarify; more the reason for moving energy and shaking things up. All that remains is for you.
"Be who you were created to be and you will set the world on fire." – St. Catherine of Siena
Tips for May 26th Full Moon in Sagittarius:
Have fun, let loose, and learn from joy as much as you may have grown through challenge or pain. The fire element of Sagittarius can reignite an elusive internal force, calling you deeper into spaces you might have tucked away. The eclipse energetically clears the plate while simultaneously setting it again. You are the welcomed and honored guest, invited to enjoy the journey, hold on for the ride, and laugh at the small bumps along the way. The power of manifestation is rich with a sense of quickening; this occurs as we partner intention with joy and expectation … even if the desire seems absurd or crazy – all the better to go for them.
If regimented structure and routine create a sense of safety for you, this is a prime time to find some comfort in exploring impulses, inclinations, and the whims that drop into your awareness. Practicality serves us; yet this vibe and time opens pathways of exploration, venturing into the new with faith and certainty. Something wonderful will be discovered in this process.
Ways you can allow this Full Moon to support you:
Find out when the moon rise is in your city by going here: http://www.timeanddate.com/moon/
Find a place where you can see or sense the energy of the full moon. Preferably a comfortable position with the moon in sight. If you can sit outside, on the earth, for this exercise you may notice a larger shift.
Gather a lighter/matches, a safe burning bowl, and a notebook and pen.
Ask your Higher Self to bring awareness to a part of you that likes to control and have certainty. Free write for a few minutes on anything that arises for you.
Close your eyes, focus on your breath, breathing slowly and deeply. Tune into your body and ask where this awareness may be within the body. Notice if there is an emotion connected to this place/location within you.
Visualize the moonlight lovingly helping you release this pattern and energy. Breath the light of the moon into your being, opening and relaxing your body while you receive this lunar support. Notice thoughts, feelings, and sensations. If nothing arrives, stay present, and engage your breath, pulling in more moonlight and breathing deeper while you visualize.
Once you feel complete, light the papers on fire in your burning bowl. As you watch the fire element burn the paper, hold an intention in your heart that the energy is dissolving with ease.
Repeat this process over the course of three days… This will help release some controlling tendencies and open you to potentiality each time you participate in this experience.
*Reminder: each Full Moon will impact you for up to 3 days prior to the Full Moon and 3 days after the Full Moon.
Full moons are always powerful times for releasing and letting go. Try creating your own ceremony or honoring of this time to embrace the energy that this time has to help you create space in your life for what you truly desire. As always remember, you are not alone in experiencing this phase. Be mindful of this when encountering others over these next few days. Send them love as they are also shining a light on themselves and may be extra sensitive during this time. The next full moon is in the sign of Capricorn on June 24th and is known as the Full Strawberry Moon.
Melissa Kim Corter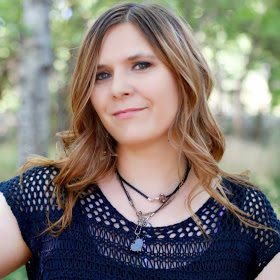 Melissa Kim Corter is a best-selling author, intuitive coach, and clinical hypnotherapist. She helps women overcome money and visibility blocks with evidence-based and spiritual approaches. She guides entrepreneurs to manifest increased levels of financial and emotional success with her heightened intuition. Melissa mentors entrepreneurs to hone their message and gifts, while activating potential. She feels we're here to live a legacy, not just leave one behind. Melissa builds business with magic, ritual, and strategy; weaving joy into the talents our souls came to express. She's the founder of Wild Woman Inc., a sacred online gathering space and marketplace for the woman "who knows her magic" and seeks to celebrate it with other conscious, collaborative, women. Check out the Wild Woman Marketplace for witchy, wise, magical, and mystical products and services for women. http://wild-woman.com/