Scorpio tends to go deep into the emotional waters of the hidden, and just when you think you have found the ocean floor, you are invited to plummet further into the unknown. This is the amplification of this Scorpio energy with the intensity of a lunar eclipse. This water sign is intuitive, intense, and passionate and tends to uncover hidden emotions. This Full Moon is a lunar eclipse, heightening the energy and offering experiences to match the mysterious vibe we encounter during a Scorpio Full Moon
Intertwined in the depths, potential lessons and experiences may unfold around sexuality and relationships. A lunar eclipse is a powerful time to heal any core wounds in these areas, especially in situations where there is a sense of power loss. Sexuality is connected to creative energy, another form of expression. This moon is supportive of shadow work, parts therapy, and holds an enormous capacity to heal old wounds or grudges. If something has felt stuck or stagnant for a little while, it might find a way of stirring loose to get your attention.
An eclipse works to clear at a profound level, beyond what we can see, perceive, or know with our human senses. It is a time that is extremely conducive to clearing ancestral patterns, deeply held beliefs in conflict with desires, and generational cycles you have come here to complete. All of this is already underway. There is no need to figure out how or what to do; it is more a matter of honoring your intuitive guidance and making space for human emotions to surface with awareness.
Tips for the May 16th Lunar Eclipse:
Let your mind wander, yet detach from the stories you may encounter. It is a time to open to the greatest good for this next phase of your life experience. Pay attention to relationships or projects calling you to tend to them. It is time to find your footing and observe any changes you are being nudged to make.
Sometimes a relationship or project can feel enchanted all over again if you are willing to take an honest look at what needs to shift. Trust that something new can emerge from the ashes. Do not toss away what you do not understand or have not yet learned how to navigate. Take time and unwind from any old programming that may be getting in the way of the magic and enchantment you desire to experience. This moon is powerful and intense and still can re-enchant your world if you are available and believe it is possible. What does not serve can be let go, and in time you will know the right moves to make. Trust yourself and trust the universe. Scorpio is a water sign – tune in to discern the amount of water needed to support you in moving energy. Sometimes we need to ground into the Earth when there is too much emotion – a walk in the woods or around trees can be a powerful antidote to a water imbalance.
In most areas of the northern hemisphere, flowers are abundant in late spring. Blossoms of brilliant color burst forth in both tree and meadow. Thus, the name of May's moon, the Full Flower Moon. May also marks the end of hard frost, making this the time of year when farmers begin to seed their fields. This led to May's moon also being known as the Full Corn Planting Moon. In medieval Europe, the first day of May or Beltane, was the day cows were moved to their rich summer pastures, providing them with rich nourishment to feed their newborn calves. This is why May's moon is sometimes known as the Full Milk Moon. (Farmer's Almanac)
"Nations, like stars, are entitled to eclipse. All is well, provided the light returns and the eclipse does not become endless night. Dawn and resurrection are synonymous. The reappearance of the light is the same as the survival of the soul." ~ Victor Hugo
Ways You Can Connect to This Full Moon:
Find out when the moonrise is in your city by going here: http://www.timeanddate.com/moon/
Find a place where you can see or sense the energy of the Full Moon – preferably a comfortable position with the moon in sight with a journal and pen nearby.
Allow your eyes to gently close. Intentionally remain present to your senses. Relax and let go as you continue to take long, slow, deep breaths.
Observe the energy from the moon all around you: Can you feel it? Is there an awareness of how it affects you?
Is there something you have been holding, consciously or otherwise? Ask and remain open to receiving.
Pay attention to internal images, thoughts, feelings, and somatic reactions from the body.
Imagine the moon is supporting you to discover something from within, lighting it up, drawing it out for you to work with.
When you are ready, open your eyes and let your eyes adjust to the space around you. Breathe and write out what came to you … sit with it and ask if there is something to be done with this information.
*Reminder: each Full Moon will impact you for up to 3 days prior to the Full Moon and 3 days after the Full Moon.

Full Moons are always powerful times for releasing and letting go, as well as for gratitude and appreciation. Create your own ceremony to embrace the energy this lunar cycle offers to create space in your life for what you truly desire. As always, remember, you are not alone in experiencing this Full Moon phase. Be mindful of this while encountering others over these next few days. Send them love as they are also shining a light on themselves and they might be a little more sensitive during this time. The next Full Moon is in the sign of Sagittarius on June 14th. It is known as the Full Strawberry Moon.
Want to clear your space during the Full Moon? Try out Sunny's Vibe-Raiser essential oil spray. It's an organic aromatherapy spray you can use to clear your space and raise your vibes! Check it out HERE in the SDJ Boutique.
Melissa Kim Corter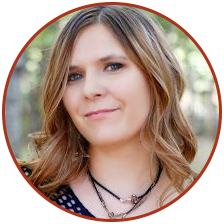 Melissa Kim Corter is a best-selling author, intuitive coach, and clinical hypnotherapist. She helps women overcome money and visibility blocks with evidence-based and spiritual approaches. She guides entrepreneurs to manifest increased levels of financial and emotional success with her heightened intuition. Melissa mentors entrepreneurs to hone their message and gifts, while activating potential. She feels we're here to live a legacy, not just leave one behind. Melissa builds business with magic, ritual, and strategy; weaving joy into the talents our souls came to express. She's the founder of Wild Woman Inc., a sacred online gathering space and marketplace for the woman "who knows her magic" and seeks to celebrate it with other conscious, collaborative, women. Check out the Wild Woman Marketplace for witchy, wise, magical, and mystical products and services for women. http://wild-woman.com/