The Full Moon of March ushers in the fresh air we have been waiting for; spring's revitalizing energy is just around the corner. This Full Moon marks the transition from winter to spring; we can look to nature to understand ourselves better. Reflecting on the seasonal shift, we can understand the psychological and energetic movements underway within the psyche. This is the perfect time to begin decluttering, creating space for the new, especially since this Full Moon marks the completion of a cycle that began in August of 2022.
This Full Moon offers an energetic boost to support you in implementing the continuous downloads of ideas and inspirations streaming through. As you channel new energy into projects, beliefs, and new possibilities, you will simultaneously release old ancestral patterns of stagnant debris in your field and consciousness. You are deeply healing and interrupting patterns that exist beyond your physical sense of reality. Utilize the increased surges of inspiration in a creative format; untapped wisdom is being activated within the unconscious. New divine sources of inspiration and connections are available to you now. You may notice a shift in your intuitive gifts; trust this creative impulse as it is a deeper reflection of the soul unfolding, leading you to the next perfect situation and circumstance for your soul's evolution.
March's Full Moon goes by the name Worm Moon. For many years, we thought this name referred to the earthworms that appear as the soil warms in spring. This invites robins and other birds to feed—a true sign of spring! However, more research revealed another explanation. In the 1760s, Captain Jonathan Carver visited the Naudowessie (Dakota) and other Native American tribes and wrote that the name Worm Moon refers to a different sort of "worm"—beetle larvae—which begin to emerge from the thawing bark of trees and other winter hideouts at this time. (Farmer's Almanac)
"Love is the real power. It's the energy that cherishes. The more you work with that energy, the more you will see how people respond naturally to it, and the more you will want to use it. It brings out your creativity, and helps everyone around you flower. Your children, the people you work with — everyone blooms." ~ Marion Woodman

Harnessing the Energy of the March 2023 Virgo Full Moon:
The Spring Equinox falls on March 20th, 2023, in the northern hemisphere; the equinox denotes the beginning of spring, moving us out of the contemplative lessons of winter with the emergent forces of spring. These progressions contain opportunities for balance and harmony. The transition from winter to spring requires us to tend to the inner stirring of the soul. The soul is an aspect of nature; it knows what new lessons are moving into place with the shift of a season. This energy is symbolic of a new year, a great time to refresh intentions set in motion back in January.
In addition to the magic and beauty of this Full Moon, there is always a shadow to contend with. Do not fear the lessons of shadow; the shadow illuminates the hidden aspects of self in service to the growth of the soul. During these moments, we may notice increased tension within ourselves and in certain life experiences, specifically relationships. These are opportunities to move further into the self and uncover latent truths to strengthen relationships through vulnerable actions and heartfelt conversations.
Ways You Can Connect to This Full Moon:
Find out when the moon rise is in your city by going here: http://www.timeanddate.com/moon/
Find a place where you can see or sense the energy of the Full Moon, preferably a comfortable position with the moon in sight (outdoors, weather permitting). Bring a pen, paper, or notebook with you and a burn bowl and lighter.
Begin breathing deeply, inhaling and exhaling slowly and mindfully, feeling your body sitting upon the earth. Sense the earth beneath you, supporting and holding you in place.
Close your eyes, and focus inwardly on the energy of your body connecting with the energy of the earth … imagine roots tethering you to Mother Earth, lovingly forming reciprocal energy. Take a minute to feel the earth rising up to steady and center your being; imagine tapping directly into the earth as a source of connection, deep wisdom, and grounding.
Use your breath to anchor the connection – see, sense, or feel the earth cradling you now as you release any tension or worry down into the earth. You are simultaneously releasing and receiving through the breath and with intention.
Imagine sinking deeply into the earth's rich soil and nurturing essence and asking her to speak to you. Sit with her for a few minutes, receiving as you breathe, even if it feels as if you are imagining it or making it up.
Begin free writing, uninterrupted and uncensored, for a few minutes. Let words move through you, do not focus on them at all, and release the need to control the words or make them positive. Once you feel complete, move to the next step.
Reflect on what came through, and ask yourself what you have discovered in this experience. Once you feel complete, you may safely burn and release your pages during this Full Moon cycle.
*Reminder: each Full Moon can impact you for up to 3 days prior to the Full Moon and 3 days after the Full Moon.
Full Moons are always powerful times for releasing and letting go. Try creating your own ceremony to honor this time, embracing the energy this Full Moon has to help you create space for what you truly desire. As always, remember you are not alone in experiencing this phase. Be mindful of this when encountering others over these next few days. Send them love, as they are also shining a light on themselves and may be extra sensitive during this time.
The next Full Moon is in the sign of Libra on April 6th and is known as the Full Pink Moon.
Want to clear your space during the Full Moon? Try out the Palo Santo in Sunny's Boutique. Palo Santo or "Holy Wood" has been used for generations as a way to cleanse the air and environment. Check it out HERE in the SDJ Boutique.
Melissa Kim Corter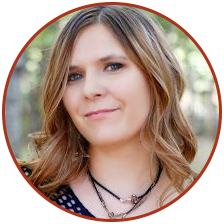 Melissa Kim Corter is a best-selling author, intuitive coach, and clinical hypnotherapist. She helps women overcome money and visibility blocks with evidence-based and spiritual approaches. She guides entrepreneurs to manifest increased levels of financial and emotional success with her heightened intuition. Melissa mentors entrepreneurs to hone their message and gifts, while activating potential. She feels we're here to live a legacy, not just leave one behind. Melissa builds business with magic, ritual, and strategy; weaving joy into the talents our souls came to express. She's the founder of Wild Woman Inc., a sacred online gathering space and marketplace for the woman "who knows her magic" and seeks to celebrate it with other conscious, collaborative, women. Check out the Wild Woman Marketplace for witchy, wise, magical, and mystical products and services for women. http://wild-woman.com/