I always love the energy of the full moon – well … almost always. Sometime it gets a bit intense, which is why I ask people that tune into moon energy to let me know, in advance …  what to be mindful of. I'm one of those types of people that would rather have awareness ahead of time … than not … so … Here is some great info for this month's FULL MOON by Melissa Corter – Enjoy – SDJ ♥
March 31st 2018 Full Moon in Libra
A special Full Moon, it's the second one in the month of March, making this a Blue Moon. Blue Moons also signify a time to be mindful on inner and outer communication. Do your words align with your desires? Do you complaining while hoping for a change? This sort of counter intention can become clear during this time. This Full Blue Moon is in the sign of Libra; fond of balance, and healthy compromise.
Libra strives for harmony, and this one in particular calls for saying yes! Go for it, accept the offer or invitation, and have clarity in these actions. You're your role and responsibility, and clearly articulate this to others. Say yes, and have boundaries while doing so. This Libra energy favors joint ventures; conscious creative experiences rooted in intention and passion for like minded souls.
Air signs such as Libra are known for having powerful mental energy, this Full Moon can tap into this quality if seen with a grounded and clear mind. Meditation and balance bring this into view, otherwise you may feel scattered and unsure of your own decisions. Deep breathing coupled with meditation will calm the mind to help you bypass the mental confusion.
March's Full Moon is also known as the Full Worm Moon. As the temperature begins to warm and the ground begins to thaw, earthworm casts appear, heralding the return of the robins. The more northern tribes knew this Moon as the Full Crow Moon, when the cawing of crows signaled the end of winter; or the Full Crust Moon, because the snow cover becomes crusted from thawing by day and freezing at night. The Full Sap Moon, marking the time of tapping maple trees, is another variation. To the settlers, it was also known as the Lenten Moon, and was considered to be the last full Moon of winter.
(Farmers Almanac)
Libra energy can sometimes feel like it reveals the opportunity for justice in various situations. Do not be caught off guard if you start to see hidden agendas, for this is also an opportunity for you to redirect your own internal desire. This time offers vast moments of clarity in areas you could have been noticing a block or questionable space within your life.
This full Moon also brings attention to balance in being a total pushover, or generous and kind. People pleasing tendencies can surface for healing, shining a light on the true areas of healthy compromises vs. letting someone else dictate your next move. Empathy is a quality displayed with the Libra Full Moon; sensitive beings will feel a shift within this area. Let the energy guide you to witness this as a gift and it will feel less assaulting to your nervous system.
This Full moon is also about beauty, the arts, and appreciation of the finer things in life. Notice if you struggle to spend money on luxuries; this is a sign you may be are resistant to treating yourself well and feeling worthy of receiving. Does the thought of spending money on a lavish dinner turn your stomach? There is healing available for you here, do something kind and a bit out of the routine for yourself. Focus on abundance and receiving and you will allow in new levels of spiritual abundance in various forms.
"Because true belonging only happens when we present our authentic, imperfect selves to the world, our sense of belonging can never be greater than our level of self-acceptance." ~ Brene Brown
 
Tips for March 31st Full Moon in Libra:
             Go out for a fancy dinner, or splurge on yourself. Make it about you, and let yourself receive it. Try to keep others out of it, and see if this feels uncomfortable for you to do. If it feels challenging, you are healing a money story with this beautiful Libra energy. If you tend to go overboard only spending on yourself, you then can include others into the experience.
             Let this Moon animate newfound appreciation for art, creativity, and beauty. What ore could you see in this world if you were looking through a lens of love? There is no greater time than the present moment to witness the vast beauty surrounding us all, even in turmoil the light of spirit lives.
  Ways you can allow this Full Moon to support you:
Find out when the moon rise is in your city by going here: http://www.timeanddate.com/moon/
Find a place where you can see or sense the energy of the full moon. Preferably a comfortable position with the moon in sight. If you can sit outside, on the earth for this exercise you may notice a larger shift.
Have your journal, or a piece of paper and writing instrument nearby. The full moon is the feminine aspect of our being, she can help release and reveal all things ready to find a way to the surface.
Begin with closed eyes, focusing on breathing deeply, releasing any tension or worry for the body and energy field. Bring your internal attention to the world "appreciation", repeat this word like a mantra as you get lost in your breath.
Start pulling images and thoughts of appreciation into your mind, choosing to see everything as a miracle. Stay present to this … Breathing, and focusing on everything that floats through your mind, breathing deeply for a cycle of 10 to 20 breaths.
Write about your experience in your journal, was there something that popped up that surprised you? How does it feel to open up to appreciation in this way?
If you find yourself releasing … you may safely burn your paper to honor the transition and release.
**Reminder: each full moon will impact you for up to 3 days prior to the full moon and 3 days after the full moon.
Full moons are always powerful times for releasing and letting go. Try creating your own ceremony or honoring of this time to embrace the energy that this time has to help you create space in your life for what you truly desire. As always remember, you are not alone in experiencing this phase, be mindful of this when encountering others over these next few days. Send them love as they are also shining a light on themselves and may be extra sensitive during this time. The next full moon is in the sign of Scorpio on April 29th and is known as the Full Pink Moon.
Melissa Kim Corter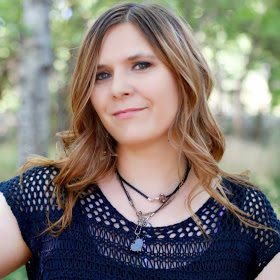 Melissa Kim Corter is a Certified Hypnotherapist and Shamanic practitioner certified over 20 healing modalities. She helps clients release fear & clear away the emotional clutter from their life experiences. Through various modalities coupled with her heightened intuition, she connects with your spirit for expanded truth and guidance on how to shift limiting beliefs. The earth, moon, and elements have been a channel for deeper levels of healing and connection for Melissa, stirring a passion within her to teach others to embrace the natural world.
Melissa has opened the Moon Vault! Do you feel erratic, wonky, or emotional during the Full Moon? The Moon Vault is your home for monthly recordings, information, tips, and practices to find your own natural rhythm and harmony with the moon cycles. http://melissacorter.com/join-the-moon-vault