This Full Moon is ripe with potential – teaching and revealing lessons of the previous year. This time last year the world was about to go through a massive shift. Now having been through a large part of this shift, we have an opportunity to reflect on all we have learned from this challenging year. Libra is an air sign, influencing the mind and thoughts. We can feel aligned with the analytical mind and intellect, or out-of-balance with spinning thoughts.
A Full Moon in the sign of Libra accentuates potential for balance and harmony. The beautiful opportunity with finding harmony, is it is yours alone. Only you can discern the subtle energy and how feels right for you. In finding this rhythm for yourself, it is normal to notice the aspects of your life that may be wonky or misaligned. In witnessing these pieces, we then become empowered with more choices and insight to shift them.
The Full Moon serves you in this way, creating the perfect conditions for letting go and honoring the previous cycles of lessons and guidance you may have walked through. New ideas and inspirations can appear if you create the space to let them move through you. The analytical processing mind might have you focusing a little too much on what didn't work or what isn't feeling good, when there is a bigger picture to discover. If you find yourself struggling to use the mind to analyze in a healthy manner, consider deep breathing and grounding techniques to move some of the mental energy deeper down into your body.
March's Full Moon is also known as the Full Worm Moon. As the temperature begins to warm and the ground begins to thaw, earthworm casts appear, heralding the return of the robins. The more northern tribes knew this Moon as the Full Crow Moon, when the cawing of crows signaled the end of winter; or the Full Crust Moon, because the snow cover becomes crusted from thawing by day and freezing at night. The Full Sap Moon, marking the time of tapping maple trees, is another variation. To the settlers, it was also known as the Lenten Moon, and was considered to be the last Full Moon of winter.  (Farmer's Almanac)
This Libra Full Moon is a sweet one being so close to the shift of the Spring Equinox and the transition of the seasons. This window of time blends in the completion of wisdom and reflection time received during the winter months – the stillness, calm, and introspective moments – with the promise of new life from the emergence of spring and the blooming of buds that were once tightly held as they developed and received nourishment from Mother Earth. This doorway in time can support you in shedding the old to create space for new desires, even if you are not quite sure what they are just yet. Prepare to expand, becoming more flexible and inviting of opportunities so you may be open to receive them.
"Within you, there is a stillness and a sanctuary to which you can retreat at any time and be yourself." ~ Hermann Hesse
Ways you can allow this Full Moon to support you:
In this exercise we will use a powerful NLP technique (Neuro-linguistic Programming) to create a "comfort phrase". This will support you to shift into an empowered state of being while working with the Moon to release and let go of what no longer serves you. 
Find out when the moon rise is in your city by going here: http://www.timeanddate.com/moon/
Find a place where you can see or sense the energy of the Full Moon – preferably a comfortable position with the moon in sight. If you can sit outside on the earth for this exercise, you may notice a larger shift.
Have your journal, or a piece of paper and writing instrument nearby. The Full Moon is the feminine aspect of our being. She can help release and reveal all things ready to find a way to the surface.
Begin with closed eyes, focusing on breathing deeply, releasing any tension or worry from the body and energy field. In your mind, create a "comfort phrase", a statement that feels ready good for you to hold and feel. Examples are: I am open and willing. I am supported and guided. I trust the process of life. Feel free to use any of these or create your own.
Write down your comfort phrase in your journal. Now bring your awareness to something happening in your life that causes some discomfort or uncertainty. Place your hand on your heart, repeat the comfort phrase out loud, while focusing attention on the situation. Imagine the comfort phrase wrapping the situation like a warm blanket, releasing and dissolving any concerns.
Use your breath. Exhale tension, inhale peace, and repeat your comfort statement to move energy through you. Use this comfort statement over the coming weeks when you notice the mind slipping into doubt. You will begin programming the mind to respond differently to the situation.
Write about your experience in your journal.
If you find yourself releasing… you may safely burn your paper to honor the transition and release.
*Reminder: Each Full Moon will impact you for up to 3 days prior to the Full Moon and 3 days after the Full Moon.
Full Moons are always powerful times for releasing and letting go. Try creating your own ceremony or honoring of this time to embrace the energy that this time has to help you create space in your life for what you truly desire. As always, remember, you are not alone in experiencing this phase. Be mindful of this when encountering others over these next few days. Send them love as they are also shining a light on themselves and may be extra sensitive during this time. The next Full Moon is in the sign of Scorpio on April 27th and is known as the Full Pink Moon.
Melissa Kim Corter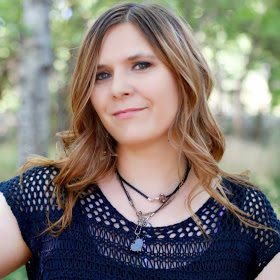 Melissa Kim Corter is a best-selling author, intuitive coach, and clinical hypnotherapist. She helps women overcome money and visibility blocks with evidence-based and spiritual approaches. She guides entrepreneurs to manifest increased levels of financial and emotional success with her heightened intuition. Melissa mentors entrepreneurs to hone their message and gifts, while activating potential. She feels we're here to live a legacy, not just leave one behind. Melissa builds business with magic, ritual, and strategy; weaving joy into the talents our souls came to express. She's the founder of Wild Woman Inc., a sacred online gathering space and marketplace for the woman "who knows her magic" and seeks to celebrate it with other conscious, collaborative, women.
Check out the Wild Woman Marketplace for witchy, wise, magical, and mystical products and services for women.