Happy New year my friends…
Every so often I will be sharing a blog by a guest blogger. Today, while so many people are focused on taking better care of their health, I thought I'd share a blog written by one of my mentees, Shelly Kay Orr. She has truly made so many amazing changes in her life and it has been an honor to be a witness to it all. Enjoy -SDJ
I have carried excess weight since puberty. I have tried many times to lose weight. I have starved, binged, exercised, joined support groups, and prayed. None of it worked or if it did the results were minuscule in comparison to my efforts. I didn't always give up easily. I have embarked on rigorous exercise programs and did them for years but still my body changes were nominal.
In September of 2014 I was about to board a plane to return home after spending time with Sunny in a personal retreat. I heard loud and clear, "The heaviness in your body is a result of the heaviness of your life." I wrote that sentence down not fully understanding everything it meant.
I continued on my spiritual journey. Through this journey I am learning about myself and embracing who I am. I am vulnerable. I am learning to love myself. I know that I am safe, that I am supported and that I do not need to hide. I work diligently on detoxing my mind from negative thinking.
I knew my excess weight served some purpose. I began to get honest with myself about the "benefits" of being overweight. I was hiding in my body. But wait…because of the work I had been doing I didn't need to hide any longer. The heaviness was energy, energy that needed to be moved. It was remnants of my old story. Heavy energy no longer serves me because I have come to embrace the traumas of my old story and see the blessings. I didn't need to lose weight, I needed to release it.
Every day, numerous times per day I repeat affirmations like, "I release excess weight with grace and ease." I see myself at a more ideal weight. I feel myself at that weight. I expect my body to respond in a positive way.
Sunny taught me it wasn't what I ate but rather the vibration with which I ate that mattered. I didn't know what it felt like to be in vibrational alignment with food so I started simple. I ate foods that I knew were good for me. I focused on how my body felt before, during and after meals. From there I began to experiment. I can now identify foods that match my current vibrational state. As I continue on my journey I know my vibrational state will increase and in turn I will be in attunement with a greater variety of foods. I am baby-stepping my way through learning about my body.
I never feel deprived because I know how good it feels to eat foods that I am in alignment with. I have no interest in "rewarding" myself with food that makes me feel awful.
I also started to move my body more. Exercise has become enjoyable. In the past I would live at the gym, exercising at least 5-6 days per week. I exercise 2-3 times per week now. I am comfortable with my body now and I enjoy discovering how it moves and how amazing it is. I exercise now because I have appreciation for my body, not because I need to lose weight.
My results have been remarkable. My entire body shape has shifted. The excess weight is releasing with grace and ease. I have more energy. My thinking is clearer. I am more animated. I am not hiding.
Releasing weight has been a process of detoxing myself of negativity from old wounds. The excess pounds are only a symptom of emotions, thoughts, and feelings that haven't been addressed. Focusing only on the symptoms didn't serve me for many years. Honesty, vulnerability and unconditional love for myself have expanded my life, brought joy, health and vitality.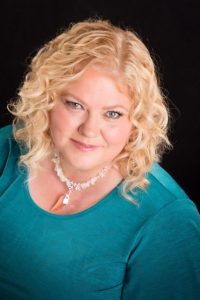 Shelly Kay Orr is an author and certified Mind-Body-Spirit Practitioner. Since 2012 she has grappled for meaning to the many questions that her diagnosis with Dissociative Identity Disorder (DID) has presented. The lowest of lows came with an attempted suicide and near-death experience in July of 2014. It was in that moment that the noisy, active chorus in her head became laser focused on the love, unity and oneness that ALL of humanity is a part of. Shelly immersed herself in healing her mind, body and spirit and grew from wanting to die to living a life full of love, acceptance, hope and joy. Shelly now shares the tools she has developed with others to guide them toward their own hope, love and joy. You can learn more about Shelly and her journey at www.shellykayorr.com.
I'd love to hear your thoughts on this blog. If guided, please share below in the comments section- SDJ