Looks like this full moon is all about transformation… and truly listening to that intuition:) I always love the energy of the full moon – well… almost always. Sometime it gets a bit intense, which is why I ask people that tune into moon energy to let me know, in advance….  what to be mindful of. I'm one of those types of people that would rather have awareness ahead of time… than not.. so… Here is some great info for this months FULL MOON – Enjoy – SDJ ♥
June 9th Full Moon in Sagittarius
This month your intuition is your greatest ally, it will allow you to look deeply into the energy of emotions that have been present and stirred within over the past two weeks. If you have been moving though healing relationship and finances., you will receive a boost of support to help you clear them further, moving into lasting healing and change. At the same time, if you have suppressing or ignoring those areas, this moon might bring you closer to look towards them, giving them the love and attention then need to be cleared and healed. This is a moon of choice, become conscious and aware, or allow the polarity of it all to surface; finding the way of getting your attention.
The energy of this full moon is a combination of intuition and instinct. This moon can be the medicine if you bring your attention into the gifts it yields…those who struggle with connection to their needs and emotions may feel it pulling them in a different direction, calling you towards healing instead of distraction from the discomfort. It is an intense time, your higher power, intuition, and divine support will be calling you into truth, surrendering in to trust.
The full moon in June is also known as the Strawberry Moon. This name was universal to every Algonquin tribe. However, in Europe they called it the Rose Moon. Also, because the relatively short season for harvesting strawberries comes early each year during the month of June. (Farmer's Almanac)
This is an extremely powerful time, the summer solstice arrives on June 20th, marking the first day of summer and the longest day of the year. Celebrated all over the world, the summer solstice is a sacred time of fun, celebration, feasts, and parties. To some it is known as Litha, or midsummer and represents the return of the Sun God. A wonderful time to give thanks to all you have in your world.
Tips for The June 2017 Sagittarius Full Moon:
Do not try to hide from yourself or your emotions, they are guiding you into truth for healing and transformation. Honor them, feel them, and then release them. The June full moon can help you overcome relationship and financial hardships if you are honest and clear about your needs. The subconscious mind holds the patterns and stories, yet it is simply a container and you get to fill it with whatever serves you now…letting go of the past and old behaviors, attitudes, and approaches. Call out your own manipulation and come back to love, manipulation stems from fear, and love will transform all. Let your self be vulnerable and genuine in your emotional state, owning it, and handing it over to the light.
Connect with your spirit and allow clarity and guidance to help you in the process. Allow the process to unfold, trusting that spirit always has a greater plan and the full moon can accentuate our intuition and receptivity. You have an abundance of support in helping you shift and release the past, especially childhood traumas or "stories" that have worn out their welcome.
Ways You Can Connect to This Full Moon:
Find out when the moon rise is in your city by going here: http://www.timeanddate.com/moon/ then at
Find a place where you can see, or sense the energy of the full moon. Preferably a comfortable position with the moon in sight.
Place your hand on your heart, feel the air entering into your lungs with grace and ease. Imagine this powerful yet gentle force, as it enlivens each and every cell, space, and part of your being. You may see, sense, or feel it, pulsating and bringing life to all that it touches.
Ask spirit, to reach into the hidden corners of your mind and being, illuminating the truth and healing around relationships or finances that have served their purpose. There is nothing to do or achieve, simply ride along with the spontaneous flow of your breath. Spending time breathing for at least 10 to 20 breaths with focused intention.
Feel your heart expanding with love, the moon is a powerful healer and revealer, she is honored to hold this space for you as you dive deeper into the awareness of a particular relationship or financial concern
Imagine sending love and light into those aspects of your life. See your relationships healing, connecting, and releasing or coming together, whichever serves your spirit. Thank the moon for helping you shift and expand into a new state of being. Journal anything that may have surfaced and burn (safely) to honor and transform the energy.
**Reminder: each full moon will impact you for up to 3 days prior to the full moon and 3 days after the full moon.
Full moons are always powerful times for releasing and letting go. Try creating your own ceremony or honoring of this time to embrace the energy that this time has to help you create space in your life for what you truly desire. As always remember, you are not alone in experiencing this phase, be mindful of this when encountering others over these next few days. Send them love as they are also shining a light on themselves and may be extra sensitive during this time. The next full moon is in Capricorn on July 9th, it is known as the Buck Moon. – Melissa Corter
 – Melissa Corter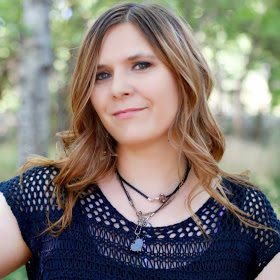 Melissa Kim Corter is the creator of Earth Moon Medicine, Soul Artistry™ and is a Certified Hypnotherapist and Shamanic practitioner certified in Elemental Space Clearing™, Gateway Dreaming™, and over 20 other healing modalities. She helps clients release fear & clear away the emotional clutter from their life experiences. Through various modalities coupled with her heightened intuition, she connects with your spirit for expanded truth and guidance on how to shift limiting beliefs. The earth, moon, and elements have been a channel for deeper levels of healing and connection for Melissa, stirring a passion within her to teach others to embrace the natural world.
One of her renowned gifts is taking people into deep levels of relaxation through guided meditations and Hypnotherapy, projecting her voice to take you on a peaceful and transformational soul journey.
Melissa offers private and group sessions to help you shift energy and perceptions to create change. For more information on spiritual guidance & Hypnotherapy sessions you may go here: http://melissacorter.com/spiritualguidance/
Capture@melissacorter.com
www.melissacorter.com