The June Full Moon accentuates the desire to get away and perhaps an itch to go somewhere new! The planetary influences merge in a cauldron of adventure, calling you to explore the unknown in creative and fun ways. Many felt a palpable exhale as Mercury went direct on May 14th. Hopefully, there are glimmers of insight rising into consciousness through the lessons Mercury reflected, as we are not out of the post-shadow phase as of May 31st. Observe and tune in before indulging in financial decisions; the spontaneity of Sagittarius might stir the inner risk taker, and now is not the time for impulsive spending or gambling. Yet celebrate the lightness of this Full Moon, as the Sagittarian energy tends to be a bit more easygoing compared to the intensity of other astrological influences.
Each Full Moon unveils layers of illumination and mystery; signs, omens, and synchronicities can point us to the next step to take. Sagittarius is a fire sign, and archetypally, the energy draws back like a bow and arrow, aiming for a specific mark, shooting for a goal or intention. We can lean into the Goddess Artemis if we find ourselves lost in the wilderness of life or find a part of ourselves seeking new adventures and untamed spontaneity. The idea is to suspend doubt and disbelief and follow the enchanted magic contained within the natural world. Engaging the imagination activates hidden potential for creative solutions and allows us to see past the solid structures into the underlying innate connectivity we share with the natural world.
June's Full Moon—typically the last Full Moon of spring or the first of summer—has traditionally been called the Strawberry Moon. While strawberries certainly are a reddish-pink color and are roundish in shape, the origin of the name "Strawberry Moon" has nothing to do with the Moon's hue or appearance, despite the evocative imagery. A Moon usually appears reddish when it's close to the horizon because the light rays must pass through the densest layers of atmosphere. (Farmer's Almanac)
"For you and for me the highest moment, the keenest joy, is not when our minds dominate but when we lose our minds, and you and I both lose it in the same way, through love." ~Anais Nin
Harnessing the Energy of the June 2023 Sagittarius Full Moon
Working with contained fire (burning bowls, firepits, etc.) is a great way to channel the fiery energy of Sagittarius, invoking the charm and charisma fire signs embody and emulate so well. Try on the confidence like a mask, giving yourself permission to tap into the power of the fiery persona, drawing forth a unique energy that serves us and can be a transformative catalyst toward growth and healing. You are not who you think you are; there is so much more to you than you know. As the moon illuminates various layers, her essence is a gift to us, drawing out the shadows toward the light. In these powerful moments, we may catch a glimpse of the true self hidden and entangled within the ever-changing dynamics and paradoxes of human experience.
Another expression of Sagittarian energy is the power of reception, knowing how to accept compliments and truly soak in the praise and celebration of a moment. Receiving in this manner is not just a frivolous experience rooted in the superficial; it is a profound skillset cultivated as a way of directly engaging with the universe in a deliberate exchange of internal dialogue. It accentuates preferences and reveals declarations of intent, opening to more blessings, as the receiver graciously allows themselves to indulge in these reciprocal moments, a true representation of receivership. Attention is amplification, and this serves the hidden desires of the heart as we allow others to share their appreciation and praise of our divinity in all forms … including human extravagances in a harmonious balance with spiritual prosperity.
Ways You Can Connect to This Full Moon:
Find out when the moon rise is in your city by going here: http://www.timeanddate.com/moon/
Find a place where you can see or sense the Full Moon's energy, preferably a comfortable position with the moon in sight (outdoors, weather permitting). Bring a pen, paper, notebook, and a burn bowl and lighter.
Begin freewriting on the magic that you are. What makes you special? What makes you a good friend, parent, or individual? Everyone has gifts to share, perhaps a smile, wise words, or experiences. Take five to ten minutes and brag about yourself, writing freely and sharing all the amazing and wonderful aspects of who you are. There is nothing too small to celebrate.
Pause and check in with yourself; how is this feeling for you? If there is resistance, write about that. If not, keep writing until you feel complete. It may serve you to imagine calling in the fire element to spark ideas, memories, and more positive qualities.
Reflect on what came through, taking time to be with yourself in this way, praising and celebrating all of who you are. Once you feel complete with the written portion of the process, you may safely burn to amplify your pages during this Full Moon phase.
*Reminder: each Full Moon can impact you for up to 3 days prior to the Full Moon and 3 days after the Full Moon.
Full Moons are always powerful times for releasing and letting go. Try creating your own ceremony to honor this time, embracing this Full Moon's energy to help you create space for what you truly desire. As always, remember you are not alone in experiencing this phase. Be mindful of this when encountering others over these next few days. Send them love, as they are also shining a light on themselves and may be extra sensitive during this time. The next Full Moon is in the sign of Capricorn on July 3rd, known as the Buck Moon.
Want to clear your space during the Full Moon? Try out Sunny's Vibe-Raiser essential oil spray. It's an organic aromatherapy spray you can use to clear your space and raise your vibes!
Check it out HERE in the SDJ Boutique.
Melissa Kim Corter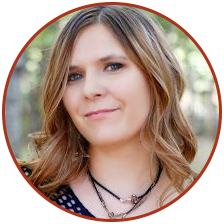 Melissa Kim Corter is a best-selling author, intuitive coach, and clinical hypnotherapist. She helps women overcome money and visibility blocks with evidence-based and spiritual approaches. She guides entrepreneurs to manifest increased levels of financial and emotional success with her heightened intuition. Melissa mentors entrepreneurs to hone their message and gifts, while activating potential. She feels we're here to live a legacy, not just leave one behind. Melissa builds business with magic, ritual, and strategy; weaving joy into the talents our souls came to express. She's the founder of Wild Woman Inc., a sacred online gathering space and marketplace for the woman "who knows her magic" and seeks to celebrate it with other conscious, collaborative, women. Check out the Wild Woman Marketplace for witchy, wise, magical, and mystical products and services for women. http://wild-woman.com/