The July full supermoon moon is powerfully held under the influence of Capricorn, an earth sign ruled by Saturn. Capricorn is an energy that connects us to practicality and ambition, aligning us with our discipline nature. Often associated with hard work and determination, we can also affect the pursuit of our long-term goals. The Capricorn moon amplifies certain qualities, such as focus and drive. This particular moon is a supermoon, which occurs when the moon is at its closest point to Earth, appearing larger and brighter in the night sky.
During this time, the full buck moon in Capricorn encourages us to assess our goals and take practical steps towards achieving them; slow and steady is the intention. It's a time for clarifying desires, making plans, and embracing a structured approach to manifestation. This Full Moon urges us to be responsible, organized, and willing to put in the necessary effort to accomplish our aspirations while opening to the divine support within and around us.
This Full Moon can bring a sense of ambition and a desire for recognition and success, drawing our sacred gifts out, so we can understand a more profound purpose emerging. This moon prompts us to elevate our long-term plans and strategies, ensuring we're on the right path and progressing toward our goals. It's a time for taking stock of achievements, acknowledging accomplishments, and making adjustments if needed.
"The Full Moon in July is called the Buck Moon because the antlers of male deer (bucks) are in full-growth mode at this time. Bucks shed and regrow their antlers each year, producing a larger and more impressive set as the years go by. Several other names for this month's Moon also reference animals, including Feather Moulting Moon (Cree) and Salmon Moon, a Tlingit term indicating when fish returned to the area and were ready to be harvested." (Farmer's Almanac).
"MoonChild, be free.
Free from the tides of being boxed.
Free from the norms of those who status quo.
Find your path and follow it to the moon."
~Malebo Sephodi
Harnessing the Energy of the July 2023 Capricorn Full Moon
The Capricorn Full Moon reminds us of the importance of stability and self-discipline. It encourages us to embrace a mature and responsible approach to our commitments and to take ownership of our actions. This is an opportunity to assess our relationship with authority, set healthy boundaries, and cultivate a strong work ethic. Since Saturn rules Capricorn, we must be mindful not to become too fixed or rigid in our ways – slow and steady, but not stagnant and controlling. Flexibility is critical as we navigate new structures, boundaries, and various formats.
Trust the ambition rising from within; it's signaling that it's time for you to elevate your goals, make plans to receive them and take deliberate steps towards their realization. Embrace discipline, and persevere during this time; you'll be grateful for staying on the path and planting seeds toward your long-term success. Trust the energy you are sensing when it comes to constructing, whether building something new from the ground up or tending to an antiquated framework that needs a fresh perspective or new energy.
Ways You Can Connect to This Full Moon:
Find out when the moon rise is in your city by going here: http://www.timeanddate.com/moon/
Find a place where you can see or sense the Full Moon's energy, preferably a comfortable position with the moon in sight (outdoors, weather permitting).
Allow your eyes to gently close while you draw in slow deep breaths … let the body and mind relax and settle down. As you continue to breathe, and let go, allow an image to form of a beautiful night sky with a Full Moon shining brightly above you. See, sense, and feel its radiant light enveloping your entire being, filling you with a serene energy.
Allow yourself to receive the moon's essence, calling in a deep sense of peace and calm as it washes over you. Let yourself be fully present now, letting go of any worries or distractions.
As you breathe, reflect on what you want to release or let go of during this time. It might be disruptive patterns, blocks that are causing procrastination, self-doubt, or anything else that no longer serves you at this time.
Hand over any worry or doubt, allowing the moonlight to transform these thoughts, breathing in and out slowly and mindfully. Creating space for what it is, you are ready to create.
As you open the space, notice what wants to flow in… Abundance, joy, prosperity, or anything else you're ready to call into your life. Visualize your intentions as glowing seeds planted in the fertile soil of your heart, ready to be nurtured and come to life.
Trust the connection you feel, recognizing you're a part of the vast interconnected universe and allowing yourself now to connect to the sense of gratitude for this moment and the beautiful influence of this Capricorn Full Moon.
Take your time here, breathing, relaxing, and soaking in the wisdom of the Full Moon. And when you are ready, you can gently bring your awareness back to the present moment and allow your eyes to flow open… Feeling refreshed, calm, grounded, and connected.
Take this sense of connection with you as you navigate the days ahead, knowing you are aligned with the lunar cycles of the cosmos, nature, and the universe.
*Reminder: each Full Moon can impact you for up to 3 days prior to the Full Moon and three days after the Full Moon.
Full Moons are always powerful times for releasing and letting go. Try creating a ceremony to honor this time, embracing this Full Moon's energy to help you create space for what you truly desire. As always, remember you are not alone in experiencing this phase; be mindful of this when encountering others over these next few days. Send them love, as they may be extra sensitive during this time. August has two Full Moons! The first Full Moon is in the sign of Aquarius on August 1st, and the second (known as a blue moon) is on August 30th in the sign of Pisces; both Full Moons are supermoons known as the Sturgeon Moon.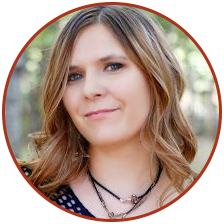 Melissa Kim Corter is a best-selling author, intuitive coach, and clinical hypnotherapist. She helps women overcome money and visibility blocks with evidence-based and spiritual approaches. She guides entrepreneurs to manifest increased levels of financial and emotional success with her heightened intuition. Melissa mentors entrepreneurs to hone their message and gifts, while activating potential. She feels we're here to live a legacy, not just leave one behind. Melissa builds business with magic, ritual, and strategy; weaving joy into the talents our souls came to express. She's the founder of Wild Woman Inc., a sacred online gathering space and marketplace for the woman "who knows her magic" and seeks to celebrate it with other conscious, collaborative, women. Check out the Wild Woman Marketplace for witchy, wise, magical, and mystical products and services for women. http://wild-woman.com/