This potent Capricorn Supermoon is the nudge many have been waiting for – what began as a whisper now takes form as a relentless request from the depths of being. This energy enhances a skill many people tend to lack, and that is to release the perceptions of others, allowing this moon to help shed the weight of opinions known and unknown, holding you back from saying 'yes' to deeper desires. The July Supermoon is the Full Moon closest to Earth, therefore the magnetic pull can feel and appear larger than a typical Full Moon.
In addition to a surge of confidence, you may notice pathways opening up to achieve goals and intentions having to do with external relationships and opportunities. Hard work pays off – it is easier to be seen, noticed, or found during this time – use it to amplify your business or presence in the world in a positive form. Attention can be a good thing! The key to allowing these opportunities resides in your ability to let go of resentments. It is time to forgive and bless any old situations that still carry the energy of resentment or unprocessed anger. Forgiveness offers awareness; utilize the experience to support the creation of new, healthy boundaries. Integrate the lesson – every aspect of the experience contains a soul medicine, to soothe and elevate.
In addition to the career or business advancements and recognition, this is a time to celebrate and honor yourself. Celebration of self is an offering to the inner child, an archetypal essence of innocence, and perhaps a part that still requires permission to shine his or her light. Celebration of accomplishments is a soulful and loving gesture that creates a ripple throughout the nervous system. It is time to release the story that celebration is bragging – that is an old part of self that fears being seen and judged. This is a time to unwind this old belief, and honor all of your hard work and effort.
The Full Moon in July is also known as the Buck Moon. July is normally the month when the new antlers of buck deer push out of their foreheads in coatings of velvety fur. It was also often called the Full Thunder Moon, for the reason that thunderstorms are most frequent during this time. Another name for this month's Full Moon was the Full Hay Moon. (Farmer's Almanac)
"It is precisely because we resist the darkness in ourselves that we miss the depths of the loveliness, beauty, brilliance, creativity, and joy that lie at our core." ~ Thomas Moore
Tips for The July 2022 Capricorn Full Moon:
Appreciate the life lessons, especially the ugly, hard, challenging, and difficult ones. Moving the energy with appreciation softens resistance and continues to unfurl old stagnant energies. If you are dedicated to co-creating your life, you will make some progress with this moon. She will lead you from within, lifting the shadows to the light for transmutation … if you are willing to let them go.
The theme of this month is dedication – who or what is your future hinged to? Consider this question as a form of self-inquiry as you decide or renegotiate what it is you crave to call into your life or business at this time. It is a powerful time to embrace the possibility that things can feel better or more graceful than they have.
Every Full Moon offers challenges as much as rewards. These are not to set you back – they are the obstacles placed in your path to help you cultivate the exact skills needed to grow into the person you feel yourself becoming. It is a dance between shedding and integrating. As you move forward you unlearn and recreate from a new place of being. All is well and unfolding for your highest good.
Ways You Can Connect to This Full Moon:
Find out when the moon rise is in your city by going here: http://www.timeanddate.com/moon/
Find a place where you can see or sense the energy of the Full Moon, preferably a comfortable position with the moon in sight.
Have a pen and paper handy. Begin breathing deeply, feeling the air move in and out of your lungs, expanding with each breath in.
Allow yourself to retrieve a person or situation that holds any energy of resentment.
Sit with the experience as you breathe in and out and observe how you feel when acknowledging the situation. See if this energy resides anywhere within the body… go there in your mind's eye, bringing attention to the space(s)where resentment might be held.
Stay with the experience – do not rush or force it. Give yourself time in this part of the process.
Next, breathe into these same spaces. See if the breath can widen them, a little at a time, creating new energy from the old. Do not try to move it out without understanding what it is here to teach you.
Stay here with this a few minutes …. observing, connecting, discovering.
Once you are guided to move on, allow your breath to release the resentment in these areas … let it move, let it shift, see what needs to happen next, and stay here until you feel complete.
Take the time to write out all that you noticed and experienced. Free write anything that came up and feel free to journal and burn during this Full Moon cycle.
*Reminder: each Full Moon can impact you for up to 3 days prior to the Full Moon and 3 days after the Full Moon.
Full Moons are always powerful times for releasing and letting go. Try creating your own ceremony or honoring of this time to embrace the energy that this time has to help you create space in your life for what you truly desire. As always, remember, you are not alone in experiencing this phase. Be mindful of this when encountering others over these next few days. Send them love as they are also shining a light on themselves and may be extra sensitive during this time. The next Full Moon is in the sign of Aquarius on August 22nd and is known as the Full Sturgeon Moon.
Want to clear your space during the Full Moon? Try out the Palo Santo in Sunny's Boutique. Palo Santo or "Holy Wood" has been used for generations as a way to cleanse the air and environment. Check it out HERE in the SDJ Boutique.
Melissa Kim Corter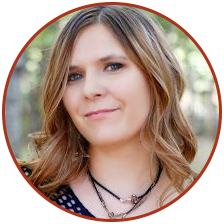 Melissa Kim Corter is a best-selling author, intuitive coach, and clinical hypnotherapist. She helps women overcome money and visibility blocks with evidence-based and spiritual approaches. She guides entrepreneurs to manifest increased levels of financial and emotional success with her heightened intuition. Melissa mentors entrepreneurs to hone their message and gifts, while activating potential. She feels we're here to live a legacy, not just leave one behind. Melissa builds business with magic, ritual, and strategy; weaving joy into the talents our souls came to express. She's the founder of Wild Woman Inc., a sacred online gathering space and marketplace for the woman "who knows her magic" and seeks to celebrate it with other conscious, collaborative, women. Check out the Wild Woman Marketplace for witchy, wise, magical, and mystical products and services for women. http://wild-woman.com/