I never had the chance to sign a high school yearbook.
I quit school when I was 15 years old…
I was emancipated from my parents in order to follow the states "rules" on education.
I NEVER missed it or wished I'd gone back…
BUT…
I would have loved to sign the yearbooks.
I never did…
You might think this blog is about that, but it is not. (I'll wrote about that someday too). It's about my experience last November at the Celebrate Your Life Conference here in Phoenix, Arizona. There were over 30 of us Authors, Speaker, Teachers participaitng in their 20 year celebration Gala.
Most of them very well known; Iyanla Vanzant, Dr. Joe Dispenza, Gregg Braden, Don Miguel Ruiz. The list goes on and on. There were a few of us, less well known,  yet sharing the same stage as we came together to sing an AMAZING song, written and produced by Grammy award winning producer Barry Goldstein. That was a highlight in my life (read about it here).
SOOOOOOO FRICKIN COOL 🙂
During the gala, we were given these beautiful photobooks by Liz Dawn , the founder of CYL. They were absolutely amazing. Pictures of all of us, teaching, sharing… doing our hearts work. One of the best gifts ever…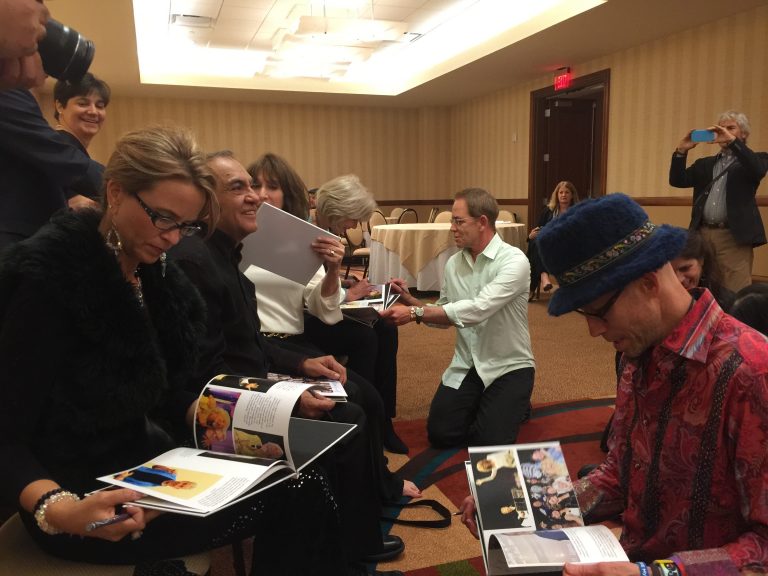 Once the gala was over, we all went back to the so-called green room. As we sat in the green room looking at them, our hearts were so filled with love… for all of this beautiful work that was out in the world, and this little photo album, that truly represented  life changing leaders. I believe it was Miguel Jr that asked someone to sign his book…and they did. Then he asked someone else and with that A FRENZY WAS STARTED!!!
With all of the participants still enjoying their gala evening, we were in the back room signing 20th anniversary CYL yearbooks! It was so fun… and heart-filled… and playful… and meaningful. Such a touching time, for us all. As we were laughing and signing, I remarked how fun this was for me, because I had never had the opportunity to do this in high school, having quit at a young age. It was surprising to me, how those sentiments were echoed by at least three of the other speakers.
Here are a few of my pages and the beautiful people I was blessed to share space with. My dear friend and soul musician is not shown here, because…she STILL has not signed my book. I need to remind her:)

It's a good reminder, for us all…. It doesn't matter who you were, what you've done or where you've been on your journey in life… Your dreams can be realized.
Believe in yourself and anything is possible. ANYTHING!!!!!!!!!!!!