"I can't see?? Where am I?" I asked.
My eyes felt like they weighed 10 pounds each and I could not get them open. My head… OMG my head hurt like hell. "What happened? Where am I?" I repeated. I tried to open my eyes, but couldn't. Everything hurt. The light was so bright and my head hurt so bad… I could faintly see shadows standing all around me, seven people in dark shirts. I could hear voices, but couldn't really tell what they were saying. Then I heard a familiar voice… my husband "Sunny, open your eyes, you are home, you are ok." I tried to open my eyes again, but they just wouldn't open. I panicked and started crying… I felt my husband take my left hand, which brought me comfort, and he said again, "Sunny open your eyes". It took everything I had to open my eyes, but I did. Everything looked fuzzy, and the room was spinning and blue shirted men were all around me. I was scared. I heard another man's voice say "Sunny, can you hear me?" You've been hurt, but you are going to be ok. Ya, I hurt alright, I thought to myself. I wondered what happened, but I literally just couldn't stay present. I went in and out of consciousness. The questions … and answers… would have to wait. I was out.
The next morning…
When I woke up the next morning, I was in tremendous pain. My head was killing me. I got up to go to the bathroom and to my shock, my face was banged up, bruised and bloody. I could not imagine what had happened. I'm not a fighter, so I knew it couldn't be that. Do you know how scary it is to wake up and have no memory of the last 12 hours? I was horrified and needed some answers. My husband then told me the story, the part he knew anyway … as the only memory I had is that I had gone out dancing with my girlfriend for her birthday the night before. That was all I could recall.
My husband and 5-year-old son were in bed sleeping when there was a frantic pounding on the door about 11pm. My husband opened the door to find a man carrying me in his arms. I was completely unconscious. My girlfriend was hysterical, trying to explain to my husband that they just found me in the bathroom like that. The restaurant didn't want to call 911 so these two guys (who we later discovered were off duty fire fighters) drove me the 3 miles home. Brett, the ever so calm Capricorn, just calmly had them take me into the bedroom while he called the local fire department to come and check on me.
So, what happened between 9pm, the time I left and 11 pm the time I returned home in a stranger's arms? I was slipped a roofie. Now, remember, this was 20 years ago and date rape drugs were not even talked about. I don't even think I knew what one was, but I knew something had happened to me. As he told me the story, I started to have some flashbacks of the night, some memories coming forth through my foggy brain.
I remembered, that after arriving, we went and got a drink and found a spot to stand. I drank a couple sips and then put it on the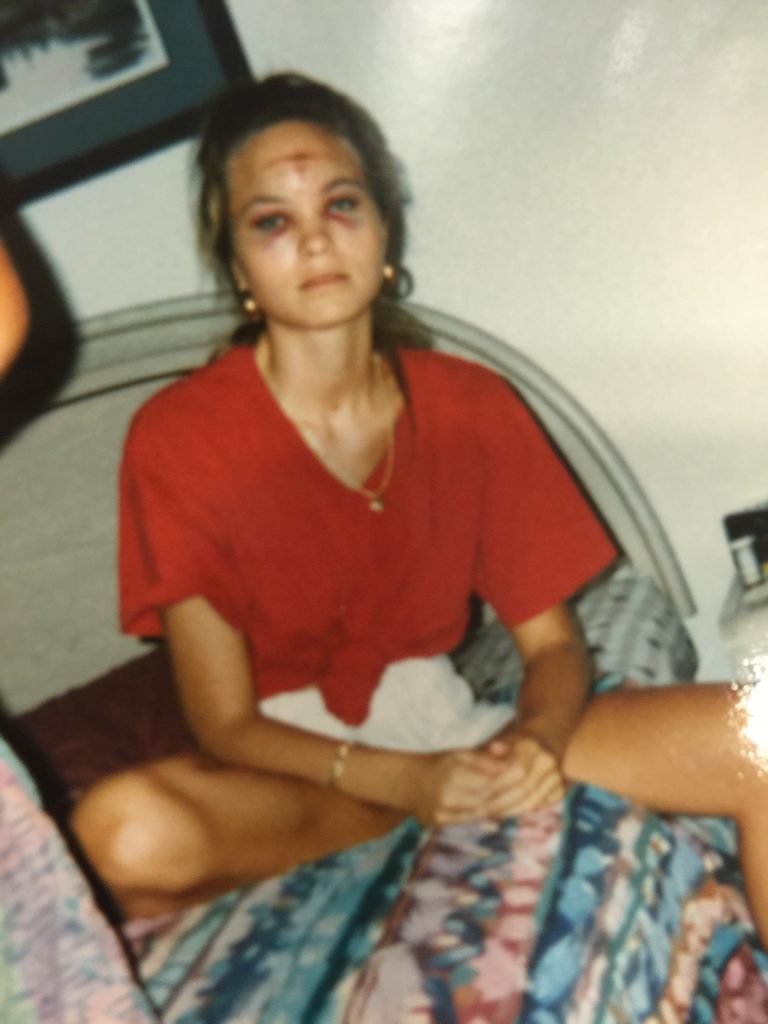 table next to the dance floor as we went out to dance. The place was packed and there were people everywhere. It was a Saturday night and everyone was having a good time. My girlfriend and I danced for about a half hour with a few different people on the dance floor. No one in particular, just kinda group dancing. We had a great time. It had been a long time since I had gone out dancing and it was so good for my spirit. We picked up our drinks, went back to our spot and just hung out, watching everyone else dance and chatting with a few people here and there. A couple of guys asked if they could buy us a drink, we declined, and that was that. Over that next half hour or so, my girlfriend and I drank the rest of our drinks. She went out to go dancing again, but I was feeling nauseous. I told her I was going to go to the restroom. The last thing I remember was feeling dizzy and getting ready to throw up in the bathroom. We're not sure how long before my friend noticed that I hadn't come back, but likely within about 15 minutes or so she went looking for me throughout the busy restaurant/bar. When she finally checked the bathroom, she saw my legs under the stall in the corner and knew something was seriously wrong. She asked for help but no one would help her. I was completely unconscious and unresponsive. It was about this time that a couple of the men that had been dancing with us earlier came out of the restroom as well, saw the commotion, and came over to help. My 6'2″ friend climbed under the stall to get the door opened to get me out of there. I was completely unconscious and bloody.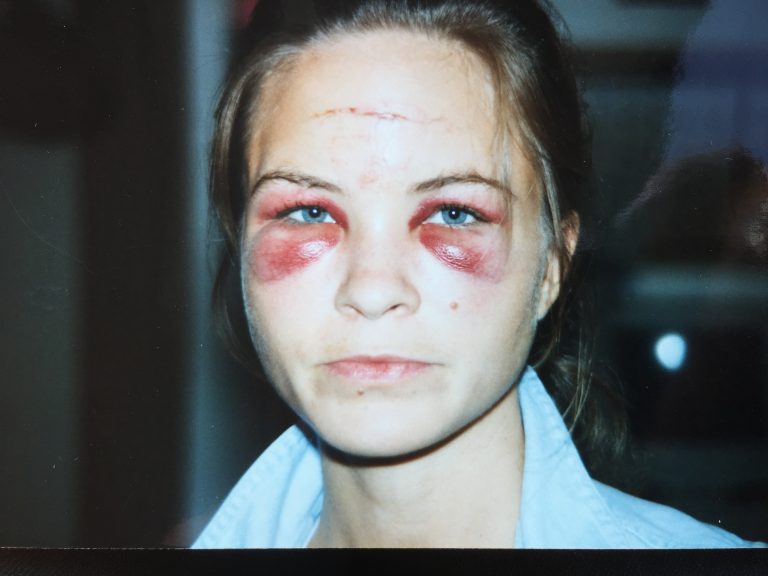 Three days later, it was Meet-the-Teacher night for my son's kindergarten class. This is what I looked like that day. I was determined to go, regardless of how I looked. I called the teacher that day and explained I had had an accident, but we would be there. It was a really important day for me … My baby was starting kindergarten. I wore big glasses to cover up my eyes … or at least I thought they did. Everyone stared. How could they not right? The thing is, they didn't stare at me … they stared at my husband. All of the sudden, people assumed that he had done this … to me!!!!! WOW!!! That was a reality check. I left feeling angry, ashamed, embarrassed and insecure. My husband just left angry.
Over the years I have thought about this experience and things I could have done differently … and what it taught me … I'm sure, you might be wondering:
• Why did I not call the police?
• Why didn't the restaurant do anything?
• Who did this?
• How do I know it was a drug?
• Why did I not go to the hospital?
• Why am I telling this story now?
All great questions….
At the time, twenty years ago, I was 24. I really just didn't think about contacting the police. I was grateful that I was ok. I wasn't even sure if that was what happened. It was too hard for me to believe it myself. I never did ask the restaurant. I think in some ways, I was embarrassed. Embarrassed that I had to be carried out, as if it was my fault in some way (typical response of someone whose power has been taken away in some form). I spent hours trying to replay the night, but my memory was really affected, so I couldn't ever see a "face" or an action that I knew was "the person". A lot of the evening was a blur. At the time, I didn't know it was a drug. I didn't even know you could do something like that. There was no internet to look things up. Basically, the way you learned about things that were happening like that was through the news. I knew something happened, somehow … that it wasn't just an 'oops, I passed out'. It was too quick, too out-of-character for me. A couple of years later, I heard about a drug being used for date rapes and I just "knew" that that is what had happened to me. I could "feel" it in my bones. I didn't go to the hospital because I "hated" hospitals. I had nearly died in one 5 years earlier, so I would do anything to avoid a hospital. Looking back, I definitely should have gone. I could have been tested, been checked out. I had risk of a stroke, had a serious head injury, etc. … AND hindsight is 20/20:) AND all is well.
So, why share this now?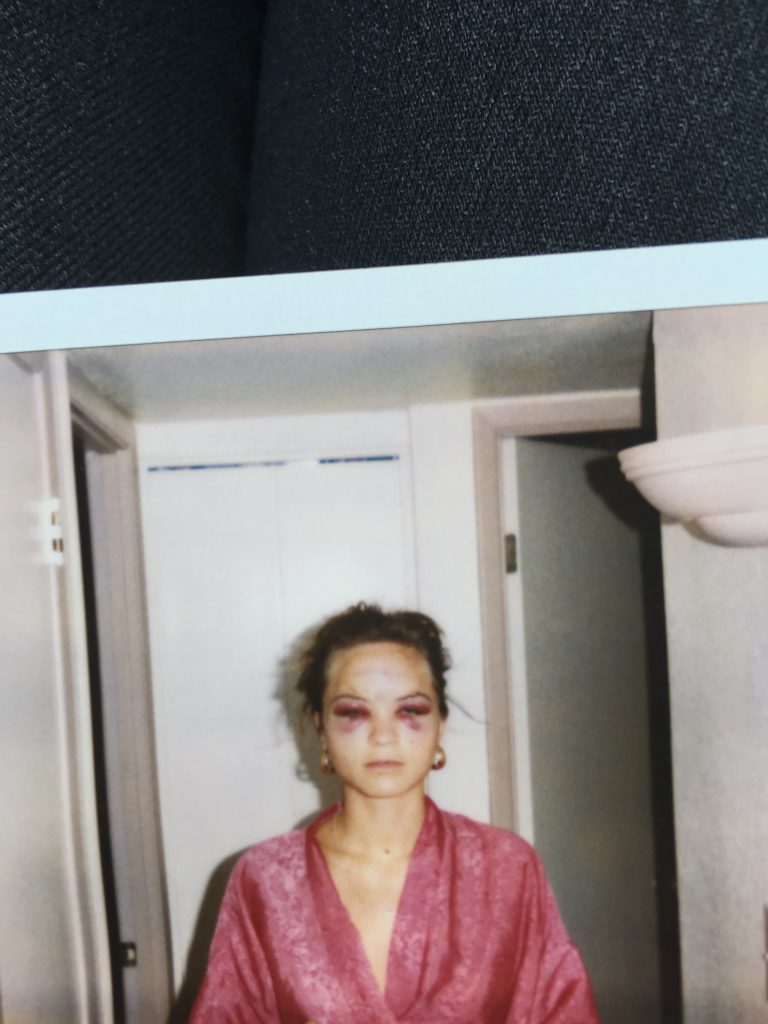 I was going through pictures this weekend … and these pics kept showing up. They have a story to tell … one I haven't told publicly, for no other reason than, I hadn't. My story is not one of rape. Gratefully, my body shut down and whatever intention went with the slipping of the drug into my drink, that action was halted. I had the experience of being slipped a drug, without my consent … and I carry the scar today. The physical scar on my forehead. A daily reminder to always stay present, aware and alert. But, for every story like mine where no sexual abuse happened … there are thousands of people that are not so lucky.
So, I was guided to share this story with you to create awareness. This can happen. It does happen. It is important to be able to talk about all experiences with freedom, and love and support and without shame or fear or guilt. My love to each and every one of you that have ever been touched my abuse of any form…  Please know you are loved and you are worthy.. ALWAYS and in ALL WAYS!!!
Blessings of Love, Light and Hope to you- SDJ
Take the time to watch this video and see how easy it is …. I do not intend, in any way, to spread fear. Please know, this is for awareness my friends:)
Take the time to watch this video and see how easy it is …. I do not intend, in any way, to spread fear. Please know, this is for awareness my friends:)

PS:A date rape drug, also referred to as a predator drug, is any drug that is an incapacitating agent which, when administered to another person, incapacitates the person and renders them vulnerable to a drug facilitated sexual assault (DFSA), including rape. Rohypnol is a tranquilizer about ten times more potent than Valium. The drug is available as a white or olive-green pill and is usually sold in the manufacturer's bubble packaging. Users crush the pills and snort the powder, sprinkle it on marijuana and smoke it, dissolve it in a drink or inject it.