The Full Moon for April is a super moon –
this is also known as a perigee, a time when the moon arrives at its closest point to Earth for the year. The moon appears larger, along with having a more potent influence as the magnetism also increases. This permits a deeper drawing from within as the Moon calls out the aspects of self we unconsciously want to have come to light. Though we may shy away from sharing the deepest parts of self, the moon has a mysterious way of magnetically drawing the shadow toward the light.
This Moon is also influenced by the sign of Scorpio, a powerful and intuitive water sign – perfectly partnered with this uniquely charged Full Moon. The moon itself is guided by the water element, accentuating the power of emotion and intuition. Scorpio is gifted in the area of ancestral patterns, revealing cycles ready to be completed through the framework of your being. This means, if the moon is illuminating a pattern, it is here for you to shift. YOU are being called to break the cycle and transcend the limitations of those who walked before you.
A full moon calls us into release, the most divine companion to Scorpio's natural pull to detoxify, clear, cleanse, and unwind. Sensitivity is a gift – remember this as emotions surface for release. The movement of emotion from within the body, mind, and nervous system is not necessarily comfortable; but it is an indicator of debris making its way out. It is normal to feel deeply and to experience an increase in psychic and intuitive insights. The opportunity here is to know which is intuition and which is old stuck energy presenting itself in a form you will acknowledge.
April's Full Moon, the Full Pink Moon, heralds the appearance of the "moss pink," or wild ground phlox – one of the first spring flowers. It is also known as the Sprouting Grass Moon, the Egg Moon, and the Fish Moon. (Farmer's Almanac)
We are on a continuous journey to wholeness; the Moon holds beautiful space for this natural evolution. If you trust her, let her guide you through thought, feeling, sensation, and inspiring ideas – you will be led to release and led to observe. This is the energetic dance the Moon offers us: what to honor in observation and what to let go of in the awareness of completion. When you are unsure, let go and trust a natural shift will occur as the divine in you takes the wheel to bring you to the most aligned experience for you to receive.
"When you reach the end of what you should know, you will be at the beginning of what you should sense." ~ Kahlil Gibran
Tips for April 26th/27th Full Moon in Scorpio:
You need not become intuitive, you innately are; it is a practice of unwinding the emotional clutter blocking inner truth. This is also an individual process of unfolding; it will not appear the same way for another. Keep your eyes on your path and listen to the impulse within to know and trust the very next step. Water knows how to flow and does not prefer stagnancy.
When you begin to "well up" or feel stuck, use breath, exercise, yoga, walking, or music to move the energy back into a natural flow state. When in doubt, let it flow out. Though many struggle with the power of the Full Moon, it is a magical, divine time to be deeply in touch with the most hidden aspects of self, to hold space lovingly for yourself in ways you may not yet be as familiar with – this is another gift of a Full Moon. The new cannot emerge when the old is still taking up its place.
Ways you can allow this Full Moon to support you:
Find out when the moon rise is in your city by going here: http://www.timeanddate.com/moon/
Find a place where you can see or sense the energy of the full moon. Preferably a comfortable position with the moon in sight. If you can sit outside, on the earth for this exercise you may notice a larger shift.
If you can, find a body of water to sit near, or bring a bowl or cup of water with you. Close your eyes and tune into your body. Ask what it needs to release in the clearing and detoxification process of the Full Moon.
Notice if any thoughts, feelings, or awareness floats into the mind. Write anything down that surfaces. If nothing arrives, stay present, and engage your breath, pulling in more breath and breathing deeper while asking again. You may also ask if there is an ancestral pattern ready to be broken.
Now ask, "How can I help let this go" and repeat the same process, writing down anything that comes to mind.
Journal anything that comes up, spending a few minutes in silence, listening and feeling.
Tear up your paper … And soak it in the water. Leave the wet paper out in the moon light all night long, and the next day you may burn it once it has dried. Notice if anything shifted in the night while you were sleeping.
*Reminder: each Full moon will impact you for up to 3 days prior to the Full moon and 3 days after the Full moon.
Full moons are always powerful times for releasing and letting go. Try creating your own ceremony or honoring of this time to embrace the energy that this time has to help you create space in your life for what you truly desire. As always remember, you are not alone in experiencing this phase; be mindful of this when encountering others over these next few days. Send them love as they are also shining a light on themselves and may be extra sensitive during this time. The next full moon is in the sign of Sagittarius on May 26th and is known as the Full Flower Moon.
Melissa Kim Corter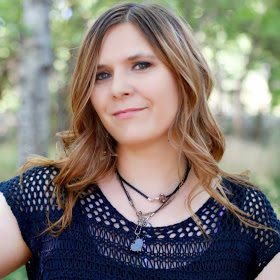 Melissa Kim Corter is a best-selling author, intuitive coach, and clinical hypnotherapist. She helps women overcome money and visibility blocks with evidence-based and spiritual approaches. She guides entrepreneurs to manifest increased levels of financial and emotional success with her heightened intuition. Melissa mentors entrepreneurs to hone their message and gifts, while activating potential. She feels we're here to live a legacy, not just leave one behind. Melissa builds business with magic, ritual, and strategy; weaving joy into the talents our souls came to express. She's the founder of Wild Woman Inc., a sacred online gathering space and marketplace for the woman "who knows her magic" and seeks to celebrate it with other conscious, collaborative, women.
Check out the Wild Woman Marketplace for witchy, wise, magical, and mystical products and services for women.
http://wild-woman.com/