Looks like this months full moon has us practicing how to be an observer… one of the most difficult and rewarding tings for us humans to do… Observe don't absorb. Here is some great info for this months FULL MOON – Enjoy – SDJ ♥
October 16th Full (Super moon) Moon in Aries
The time of harvest is among us, all around we are reminded of the shifts occurring in nature. Is gratitude your dominant focus? Are you bringing awareness to the blessings and abundance available in all things? The full Hunter's Moon guides us into the preparation for winter. It is natural to plan ahead and to prepare for upcoming months, situations, and experiences, yet allow yourself to bask in the glory of what you have created up until this moment…. good and maybe not so good. You are a creator, allow the energy of the Hunter's Moon to remind you that stillness is a gift. Be still, welcome the silence; there is voice within you that can be heard in this still space. The hunter focuses his intent on gathering and providing for himself and for others. He can only be of service if he hones in on his skill and uses his energy in the moment to get the result he seeks, bringing home food (abundance, nourishment, sustenance) to his family/tribe. Hone in on your skill and listen for the next step. Be mindful of wanting to dictate of control, become the observer this month, of yourself, your reactions, and how you well you can witness the behaviors of others.
October's full moon is a Super Moon, a time when the full Moon appears larger than normal in the sky because of its approach to Earth during orbit. Although it is not technically larger, it appears to be so. Allow this message to be reflected back in your experiences this month. Things that appear large can be an illusion, it is your choice in how you process or interpret that message. From the perspective of the observer, you can be with it, and learn to respond and not react. Place special attention on giving yourself the space you need. Claim it and decide what you need to prepare and to create a sense of inner security.
 
This full Moon is often referred to as the Full Hunter's Moon, Blood Moon, Witches Moon, or Sanguine Moon. Many moons ago, Native Americans named this bright moon for obvious reasons. The leaves are falling from trees, the deer are fattened, and its time to begin storing up meat for the long winter ahead. Because the fields were traditionally reaped in late September or early October, hunters could easily see fox and other animals that come out to glean from the fallen grains. Probably because of the threat of winter looming close, the Hunter's Moon is generally accorded with special honor, historically serving as an important feast day in both Western Europe and among many Native American tribes. (Farmer's Almanac)
This full moon can challenge or create opportunities depending on your perspective and how you decide you want to work through the lessons before you. What we resist persists and will not leave your experience until the message has been received, healed, or worked through. Are you the type of person who rests only when burnout occurs? Perhaps being proactive and taking steps towards greater self care is the lesson for you this month. Whatever it is that is calling your attention, tend to it, be with it, allow it to have a voice and to reveal the message to you. Becoming the observer is the theme, take notice of how you respond to your lessons and opportunities, or how you ignore them. No judgment, simply awareness. The moon shines a light on the subconscious undertones, become comfortable seeing what is usually hidden and you can be the alchemist in your own life.
 
"The simple things are also the most extraordinary things, and only the wise can see them."
― Paulo Coelho, The Alchemist
 
 
Tips for The October 2016 Aries Full Moon:
 
            Do not take the energy of others around you personally, decide on what you need and take action steps to formulate a plan for yourself. Those around you are also learning to be the observer of their own experience, your role in assisting them is to lead by example, not interfere with their process. Be of service, yet release controlling them. AS always, anything that surfaces during this time is ready to be released, healed, or shifted. Full moons illuminate the subconscious mind, detachment and observation are your allies.
            Be with yourself, create a time and space to honor emotions and how far you have come. Abundance is available in each moment, even if you need more (stuff, money, opportunities, solutions, etc.), or do not feel like you have enough, bring your attention to the gifts and blessings that are here. Gratitude grows and is contagious.
 
Ways You Can Connect to This Full Moon:
Find out when the moon rise is in your city by going here: http://www.timeanddate.com/moon/
Gather a pen, paper, a candle, and something to light the candle with. Find a place where you can see, or sense the energy of the full moon. Preferably a comfortable position with the moon in sight.
Place the pen and paper aside, and take a deep breath, allowing yourself to be moved by the inhale and exhale for a series of 3 to 5 breaths. Light the candle and continue focusing on your breathing.
Bring your gaze to the candle flame and notice the flicker of light; is it fast or soft? Does it move with intention or in a specific pattern? Recognize that the candle does not try to avoid the heat, it allows the flame to move and dance as it needs to…… being the container for it all of it to take place in. Stay with this moment, being the observer, noticing anything else within you that the candle sheds insight into. Continue breathing, and receiving the guidance.
Take your pen and paper and journal your experience. Allow yourself to write out everything that came up….do not censor or try to change anything. Let it be nothing more then energy taking form with words, and you are simply the vessel to let it move out.
If you feel guided, you may keep your writing if it reveals a positive insight. If you feel like you had a release, feel free to safely burn the paper(s) from your writing in a ceremonial fire, intending for the energy to continue being transformed.
**Reminder: each full moon will impact you for up to 3 days prior to the full moon and 3 days after the full moon.
Full moons are always powerful times for releasing and letting go. Try creating your own ceremony or honoring of this time to embrace the energy that this time has to help you create space in your life for what you truly desire. As always remember, you are not alone in experiencing this phase, be mindful of this when encountering others over these next few days. Send them love as they are also shining a light on themselves and may be extra sensitive during this time. The next full moon is also a Super moon on November 14th, it is known as the Full Beaver Moon or Full Frost Moon
Melissa Corter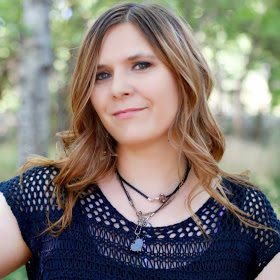 Melissa is a spiritual teacher, author, and soul artist. She has a gift of capturing the essence of her client's, while providing unconditional love and a safe space to help them release their fears of "being seen". Melissa recognized each client reflected back opportunities for healing, expansion, and discovering the power of their own light. This became the foundation of her company, "Soul Artistry®", founded to help women release fear, step into their power, and claim their place in this universe!
As a certified hypnotherapist and yoga teacher, Melissa also discovered the importance of listening to her spirit and "soul tribe" (her team of guides that help her). Melissa built a holistic practice of clients and students with her unique style and combination of healing modalities and artistic talent. She teaches others to tap into wisdom and to share their authenticity with the world. Her journey began as a photographer looking for beauty and discovered that everyone is a reflection of each other….we see in others what we want to see, or are not wanting to see. It then became her intention to see everyone to the eyes and lens of love.
Melissa now has a monthly group coaching session called Energy Alignment during the new moon! Energetic alignment is a reflection of deeper beliefs, patterns, and labels within each of us. Peel back the layers to redirect intentions for more purposeful manifestations to come into form. Learn more here: www.melissacorter.com/event/energetic-alignment/
Capture@melissacorter.com
www.melissacorter.com