I always love the energy of the full moon – well… almost always. Sometime it gets a bit intense, which is why I ask people that tune into moon energy to let me know, in advance….  what to be mindful of. I'm one of those types of people that would rather have awareness ahead of time… than not.. so… Here is some great info for this months FULL MOON – Enjoy – SDJ ♥
May 21st Full Moon in Sagittarius – Allow yourself to fall between the layers, letting go of control and receiving the natural rhythm ushering you into spaces of the past that are ready to be healed. All is unfolding for you, choose to see it all with love and follow this instinctual guidance that is revealing the next step.
What thoughts are you choosing to hold with you? Are they serving or simply just familiar? It is normal to want to keep what we know, and still there is opportunity to receive something greater when you let go to create the space for its arrival. A beautiful potential energy is available to you at this time, a wave of possibility entering your awareness….allow your attention to be held in this beautiful space, and watch the blessings pour in with ease.
The Full Moon of May is known as the Flower Moon, also called Mother's Moon, Milk Moon, and Corn Planting Moon. This moon marks a time of increasing fertility, a time for plating new seeds and the end of the cold season. Very symbolic of the fertile grounds of your spirit that are waiting for you to declare your intentions. Seeds of hope and desire have soil that can nurture new growth and possibility.
Tips for The May 2016 Sagittarius Full Moon:
During this time, you are feeling a pull to explore a certain aspect of the subconscious mind. Pay close attention to habits, patterns, and behaviors that are surfacing to grab your attention. Be honest about how you sabotage yourself and stay curious to ways you can shift these patterns.
You may witness connections to the past reoccurring, simply to shine a light on residual energy and opportunities for healing. It is safe for you to explore….open up to the messages contained with the "old stories". Your spirit has nudged your forward into this time; a part of your expansion is connected to your willingness to shift the past to write a new story for your future.
This full moon is inviting you to trust the process, allow spirit to guide you, and release the heavy layers that are lovingly holding space for your new story.
 
Ways You Can Connect to This Full Moon:
Find out when the moon rise is in your city by going here: http://www.timeanddate.com/moon/ then at a time when the full moon is visible from your area go outside.
Grab a pen and paper, make a list marked 1-10. **Starting with number one, write down 10 thoughts you think, that result in worry, procrastination, anxiety, fear, or rob you of your energy in the present moment. **It is very important that you do this without thinking, editing, or censoring what comes to you! (i. I cannot afford that, I do not have enough experience, they do not want to hear what I have to say, etc.)
Meditate on the list, journal your feelings or anything that comes up and ask your spirit for the next step in releasing the limited beliefs, mindsets, and perspectives from your subconscious mind. To help move the energy further, safely burn the list, letting spirit carry it out of your experience. Fire powerfully transforms old energy.
**Reminder: each full moon will impact you for up to 3 days prior to the full moon and 3 days after the full moon.
Full moons are always powerful times for releasing and letting go. Try creating your own ceremony or honoring of this time to embrace the energy that this time has to help you create space in your life for what you truly desire. As always remember, you are not alone in experiencing this phase, be mindful of this when encountering others over these next few days. Send them love as they are also shining a light on themselves and may be extra sensitive during this time. The next full moon is in Sagittarius on June 20th, it is known as the Strawberry Moon. – Melissa Corter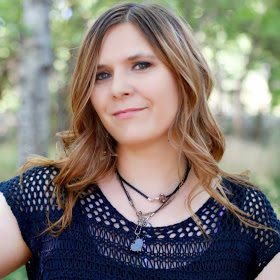 Melissa is a spiritual teacher, author, and soul artist. She has a gift of capturing the essence of her client's, while providing unconditional love and a safe space to help them release their fears of "being seen". Melissa recognized each client reflected back opportunities for healing, expansion, and discovering the power of their own light. This became the foundation of her company, "Soul Artistry®", founded to help women release fear, step into their power, and claim their place in this universe!
As a certified hypnotherapist and yoga teacher, Melissa also discovered the importance of listening to her spirit and "soul tribe" (her team of guides that help her). Melissa built a holistic practice of clients and students with her unique style and combination of healing modalities and artistic talent. She teaches others to tap into wisdom and to share their authenticity with the world. Her journey began as a photographer looking for beauty and discovered that everyone is a reflection of each other….we see in others what we want to see, or are not wanting to see. It then became her intention to see everyone to the eyes and lens of love.
Want to learn more about your own connection to the moon and how to harness the magic of the elements? Check out our brand new Seasons of Change bundle here:  http://www.purposefulevents.net/
Capture@melissacorter.com
www.melissacorter.com