I always love the energy of the full moon – well… almost always. Here is some great info for this months FULL MOON – Enjoy – SDJ ♥
August 7th 2017 Lunar Eclipse in Aquarius
We have two transformational events occurring in the month of August, first a lunar eclipse on August 7th, and then a solar eclipse on August 21st. Lunar eclipse occur during a Full Moon phase of the lunar cycle, and solar eclipses occur during the New Moon phase. An eclipse is always a powerful and potent time to focus attention with the excess energy available for you to utilize. These heightened times can provide you with enormous strength when you consciously direct your energy towards your desire. A lunar eclipse can support powerful release and healing, while a solar eclipse can supercharge dreams and manifestations. The month of August is calling you to step into your divine light, and stop hiding from the world!
"You can be amazing
You can turn a phrase into a weapon or a drug
You can be the outcast
Or be the backlash of somebody's lack of love
Or you can start speaking up"
~ Sara Bareilles Brave
This month's lunar eclipse is centered around being brave, taking a stand, and owning the truth of who you really are. Perhaps to forge this path, you might have some shifting to do to detach from smallness, and release conditioning. Many of us are aware of some limiting beliefs still lurking, and the idea of playing big and being seen can feel a bit intimidating or overwhelming…guess what? Eclipses are the cosmic eraser, they can assist and guide you in re-writing, and reshape your life. This month you have the upper hand, play it well, being open with yourself about the emotional clutter you are ready to release, and the deep seated dreams sitting patiently waiting for you to acknowledge them.

Allow the energy of this eclipse to help you deeply excavate old patterns. Each pattern, habit, or mindset you hold, acts as a placeholder…are the ones you currently have serving you well? Or is it time for something else? Is there something new wishing to come through you? This moon is your ally in this endeavor if you choose to accept the invitation.
Native meaning of the moon:
Some Native American tribes called the August Moon the "Sturgeon Moon" because they knew that the sturgeon of the Great Lakes and Lake Champlain were most readily caught during this Full Moon. They also called August's Moon the "Full Green Corn Moon." Different tribes had different Moon name preferences. Other examples for August are: "Wheat Cut Moon" (San Ildefonso, and San Juan), "Moon When All Things Ripen" (Dakotah Sioux), and "Blueberry Moon" (Ojibwe). (Farmer's Almanac)
Tips for the August 2017 Lunar Eclipse
To take advantage of the available energy of this month, childhood patterns must be examined and acknowledged. Your subconscious mind has recorded the life events you have journeyed through, not discerning between positive and negative. Your reaction to these events set up energetic parameters that seek your spirit will reveal the exact pattern or root you are ready to heal. All you have to do is ask, allow yourself to drop into deep meditation and stillness, and trust you will receive and answer.
Every answer you seek is already within you; this powerful eclipse will reveal the answers while shedding a light on areas you are ready to transform. Be not afraid, summon the inner spirit, the aspect of you that knows how to activate personal power and strength. Trust in this act as your first step towards channeling bravery.
This eclipse can feel intense for many, one of your greatest tools to harness this wave of emotion is through creative expression. Call someone who gets you, talk it out, ask them to help you see into your own blind spots. This will be healing and insightful, it will also align you with your true power.
Ways You Can Connect to This Lunar Eclipse:
Find out when the moon rise is in your city by going here: http://www.timeanddate.com/moon/
Find a place where you can see, or sense the energy of the full moon. Preferably a comfortable position with the moon in sight.
Have a pen and paper handy. Begin breathing deeply, feeling the air move in and out of your lungs, expanding with each breath in.
Now bring to mind an event from childhood that still has an affect on you when you think of it….see, sense, and feel yourself at that time.
Imagine now, you have a voice, an angel, or perhaps a loved one who can be of assistance to you in that memory.
Now imagine the memory shifting or changing….see it unfolding In a new way….feel it, and make it as real as you can in your mind.
Take some time to reflect on your experience, you may feel called to journal about it and then burn and release with this powerful eclipse!
**Reminder: each full moon (and eclipse) will impact you for up to 3 days prior to the full moon and 3 days after the full moon.
Eclipses are always powerful times for releasing and letting go. Try creating your own ceremony or honoring of this time to embrace the energy that this time has to help you create space in your life for what you truly desire. As always remember, you are not alone in experiencing this phase, be mindful of this when encountering others over these next few days. Send them love as they are also shining a light on themselves and may be extra sensitive during this time. The next full moon is on September 6th, it is known as the Full Corn Moon. – Melissa Corter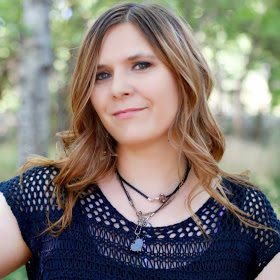 Melissa Kim Corter is the creator of Earth Moon Medicine, Soul Artistry™ and is a Certified Hypnotherapist and Shamanic practitioner certified in Elemental Space Clearing™, Gateway Dreaming™, and over 20 other healing modalities. She helps clients release fear & clear away the emotional clutter from their life experiences. Through various modalities coupled with her heightened intuition, she connects with your spirit for expanded truth and guidance on how to shift limiting beliefs. The earth, moon, and elements have been a channel for deeper levels of healing and connection for Melissa, stirring a passion within her to teach others to embrace the natural world.
One of her renowned gifts is taking people into deep levels of relaxation through guided meditations and Hypnotherapy, projecting her voice to take you on a peaceful and transformational soul journey.
Melissa offers private and group sessions to help you shift energy and perceptions to create change. For more information on spiritual guidance & Hypnotherapy sessions you may go here: http://melissacorter.com/spiritualguidance/
Capture@melissacorter.com
www.melissacorter.com