February's Full Moon in the sign of Leo is the light at the end of the tunnel many have been waiting for. Elusive dreams may now move into form, offering evidence of the internal movement of energy, awareness, and connection. This time is considered the depth of winter, the most inner aspect of the season; the ground is frozen, the holiday hustle has softened, and the new year is beginning to feel more real. This period of introspection is heightened by the Full Moon, creating opportunities for both introspection and externally reflecting. The energy of this Leo Full Moon is filled with opportunities to balance what we internally feel and outwardly express, creating harmony between both worlds.
The beauty of the Leo Full Moon is the invisible nudge to find your voice and creative expression; even if you consider yourself quiet and soft-spoken, this moon can offer supportive energy in the area of communication, expression, and creativity. Pay attention to your feelings; they are the most easily affected by the energy of this moon. Notice what triggers, activates, and stirs you. Triggers are the psyche's way of showing opportunities for growth and healing; activations are similar with less of an energetic charge to them. What stirs you may not be triggering or activating, yet can still offer hidden insight into areas of projection, ego, or creative potential.
The explanation behind February's Full Moon name is a fairly straightforward one: it's known as the Snow Moon due to the typically heavy snowfall that occurs in February. On average, February is the United States' snowiest month, according to data from the National Weather Service. In the 1760s, Captain Jonathan Carver, who had visited with the Naudowessie (Dakota), wrote that the name used for this period was the Snow Moon, "because more snow commonly falls during this month than any other in the winter." (Farmer's Almanac)
"All I know for certain is that this is how I want to spend my life—collaborating to the best of my ability with forces of inspiration that I can neither see, nor prove, nor command, nor understand. It's a strange line of work, admittedly. I cannot think of a better way to pass my days." ~ Elizabeth Gilbert
Tips for The February 2023 Leo Full Moon:
The potent revealing power of the Leo Full Moon reminds us to tend to the inner flame. Ruled by the fire element, a Leo Full Moon ignites desires or fires that have been smoldering under the surface of awareness. It is up to you to rekindle the flame OR blow it out completely and move on to something different. There are times to let go and times to invest more energy forward; trust your intuition to discern which one is for you.
The light side of Leo births new energy, ideas, intentions, and relationships, revealing what has been hidden or held back through the protective aspects of the mind. Leo gives glimmers into these elusive spaces; contemplation and writing can help capture the invisible inspirations as they begin downloading or streaming through. Even if there is self-doubt or uncertainty as to how something will come to be, trust the deeper current as it surfaces. The lunar energy does not determine worthy or unworthy; it responds to the subtle energy body, thoughts, intentions, and the inner world. Refrain from grasping at each thought or idea, write them down to move the energy, then reflect to see what is necessary or relevant. The following process is an example of how to work with these energy patterns.
Ways You Can Connect to This Full Moon:
Find out when the moon rise is in your city by going here: http://www.timeanddate.com/moon/
Find a place where you can see or sense the energy of the Full Moon, preferably a comfortable position with the moon in sight (outdoors, weather permitting). Bring a pen, paper, or notebook with you.
Begin breathing deeply, inhaling and exhaling slowly and mindfully, feeling the air move in and out of your lungs, expanding with each breath in, moving inward.
Close your eyes, and focus inwardly on the energy of the heart…imagine a glowing flame gently warming you from the inside. Take a minute to feel into the heart space and imagine tapping directly into a stream of consciousness, one being offered by your heart.
Free write, uninterrupted and uncensored for at least five minutes straight (go deeper and try for ten minutes). Let words, ideas, thoughts, feelings, ANYTHING at all, release it onto the paper. Once you feel complete, move to the next step.
Reflect on the words that moved through, scan your paper, and see what catches your eye, if anything. Are there any themes, ideas, or feelings that seek further exploration? If so, try free writing some more, and see if it goes deeper or takes you somewhere unexpected. Try to remain open and grounded as you write.
Spend a few moments looking at the written words, and ask yourself if there is something to be learned from the writing. Are you meant to take a step, commit to an action, or let go of something? Sit with the response and see what wants to emerge.
Take time with this, do not rush. If you feel guided, once you feel complete, you may safely burn and release your pages during this Full Moon cycle.
*Reminder: each Full Moon can impact you for up to 3 days prior to the Full Moon and 3 days after the Full Moon.
Full Moons are always powerful times for releasing and letting go. Try creating your own ceremony or honoring of this time to embrace the energy that this time has to help you create space in your life for what you truly desire. As always, remember you are not alone in experiencing this phase. Be mindful of this when encountering others over these next few days. Send them love, as they are also shining a light on themselves and may be extra sensitive during this time. The next Full Moonis in the sign of Virgo on March 7th and is known as the Full Worm Moon.
Want to clear your space during the Full Moon? Try out Sunny's Vibe-Raiser essential oil spray. It's an organic aromatherapy spray you can use to clear your space and raise your vibes!
Check it out HERE in the SDJ Boutique.
Melissa Kim Corter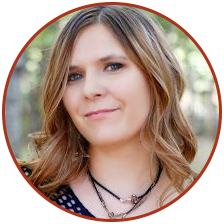 Melissa Kim Corter is a best-selling author, intuitive coach, and clinical hypnotherapist. She helps women overcome money and visibility blocks with evidence-based and spiritual approaches. She guides entrepreneurs to manifest increased levels of financial and emotional success with her heightened intuition. Melissa mentors entrepreneurs to hone their message and gifts, while activating potential. She feels we're here to live a legacy, not just leave one behind. Melissa builds business with magic, ritual, and strategy; weaving joy into the talents our souls came to express. She's the founder of Wild Woman Inc., a sacred online gathering space and marketplace for the woman "who knows her magic" and seeks to celebrate it with other conscious, collaborative, women. Check out the Wild Woman Marketplace for witchy, wise, magical, and mystical products and services for women. http://wild-woman.com/