This February Full Moon is influenced by the "feet-on-the-ground", goal-oriented sign of Virgo. This Earth sign has a specific gift of discernment and crystal-clear vision, meaning you have a beautiful opportunity to allow this Virgo Full Moon to illuminate patterns once hidden or those more difficult to uncover. Think of this as a potent moon for finding your true north when it comes to alignment. Alignment has a different energetic signature for each of us. You may also think of this as the harmony between body, mind, and soul – all congruent.
Virgo energy loves goal setting, and can invoke the analytical part of us – mental energy wanting to evaluate and examine, as you take steps and make decisions. Find the balance of the mind, working with the focused energy you may feel, and the shadow side which can shift into acting overly critical of self or others. If you recognize the critic making too much of an appearance,  become the observer of the behavior and thoughts, take a breath, and surrender them to the higher mind. This creates a natural dance between mindful observer and mind full of chatter.
The energy of the full moon can be experienced for 3 full days prior to the actual full moon date and up to 3 full days after. February's full moon is also known as the Cold or Snow moon. It was called this because often February was the coldest month with the most snow, making it challenging for hunters in various areas. (Farmer's Almanac)
This Virgo Full Moon brings forth a potent and favorable space for you to examine your identity. Who are you? What are the known patterns and cycles you wish to break, and others you crave to embody? Reinvent yourself with this Full Moon; it offers an abundance of support to bring you closer to the future self you dream of becoming. You might start to catch glimpses and glimmers of the "self" you wish to cultivate more of. This Full Moon can also highlight the parts of you out of harmony with the future identity you want to live and be; therefore, be gentle as you witness these aspects of your personality coming up. Try to release the identification of them being good or bad, and try to witness them as integrated or healing.
Transformation occurs continually. If you have been feeling stuck, you might receive the universal nudge you've been waiting for. Your higher self knows the exact way to bring this about. Change happens and is always happening to perpetually bring us closer and closer to our divine desires. Know this – create space to feel this in your body. The Earth sign of Virgo loves the connection to the body and physically feeling things to interpret them. There might be an increase in clairsentient energy, feeling more deeply at subtle levels than you are used to.
Allow the positive nature of Virgo discernment to guide you through anything you are sensing or experiencing beyond your comfort zone or normal mode of feeling. There is not necessarily a destination with this, though the critical mind might try to convince you of this. Get really comfortable breathing and letting go. Practice purposeful surrender, giving overwhelm or uncertainty to "higher hands" to guide you. 
The Moon knows instinctively how to illuminate the way, just as you know instinctively how to let go of anything you may be holding. Trust yourself and the still inner voice within you. You are not alone, and though the path sometimes seems to stop or go dark, this is simply to sharpen your "sacred sight". This is the vision you can only hone when the world seems to be shifting and changing beyond your comfort zone.
Tips For The February 2021 Virgo Full Moon:
Be gentle yet honest with yourself. What can you do to practice mindfulness while allowing aspects of your identity to shed if they are no longer serving you?
Try taking a salt bath to help your body release tension, "old stories", and stagnant energy.
Journal anything you're ready to let go of; if you're not sure, ask your higher self to guide you. You always have an answer, sometimes it takes some patience and time to receive it. You may burn the papers afterwards to transform the old energy.
"Perfectionism doesn't allow practice shots."
~ The Artist's Way by Julia Cameron
Ways You Can Connect To This Full Moon:
Find out when the moon rise is in your city by going here: http://www.timeanddate.com/moon/ – then at a time when the full moon is visible from your area, go outside.
Sit down in a quiet space where you will not be interrupted or disturbed.
Write out a few qualities you currently identify with – preferably ones you wish to shift or transform. Think of patterns, habits, or personality traits you feel out-of-alignment with.
Begin breathing deeply, and allow yourself to relax and your thoughts to start passing through. Feel, see, or sense the energy of the moon. Ask her to help you "see" why you once needed these qualities to feel safe, to feel loved, to feel accepted, or get through life. Send love to the part of you that ignited this quality … see yourself sending love and light … allowing this aspect to gently release with ease and grace. Sit with this part of you, breathing deeply, imagining you are sharing your breath with the moon and this piece of yourself. Be open to any messages or guidance you may receive. Do not get discouraged if nothing comes through; trust that there is change, and things are shifting below the surface of our awareness.
Spend time here as long as you need to…
When you feel complete, thank the moon, and know you've initiated a change.
Pay attention to how you feel and what comes up for you over the next couple of days.
Full moons are always powerful times for releasing and letting go. Try creating your own ceremony or honoring of this time to embrace the energy that this time has to help you create space in your life for what you truly desire. As always remember, you are not alone in experiencing this phase. Be mindful of this when encountering others over these next few days. Send them love, as they are also shining a light on themselves and may be extra sensitive during this time. The next full moon is in Libra and on March 28th. It is known as the Worm Moon.
Melissa Kim Corter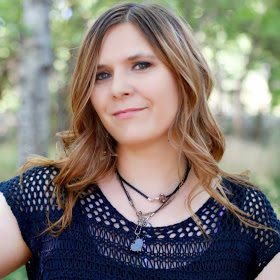 Melissa Kim Corter is a best-selling author, intuitive coach, and clinical hypnotherapist. She helps women overcome money and visibility blocks with evidence-based and spiritual approaches. She guides entrepreneurs to manifest increased levels of financial and emotional success with her heightened intuition. Melissa mentors entrepreneurs to hone their message and gifts, while activating potential. She feels we're here to live a legacy, not just leave one behind. Melissa builds business with magic, ritual, and strategy; weaving joy into the talents our souls came to express. She's the founder of Wild Woman Inc., a sacred online gathering space and marketplace for the woman "who knows her magic" and seeks to celebrate it with other conscious, collaborative, women.
Check out the Wild Woman Marketplace for witchy, wise, magical, and mystical products and services for women.