February's Full Moon in the sign of Leo offers multifaceted experiences to put love before fear.

This moon invokes energy around love, money, power, celebration, and reinvention. Working with the fire element to metaphorically burn away all that has run its course, the potency of this Leo moon seeks to blaze new pathways. A subtle current amplified by the Full Moon fiercely calls you to examine cycles and patterns binding you to the past, especially with beliefs about financial matters and matters of the heart.
Nothing is set in stone; yet it has been set in motion with unconscious consent through repetitive thoughts and actions. It's a bit of a paradox – it's the coldest month of the year (for the Northern Hemisphere) and yet an inner fire is stirring. Utilize energy practices of clearing and connecting during this month. Ceremonies with fire can magnify intentions, especially those combining the energy of the Full Moon and candles, journaling and burning, smudging, or other safe practices with the fire element.
As with all the elements, practice respect while working with them; all elements contain the power to create and destroy – a natural result of the elements and still one to be intentional with. Intuitively hone in on the right balance of the element for you as you work with it. Take note of any patterns or cycles you feel called to work with. It is a potent time of manifestation. The Full Moon also represents a time of completion, bringing things full circle. There is still vast momentum with the change of the new year, and the Chinese New Year bringing a fresh start. Utilize gratitude to usher in more blessings and to lift some of the sadness or underlying lethargy many people experience during the winter months.
Laugher and celebration are lovely antidotes to any serious matters that arise with this Full Moon.

This is not to say laughing at the problems before you, but it is not taking things so seriously to lose sight of the opportunities and cosmic humor embedded in the language and interaction with the universe. If this Leo Full Moon had its own mantra it would likely be: Laugh more, Stress less. Take care of business, release the things weighing you down … yet in the background of your mind, know you are creating space for more joy as well. Even letting go can lead to beautiful things.
The shadow side of the moon in Leo is lashing out, getting carried away, misinterpreting lust for love, and acting impulsively with money or matters of the heart. The allure of something on the other side of our own experience can seem appealing. This is an illusion and a symptom of a deeper longing for something more. Be mindful of cravings and desires that contain thoughts of salvation: meaning "if I just had this thing, my life would be better." These beliefs and thoughts are part of the illusion, and the fire element can help clear the illusions and bring truth into greater view.
The Full Snow Moon in February is named for the time of the heaviest winter snowfall. This is also a time when hunting is more difficult, so it is also known as the Hunger Moon.
(Farmer's Almanac)
Full Moon Inquiry
The symbol of Leo is the lion – associated with power, vitality, and the sun. This is a powerful time to celebrate your creations into being – give praise for them before they have arrived. Do not fear that you will not receive them – celebrate their arrival and the joy of the journey you are experiencing in their discovery. Ask yourself the following questions during this Leo Full Moon:
How do I choose to celebrate accomplishments and achievements?
Am I taking action on my intuitive impulses?
Do I trust myself to create my life with intention?
"If you can see yourself as an artist, and you can see that your life is your own creation, then why not create the most beautiful story for yourself?"
~ don Miguel Ruiz
Ways You Can Connect to This Full Moon:
Find out when the moonrise is in your city by going here: http://www.timeanddate.com/moon/
Find a place where you can see, or sense the energy of the full moon, preferably a comfortable position with the moon in sight
Bring awareness to the heart center, also called the heart chakra (Anahata Chakra) … breathe deeply in and out of the heart center, see if you can expand this space
Notice any holding in this area
Continue to breathe with intention
Notice thoughts as they come and go
Ask your heart if it has a message for you: what does it want you to know?
Be still and listen with all of your body, not just your mind
Stay present as long as it takes while breathing and receiving
Bring your experience to a close when you feel complete
*Reminder: each Full Moon will impact you for up to 3 days prior to the Full Moon and 3 days after the Full Moon.
Full Moons are always powerful times for releasing and letting go. Try creating your own ceremony or honoring of this time to embrace the energy that this time has to help you create space in your life for what you truly desire.
As always remember, you are not alone in experiencing this phase. Be mindful of this when encountering others over these next few days. Send them love as they are also shining a light on themselves and may be extra sensitive during this time. The next Full Moon is on March 18th in the sign of Virgo.
Want to clear your space during the Full Moon? Try out Sunny's Vibe-Raiser essential oil spray. It's an organic aromatherapy spray you can use to clear your space and raise your vibes! Check it out HERE in the SDJ Boutique.
Melissa Kim Corter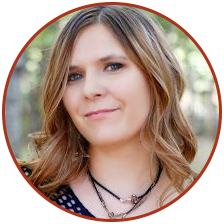 Melissa Kim Corter is a best-selling author, intuitive coach, and clinical hypnotherapist. She helps women overcome money and visibility blocks with evidence-based and spiritual approaches. She guides entrepreneurs to manifest increased levels of financial and emotional success with her heightened intuition. Melissa mentors entrepreneurs to hone their message and gifts, while activating potential. She feels we're here to live a legacy, not just leave one behind. Melissa builds business with magic, ritual, and strategy; weaving joy into the talents our souls came to express. She's the founder of Wild Woman Inc., a sacred online gathering space and marketplace for the woman "who knows her magic" and seeks to celebrate it with other conscious, collaborative, women. Check out the Wild Woman Marketplace for witchy, wise, magical, and mystical products and services for women. http://wild-woman.com/