Over the years, I have watched people do a lot of work to release….
Pain
Anger
Judgment
Fear
Relationships
Weight
You name it…. It is a constant struggle I tend to witness in my clients and students. Oftentimes, they get to the place that they have always wanted to be… they have let go and released the pain, the weight, the fear. They begin to feel really good about themselves, their lives, their being. I LOVE to see this…
BUT
then something happens
one thing happens
anything happens
Something happens that triggers some of the old behaviors and old patterns and they seem to be right back where they started. Now, of course, they are not. You don't go backwards, so they are not where they started, but they are in that familiar pain again.
This is when they ask me.. Why? What did I do wrong? What is my problem? Is the Universe against me?
AND, I SIMPLY say… "Did you fill up?"
You see.. you can release all day long.. let go of the
Pain
Anger
Judgment
Fear
Relationships
Weight
BUT, if you don't fill that space … the space from which you have released the "STUFF". If you don't fill it up with
LOVE
LIGHT
PEACE
JOY
PLAY
VISUALIZATION
POSITIVITY
VIBRANT ENERGY
Then you are only going to attract what you have always known. What your Mind, Body and Spirit are use to. You have to replace the lower vibrational energy with new, positive vibrational energy. Recently, I created Detox Your Life, 44 day Mind, Body Spirit Detox program. It was very well received and people loved it. I shared ways to fill up, thru affirmations and pivoting thoughts and feelings to a higher vibration… and it was great.
Yet, even though I had that information right in front of people, as part of the program, what I noticed was that was the step that was forgotten, skipped, or ignored. They would do the journaling, take the action step to reduce or release the habit…but they didn't fill up… at least not to the level necessary. How do I know that? Because, I listened to their feedback and I watched the exchanges.
I can never stress enough, how important it is to FILL YOURSELF UP! It is the one thing that gets missed so often, even in our teaching, as leaders and guides. It is all about release this, let go of that…. but in order to truly let it go, you must fill that space up.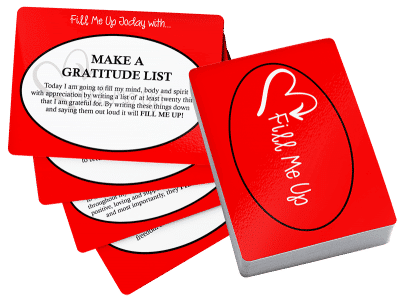 So, what can you do to fill yourself up today? Just one thing, that's all you have to do to start.
PS: If you want some help filling up with all the lightness you can handle, check out my brand spankin new card deck.. I soooo LOVE these and they were so fun to create… FILL ME UP!
PSS: Use coupon code:detoxfillup and save $5
PSSS:For more info about my Detox Your Life Program, go here.