This Full Moon brings forth many positive qualities impacting intimate relationships, profound positive insights, and opportunities to give and receive abundance. Aquarius is an air sign, therefore this moon may contain moments of deep introspection and observation. The Full Moon creates opportunities to illuminate the hidden aspect of things; couple this with the sharp focus and you may see more to things that you once felt blind to.
Relationships may be a focal point during this time; there is opportunity to find adventure in the simplest of moments if you open to experiencing them that way.
Rekindle, recommit, reawaken passion and connections with the supportive energy of this Full Moon. Take what is not working and surrender it to the highest good of all involved. This Full Moon can bring awareness to the exact areas of growth potential. Do not see this as a negative; it is truly a cosmic gift.
Shadows can seem harsher during a Full Moon – it is simply because it is more difficult for them to hide when the light is calling them out. Be gentle with yourself by addressing the things that no longer serve you, while cultivating deep appreciation for all that is unfolding in your favor. There is more glory present to work with than conflict, regardless of how things look on the surface. The illusions can be convincing, yet the Aquarius Moon cuts through to the heart of truth. The opportunity is to learn to discern for yourself. Use the perception and intuition for you; only you can feel into your own depths.
August's Full Moon was traditionally called the Sturgeon Moon because the giant sturgeon of the Great Lakes and Lake Champlain were most readily caught during this part of summer. (Farmer's Almanac)
This Full Moon can also bring potential to old wounds where energy has been stuck; take this opportunity to transmute with love. Do not overthink things (the shadow side of Aquarian energy); if you get a hit, trust the hit. If you feel a certain way; honor it…even and especially when it does not make sense to others. Intuition is personal. Everyone has their own internal guidance system, yet it can be tempting to try and follow someone else's GPS when you have not yet learned how to follow your own.
This is a beautiful time to share, give, and bring your gifts into the lives of those who need them. Your light is needed, and this Full Moon can help you discover where, how, and when to share that light. Follow the breadcrumbs left for you by the Universe, then make yourself available to act upon the guidance. Let yourself be seen and heard – the messages on your heart will serve others once you let them flow as written or spoken words.
"At times, our own light goes out and is rekindled by a spark from another person. Each of us has cause to think with deep gratitude of those who have lighted the flame within us." ~ Albert Schweitzer
Ways you can allow this Full Moon to support you:
Find out when the moon rise is in your city by going here: http://www.timeanddate.com/moon/
Find a place where you can see or sense the energy of the Full Moon – preferably a comfortable position with the moon in sight. If you can sit outside on the earth for this exercise, you may notice a larger shift.
Have your journal, or a piece of paper and writing instrument nearby. The Full Moon illuminates and reveals; she can help amplify intentions as you create space and let go.
Begin with closed eyes, focusing on breathing deeply, releasing any tension or worry for the body and energy field. In your mind, bring awareness to twenty things, people, or situations you are grateful for. (Examples are: I am grateful for the peace in my heart, I am grateful for fresh air to breathe in, I am grateful for everything that is coming to the surface for me to heal, etc.) Feel free to use any of these or create your own.
Write your gratitude statements down in your journal. Bring your awareness to each one as you write. Breathe in and out slowly and mindfully as you acknowledge these statements; notice how they feel in your body. Use the keen observation of the Aquarius Moon to observe and notice.
Place your hand on your heart and repeat the statements out loud, while focusing attention on your body and breath. Imagine the light of the moon illuminating the energy contained around each one, while also releasing and dissolving any concerns.
Use your breath. Exhale tension, inhale peace and move energy through you.
Write about your experience in your journal.
*Reminder: each Full Moon will impact you for up to 3 days prior to the Full Moon and 3 days after the Full Moon.
Full Moons are always powerful times for releasing and letting go. Try creating your own ceremony or honoring of this time to embrace the energy that this time has to help you create space in your life for what you truly desire. As always remember, you are not alone in experiencing this phase. Be mindful of this when encountering others over these next few days. Send them love as they are also shining a light on themselves and may be extra sensitive during this time. The next Full Moon is in the sign of Pisces on September 20th and is known as the Full Harvest or Full Corn Moon.
Want to clear your space during the Full Moon? Try out the Palo Santo in Sunny's Boutique. Palo Santo or "Holy Wood" has been used for generations as a way to cleanse the air and environment. Check it out HERE in the SDJ Boutique.
Melissa Kim Corter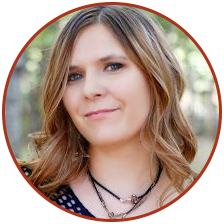 Melissa Kim Corter is a best-selling author, intuitive coach, and clinical hypnotherapist. She helps women overcome money and visibility blocks with evidence-based and spiritual approaches. She guides entrepreneurs to manifest increased levels of financial and emotional success with her heightened intuition. Melissa mentors entrepreneurs to hone their message and gifts, while activating potential. She feels we're here to live a legacy, not just leave one behind. Melissa builds business with magic, ritual, and strategy; weaving joy into the talents our souls came to express. She's the founder of Wild Woman Inc., a sacred online gathering space and marketplace for the woman "who knows her magic" and seeks to celebrate it with other conscious, collaborative, women. Check out the Wild Woman Marketplace for witchy, wise, magical, and mystical products and services for women. http://wild-woman.com/