The August Full Moon invites a forward-thinking and expansive perspective. This energy is stirring up deeper desires around life, meaning, purpose, and legacy. This Full Moon reminds us to revisit the bigger picture and evaluate your contribution and presence within the life you are living. An Aquarius moon reflects a sense of independence; you might feel called to beat to the rhythm of your own drum, finding the confidence to live in alignment with your authentic, unique self. Any old fears or concerns around being who you truly are can be worked with in the powerful energy of this Full Moon.
Aquarius is an air sign, offering cleverness, optimism, and enthusiasm. This Full Moon can stir some of these qualities within, helping you break free from a rut or reinvent yourself in a manner that feels more true to whom you have grown into. The August Aquarius Full Moon is also a Supermoon. A Supermoon occurs when the Full Moon is closest to Earth; therefore, the magnetic pull can feel and appear larger than a typical Full Moon. This could amplify emotions, feelings, and intuition.
The energy of spontaneity might have you peering more closely into the areas you have restricted or confined in yourself, opening doors of possibility and releasing these self-imposed limitations. The air element is an element of 'mind' and thought – notice the thoughts coming in and through, and allow them to move through you, knowing you will capture the ones meant to remain. Some of the thoughts will turn to ideas that gain momentum – trust them and follow the natural current of their movement.
August's Full Moon was traditionally called the Sturgeon Moon because the giant sturgeon of the Great Lakes and Lake Champlain were most readily caught during this part of summer. (Farmer's Almanac)
"There are times when you need the extremity of rock, the hardness of an old, cold place against which you can measure yourself. There are times when you need to retreat to the wilderness. But there are times when you need the subtle flow of a river, the song of a waterfall and the deep, slow presence of trees. Times when you need to Return. There are times for holding on, and times for letting go." ~ Sharon Blackie
Tips for The August 2022 Aquarius Full Supermoon:
The major theme running beneath this Aquarius Supermoon is breaking free from the old identity. This time will ask you to go against the grain, let go of the masks worn to please others, and seek out that which desires to be expressed through you. In addition, expect to be surprised – this moon contains an element of unforeseen experiences surfacing. Remain open and present, and know whatever arises is to serve the greatest expression of who you are and your life path.
The air element affects thoughts and subtle energy; trust your intuition, yet discern between thoughts and truth, or intuition and stagnant old stories from unhealed or unprocessed events. Full Moons can intensity emotions; this can be a catalyst for positive change when you consciously choose to allow the energy to move through and refrain from suppressing how you feel.
This moon is a divine form of assistance. Allow the supportive yet intense energy to help you let go and create space to step into the person you are destined to become – parts of you will remain, and others can shift. It is up to you in how you perceive the energies at play during this time. Remember, everything is here to serve you – try to bring awareness back to this truth if you find yourself getting trapped in negative thinking or overwhelming feeling.
Ways You Can Connect to This Full Moon:
Find out when the moon rise is in your city by going here: http://www.timeanddate.com/moon/
Find a place where you can see or sense the energy of the Full Moon, preferably a comfortable position with the moon in sight.
Have a pen and paper handy. Begin breathing deeply, feeling the air move in and out of your lungs, expanding with each breath in, connecting you to the air element of Aquarius.
With pen in hand, write out all the qualities you wish to embody and become. Think about the identity that feels closely aligned to whom you want to be.
Spend a few moments journaling and free writing about these qualities.
Once complete, reflect on the words and intentions and notice if there is a pattern or theme – sometimes one emerges in the mind or through intuitive awareness.
Sit with the experience as you breathe in and out. Then ask yourself: What no longer serves me that I am ready to release? What is incongruent between my future identity and current identity? Where can I honor my future self in my present moment actions or decisions?
What action is necessary at this time, if any? Is there something you feel guided to do to move this identity forward? Take note of this, perhaps making a plan on how to proceed.
Take time with this – do not rush – and let the words move through you. Once you feel a shift, you may then wish to safely burn and release your pages during this Full Moon cycle.
*Reminder: each Full Moon can impact you for up to 3 days prior to the Full Moon and 3 days after the Full Moon.
Full Moons are always powerful times for releasing and letting go. Try creating your own ceremony or honoring of this time to embrace the energy that this time has to help you create space in your life for what you truly desire. As always, remember, you are not alone in experiencing this phase. Be mindful of this when encountering others over these next few days. Send them love as they are also shining a light on themselves and may be extra sensitive during this time. The next Full Moon is in the sign of Pisces on September 10th and is known as the Full Harvest Moon.
Want to clear your space during the Full Moon? Try out Sunny's Vibe-Raiser essential oil spray. It's an organic aromatherapy spray you can use to clear your space and raise your vibes! Check it out HERE in the SDJ Boutique.
Melissa Kim Corter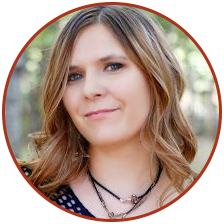 Melissa Kim Corter is a best-selling author, intuitive coach, and clinical hypnotherapist. She helps women overcome money and visibility blocks with evidence-based and spiritual approaches. She guides entrepreneurs to manifest increased levels of financial and emotional success with her heightened intuition. Melissa mentors entrepreneurs to hone their message and gifts, while activating potential. She feels we're here to live a legacy, not just leave one behind. Melissa builds business with magic, ritual, and strategy; weaving joy into the talents our souls came to express. She's the founder of Wild Woman Inc., a sacred online gathering space and marketplace for the woman "who knows her magic" and seeks to celebrate it with other conscious, collaborative, women. Check out the Wild Woman Marketplace for witchy, wise, magical, and mystical products and services for women. http://wild-woman.com/