April's Full Supermoon in the sign of Libra is here to shine a light for you to find balance within situations and circumstances. At the same time, your subconscious beliefs will rise to the surface as they do with any full moon. It is up to you to discern this push and pull between the old and the new versions of you. The old is moving out to serve your highest good, so let it go. Do not worry if it reveals discomfort or ignites feelings of inadequacy; this is an indicator your soul is creating an opportunity to release. It will serve you to surrender into it and resist the desire to cling out of fear.
We cannot ignore the current events, the tension in the air and fear in many minds. Please know, this time is serving us and creating giant leaps in evolution for the better. We are being nudged and called into service, thinking beyond limitation into all that is possible. Find your footing, dig deep, and remember the truth of who you are. You were not made for easy or simple; strength is not discovered in mundane life experiences. Your inner genius wants to liberate you from illusions of lack and scarcity, and open into infinite potential.
A supermoon always seems larger than it is, yet it is an illusion – just as fears appear to be more massive compared to the solutions needed to shift them. Desires might seem grander than your bank account can afford to bring to life … all deceptions of a mind wanting to keep you small. Face the fear, and it will dissolve in the light of awareness, revealing the true essence of magnificence.
The Full Pink Moon in April heralded the appearance of the moss pink, or wild ground phlox – one of the first spring flowers. It has also been called the Sprouting Grass Moon, the Egg Moon, and the Fish Moon.
(Farmer's Almanac)
Full Moons act like cosmic cleaners, inviting us to purge and release. Libra reminds us to find balance as we do so, ensuring we are letting go with the intention to support our highest path. The ego sometimes hides in acts of releasing, to combat spiritual bypassing, avoidance, or rash severing of ties; find the natural rhythm behind the action. Tune in and ask if this is the best action to take at this time. Full Moons accentuate intuition and can provide greater clarity as you let go. If you feel unclear, step back and wait for a stronger pull or universal form of guidance to direct the next steps.
"So this, I believe, is the central question upon which all creative living hinges: Do you have the courage to bring forth the treasures that are hidden within you?" ~Elizabeth Gilbert
Tips for the April 7th Full Moon:
Heightened emotions are clearly all around us, and still, you can find your center and become a witness. During this time of enhanced emotion and tension, there is also an opportunity to cultivate abundance and creativity, if you are willing to go within and shed the emotional debris around you. They are not yours to carry or process for others. Presence is your point of power and allows you to access your inner source.
The experiences of another need not be the same experience you have. Invite your higher self to remind you of this with each day that passes, and the Full Moon can assist and support you to clear out anything blocking you from knowing your innate purpose and power. There is also an opportunity to determine your relationship to money and abundance. You are worthy, deserving, and ready to receive – will you accept the gifts of grace all around you? Open your arms and heart to all that is good.
Ways You Can Allow This Full Moon to support you:
Find out when the moon rise is in your city by going here: http://www.timeanddate.com/moon/
Gather a pen, paper to write on. Next, find a place where you can see or sense the energy of the Full Moon – preferably a comfortable position with the moon in sight.
Place your hand on your heart and ask, do allow myself to shine and be a guiding force of light in this world? If not, how I can show up in this way? Then listen and see what shows up.
Spend a few minutes free writing, trying not to censor or edit what you write. Give this part of you space to write and express.
Once you feel complete, ask yourself, is there something I can do to shine brighter? Write a little more to honor the light that wants to express itself through you.
*Reminder: each Full Moon will impact you for up to 3 days prior to the Full Moon and 3 days after the Full Moon.
Full Moons are always powerful times for releasing and letting go. Try creating your own ceremony or honoring of this time to embrace the energy that this time has to help you create space in your life for what you truly desire. As always remember, you are not alone in experiencing this phase; be mindful of this when encountering others over these next few days. Send them love as they are also shining a light on themselves and may be extra sensitive during this time. The next Full Moon is in the sign of Scorpio on May 7th, it is known as the Full Flower Moon.
Melissa Kim Corter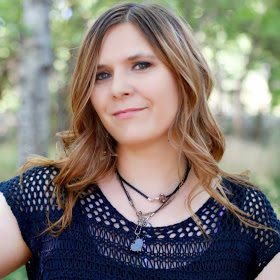 Melissa Kim Corter is a Certified Hypnotherapist and Shamanic practitioner certified over 20 healing modalities. She helps clients release fear & clear away the emotional clutter from their life experiences. Through various modalities coupled with her heightened intuition, she connects with your spirit for expanded truth and guidance on how to shift limiting beliefs. The earth, moon, and elements have been a channel for deeper levels of healing and connection for Melissa, stirring a passion within her to teach others to embrace the natural world.
Do you feel erratic, wonky, or emotional during the Full Moon? The Moon holds the key to the subconscious mind. Book a session with Melissa during the Full Moon to move the energy, uncover the blocks and find your own natural rhythm and harmony within the moon cycles.
http://melissacorter.com/sessions
www.melissacorter.com