The Full Moon of April arrives with the spring equinox, a blank slate as we enter the astrological portal of the Aries season. Aries is the first sign, marking the beginning of a new cycle in the zodiac; therefore, some consider Aries season the start of the 'new year.' Aries is an action-oriented sign; the sun entered Aries on March 20th during the equinox and will remain there until April 20th. The April Full Moon in the sign of Libra offers us opportunities to find balance with the momentum we may experience within the fiery energy of the Aries season. Libra is an air sign; it often evokes mental energy and the movement of thoughts while simultaneously offering moments of balance, peace, and harmony. The Libra Full Moon may reflect opportunities for letting go, yet with some distance between the experience and your emotions, a unique benefit of this Full Moon's influence is the ability to release with detached awareness.
"April's Full Moon often corresponded with the early springtime blooms of a certain wildflower native to eastern North America: Phlox subulate, commonly called creeping phlox or moss phlox—which also went by the name "moss pink." (Farmer's Almanac).
The fiery energy of Aries is more intense than Libra's cool, harmonious state; therefore, as decisions move forward, there might be a shift in how things come to a close, with a sacred ritual or ceremony honoring the process and all involved. The energy of Libra softens the insights that arrived during the initiation of the Aries season. The two energies at first seem counterintuitive, yet the combination, when worked intentionally, can offer beautiful perspectives and outcomes, even those that may have felt impossible before this fusion of astrological elements.  Full Moons, although intense and sometimes erratic, always bring the hidden aspects to light if we are willing to examine psychological patterns that were once tucked away.
"Spring drew on… and a greenness grew over those brown beds, which, freshening daily, suggested the thought that hope traversed them at night and left each morning brighter traces of her steps. ~ Charlotte Bronte
Harnessing the Energy of the April 2023 Libra Full Moon:
The conjunction (connecting in the same degree) of Jupiter with the sun in Aries represents BIG changes! Jupiter archetypally contains powerful energy; think titanic. These energies are oppositional to the moon in Libra; they may ignite powerful events, powerful emotions, and powerful opportunities containing the essence of abundance all around, as Jupiter is often referred to as a planet of luck. If you decide to put yourself out there and go after a dream, you will be met with a response that matches your energy, enthusiasm, and trust is encouraged! It is important to consider the other planetary influences of Venus in Gemini trine to Pluto in Aquarius; be mindful with discernment, and act with intention. Be an observer, and you will sit in a seat of power as you watch closely to pick up on hidden actions or behaviors that may not be in alignment for you to engage with. Hold onto the idea that Full Moons help release and let go when it feels right; trust your soul's guidance as the Full Moon can accentuate your inner voice.
Ways You Can Connect to This Full Moon:
Find out when the moon rise is in your city by going here: http://www.timeanddate.com/moon/
Find a place where you can see or sense the Full Moon's energy. preferably a comfortable position with the moon in sight (outdoors, weather permitting). Bring a pen, paper, notebook, and a burn bowl and lighter.
Begin breathing deeply, inhaling and exhaling slowly and mindfully, letting go, softening your shoulders, and attuning to the subtle energy of the Full Moon. Use your breath to slow the mind and dissolve any tension or stress held within the body.
Close your eyes, and imagine gathering all of the fiery energy of the heart; imagine collecting it with your hands, energetically pulling it in. As you gather, see the energy growing and becoming more potent. Take a minute to sense this energy as it builds…
Now direct the fiery energy of the heart to move into areas that need cleansing and purification … trusting the process and allowing your intention to do all of the work.
Use your breath and imagine drawing the thoughts of the mind…down into the fire of the heart, clearing away any emotional clutter or worry. Stay here for a few rounds of breath before moving on.
When you are ready, ask your soul…what is left here to pay attention to? What are you ready to shift or let go of? Breathe and continue to observe the remaining thoughts.
Begin free writing, uninterrupted and uncensored, for a few minutes. Let words move through you – do not focus on them at all – and release the need to control the words or make them positive. Once you feel complete, move to the next step.
Reflect on what came through and ask yourself when you are ready to release into the fire. Once you feel complete, you may safely burn and release your pages during this Full Moon cycle.
*Reminder: each Full Moon can impact you for up to 3 days prior to the Full Moon and 3 days after the Full Moon.
Full Moons are always powerful times for releasing and letting go. Try creating your own ceremony to honor this time, embracing this Full Moon's energy to help you create space for what you truly desire. As always, remember you are not alone in experiencing this phase. Be mindful of this when encountering others over these next few days. Send them love, as they are also shining a light on themselves and may be extra sensitive during this time. The next Full Moon is a lunar eclipse in the sign of Scorpio on May 5th, known as the Full Flower Moon.
Want to clear your space during the Full Moon? Try out Sunny's organic White Sage. A smudging ceremony completed with white sage is a simple way to relieve the negativity in your soul or your home and replace it with positive intentions and energy! Check it out HERE in the SDJ Boutique.
Melissa Kim Corter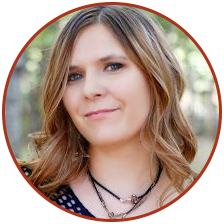 Melissa Kim Corter is a best-selling author, intuitive coach, and clinical hypnotherapist. She helps women overcome money and visibility blocks with evidence-based and spiritual approaches. She guides entrepreneurs to manifest increased levels of financial and emotional success with her heightened intuition. Melissa mentors entrepreneurs to hone their message and gifts, while activating potential. She feels we're here to live a legacy, not just leave one behind. Melissa builds business with magic, ritual, and strategy; weaving joy into the talents our souls came to express. She's the founder of Wild Woman Inc., a sacred online gathering space and marketplace for the woman "who knows her magic" and seeks to celebrate it with other conscious, collaborative, women. Check out the Wild Woman Marketplace for witchy, wise, magical, and mystical products and services for women. http://wild-woman.com/