I always love the energy of the full moon – well … almost always. Sometimes it gets a bit intense, which is why I ask people that tune into moon energy to let me know, in advance … what to be mindful of. I'm one of those types of people that would rather have awareness ahead of time … than not … so … Here is some great info for this month's FULL MOON by Melissa Corter – Enjoy – SDJ ♥
April 19th 2019 Full Moon in Libra
Contrast is key as we navigate the energy of the April 19th Full Moon in the sign of Libra. So often we fear entering into the unknown, facing darkness, and witnessing the shadow; yet this is precisely the gift of contrast. The unknown brings miracles and the shadow can only exist with the presence of light. There is nothing for us to fear as this Full Moon calls us to face contrast. The Full Moon reminds us to face our own inner contradictions with love. The power of love heals, while the energy of the Moon provides a conduit for the healing to unfold.
Another theme of the April Full Moon is decision-making; trust you will make the right one, always going with your instinct. Trust your intuition, and decide from a place of conviction, even if all of the evidence has not yet arrived in your current view of reality. The universe will deliver; confidence is the catalyst to you receiving the signs that all is coming together and can be witnessed further in a few weeks during the next New Moon phase.
This Full Moon also highlights the importance of bringing energy and mindfulness into relationships. This includes your relationship to self, others, and to spirit (or your higher self). Gifts of communication are present with this moon … utilize that for the greater good and for deeper understanding and clarification of intentions. Holding this space for someone is precious and you are invited to provide this exchange with an open heart and a grounded perspective.
The Air sign of Libra strives to have balance, yet be mindful to include holding this intention for yourself. Instilling boundaries and healthy level of self-awareness is important while honoring the intentions of those around you. Invoke the charming heart of a Libra and you can't go wrong when expressing your needs and desires from a place of love. If the indecisiveness nature of this sign gets you feeling a little unsure of yourself, fall back to your instinct and give yourself space to talk through your thoughts. Communication is key, and moving energy from the head down into the heart bring enormous clarity during this time.
April's Full Moon, the Full Pink Moon, heralds the appearance of the "moss pink," or wild ground phlox, one of the first spring flowers. It is also known as the Sprouting Grass Moon, the Egg Moon, and the Fish Moon.  (Farmers Almanac)
Balance is a favorable word- this includes your finances and watching for unnecessary self-indulgent purchases sparked by emotion. When the intention is grounded in practicality, the success of the investment will feel more in alignment versus the distraction of emotionally spending. Use your emotions to guide and lead you with opportunities for deeper healing; be aware of any impulses to spend money when you may wish to do some journaling or self-care instead.
"Wise men put their trust in ideas and not in circumstances."
~Ralph Waldo Emerson
 Tips for April 19th Full Moon in Libra:
Practice healthy levels of empathy, discernment, and detachment this month. Every Full Moon can affect us differently, and while we strive to show up in our best light, the shadow is rampant during this time. Have compassion for yourself and others while taking personal responsibility for you own reactions. Let go of wanting to control the perceptions of others, especially those linked to your communication and intentions. Their response is not your responsibility; expressing yourself in a manner that is aligned and rooted in truth and compassion is for you to look at, assess, and readjust as needed.
This Full Moon is ripe with potential energy to shift communication, opportunities, and relationships into harmony. Do not let the illusion of temporary discomforts deter you from trusting in your decisions. Give a little room for finding your flow in communication and detach from the outcome as best as you can.  
Ways you can allow this Full Moon to support you:
Find out when the moon rise is in your city by going here: http://www.timeanddate.com/moon/
Find a place where you can see or sense the energy of the full moon. Preferably a comfortable position with the moon in sight. If you can sit outside, on the earth for this exercise you may notice a larger shift.
Have your journal, or a piece of paper and writing instrument available. And a burning bowl or fireplace to safely burn your papers in.
Begin with closed eyes, begin to take a few deep cleansing breaths. Releasing any tension or worry from the body and your energy field. Bring your internal attention to an experience needing some further communication for healing. This can be something involving someone that causes discomfort within you when you think about them or the situation.
Take some time now to journal writing out all of the things you wish you could say to this person, but perhaps the words get caught, you feel fear, or maybe even a sense that they will not understand you. Let it all out without judgement or censoring.
Now, let yourself let it go, knowing your words were received and understood by your higher self. Burn your papers while imaging the communication coming to a healthy end or resolution. This helps you honor the experience, your expression, and to fully let go.
**Reminder: each full moon will impact you for up to 3 days prior to the full moon and 3 days after the full moon.
Full moons are always powerful times for releasing and letting go. Try creating your own ceremony or honoring of this time to embrace the energy that this time has to help you create space in your life for what you truly desire. As always remember, you are not alone in experiencing this phase, be mindful of this when encountering others over these next few days. Send them love as they are also shining a light on themselves and may be extra sensitive during this time. The next full moon is in the sign of Scorpio on May18th and is known as the Full Flower Moon.
Melissa Kim Corter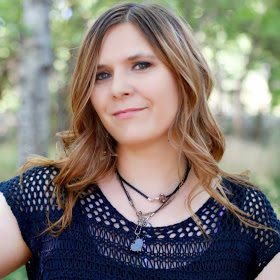 Melissa Kim Corter is a Certified Hypnotherapist and Shamanic practitioner certified over 20 healing modalities. She helps clients release fear & clear away the emotional clutter from their life experiences. Through various modalities coupled with her heightened intuition, she connects with your spirit for expanded truth and guidance on how to shift limiting beliefs. The earth, moon, and elements have been a channel for deeper levels of healing and connection for Melissa, stirring a passion within her to teach others to embrace the natural world.
Do you feel erratic, wonky, or emotional during the Full Moon? The Moon holds the key to the subconscious mind. Book a session with Melissa during the Full Moon to move the energy, uncover the blocks and find your own natural rhythm and harmony within the moon cycles.
http://melissacorter.com/product/private-session-with-melissa/
www.melissacorter.com