April's Full Moon arrives with a potent dose of "aha moments" … be on the lookout for epiphanies, and soul rocking insights manifesting in the most divine ways. Libra is an air sign and relates to Themis, the goddess of justice. We all seek balance and harmony, consciously or not, and the moon has the most creative and deliberate ways of offering us these opportunities. Creativity, beauty, and companionship are key elements to examine during this time. Invoke the energy of Themis to support you; notice what it is you may be carrying as she holds the scales of justice – see if there is a conflict or need for further discernment.
Blindfolded, Themis asks us to trust, sink down into the depths of our core values, and make decisions from a contemplative space with integrity as a foundational element guiding the process. She invokes inner vision and a counsel based on goodwill, invites us to lead with the heart, but only if it is anchored in self-trust – and if not, to cultivate this for self with the supportive guidance of this powerful Full Moon.
An added energetic layer of influence during this moon is harnessing the various forms of beauty and all the ways a situation can transform into a beautiful example of leadership, connection, or self-love. Beauty is not only about aesthetics or outward appearances; it is also deeply felt in how we navigate a challenge, hold a difficult conversation, and move through an experience. Call upon the part of self that is wise to this and knows how to transmute energy with beauty and grace. You are capable of far more than you know, and this moon can surprise you with beautiful examples of new strengths and traits tucked within the unconscious, waiting to emerge in service to you.
The Full Pink Moon in April heralded the appearance of the moss pink, or wild ground phlox – one of the first spring flowers. It has also been called the Sprouting Grass Moon, the Egg Moon, and the Fish Moon.
(Farmers' Almanac)
Although the Full Moon reminds us to reflect on the binds, ties, and energies to release, remember to bring attention to what has come full circle for you. Gratitude and appreciation are just as important to amplify during a Full Moon as honoring what has run its course. As you tune into the moon, notice what she has revealed to you – the details, insights, and intuitive impressions you have uncovered from the previous cycle or last 30 days.
In addition to the last Full Moon's intentions or desires, consider what was going on for you during the previous New Moon about two weeks ago. The Full Moon phase relates energetic pieces created or ignited during the prior New Moon. Notice any synchronistic events, signs, or repetitive messages, especially those while in a dream state. If you feel pulled to wander, wonder, or wish, give in to this calling … it is not random, and contains some potential guidance for you to recognize.
"When the inner beauty exceeds the outward beauty – it creates a magical dance in the heart." ~ Angie Karan
Tips for the April 16th Full Moon:
A powerful Full Moon tool is a dream journal – writing dreams from the different moon phases offers awareness into hidden areas of your life that the waking mind does not have as much access to. Full Moon dreams can help you process emotionally and energetically, yet the wisdom is also in the roles appearing in your dreams – the people, symbols, colors, and tone are all relevant and extremely insightful when understood. Write it all down as soon as you can, even if it means waking up in the middle of the night to capture it; the essence can dissipate quickly by the time morning arrives.
Diplomacy is also a very important theme with a Libra Full Moon – how we interact and respond with others in matters of the heart or sensitive situations is important. This also aligns with the recurring theme of beauty and the Libra Full Moon. Beauty and diplomacy do not equate to always letting things go … sometimes the beauty is found in taking a stand for yourself for what is important and tender to your needs. Beauty can be the energy created from honoring your needs and handling a difficult situation with as much grace as possible.
Ways You Can Allow This Full Moon to support you:
Find out when the moonrise is in your city by going here: http://www.timeanddate.com/moon/
Gather a pen, and paper to write on. Next, find a place where you can see or sense the energy of the Full Moon, preferably a comfortable position with the moon in sight.
Place your hand on your heart and ask: "What beautiful gift has been given to me during this phase? What can I feel gratitude and appreciation for right now? Am I allowing myself to receive from the fullness of who I am, or is there some resistance to receiving?"
Spend a few minutes freewriting, trying not to censor or edit what you write. Give all parts of you the space to step forward and express.
Once you feel complete, notice if there is something you can do with the insights you wrote down. Write a little more to honor the light that wants to express itself through you.
*Reminder: each Full Moon will impact you for up to 3 days prior to the Full Moon and 3 days after the Full Moon.
Full moons are always powerful times for releasing and letting go, as well as acknowledging gratitude and appreciation. Create your own ceremony to embrace the energy this lunar cycle offers to create space in your life for what you truly desire. As always, remember, you are not alone in experiencing this Full Moon phase; be mindful of this while encountering others over these next few days. Send them love as they are also shining a light on themselves, and they might be a little more sensitive during this time. The next Full Moon is actually a Full Moon Lunar Eclipse in the sign of Scorpio on May 16th – it is known as the Full Flower Moon.
Want to clear your space during the Full Moon? Try out the Palo Santo in Sunny's Boutique. Palo Santo or "Holy Wood" has been used for generations as a way to cleanse the air and environment. Check it out HERE in the SDJ Boutique.
Melissa Kim Corter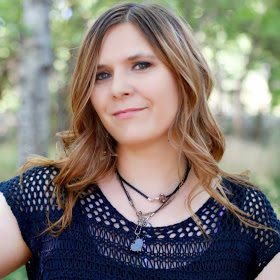 Melissa Kim Corter is a best-selling author, intuitive coach, and clinical hypnotherapist. She helps women overcome money and visibility blocks with evidence-based and spiritual approaches. She guides entrepreneurs to manifest increased levels of financial and emotional success with her heightened intuition. Melissa mentors entrepreneurs to hone their message and gifts, while activating potential. She feels we're here to live a legacy, not just leave one behind. Melissa builds business with magic, ritual, and strategy; weaving joy into the talents our souls came to express. She's the founder of Wild Woman Inc., a sacred online gathering space and marketplace for the woman "who knows her magic" and seeks to celebrate it with other conscious, collaborative, women.
Check out the Wild Woman Marketplace for witchy, wise, magical, and mystical products and services for women.