Looks like this months full moon has us looking at our patterns and opportunities as well:) Here is some great info for this months FULL MOON – Enjoy – SDJ ♥
April 11th Full Moon in Libra
April's full moon is a full moon ripe with opportunities! There is an emphasis this month placed upon how you ebb and flow with the cycles of abundance. A time to examine how you share and give; do you give only when you receive? Are you in harmony with the rhythms of life in understanding abundance is everywhere and weaved throughout everything? Give because you want to, not out of obligation or fear. Abundance is an undertone and theme of this month; the opportunities that present themselves may have a connection to abundance for you. This is a month to witness the way you feed irrational fears and also how you take responsible and inspired action.

The pink moon of April is not actually pink in color; it represents the energy of renewal, turning a new leaf, and passion. Are you excited about life? Where can you shake off complacency and the mundane tasks of your daily grind? Create space for opportunities to grab your attention and pull you into the magic of this time. Opportunities are doorways into potential; your hidden dreams, manifestations and desires calling you into them…will you answer the call?

Be mindful of impulsive tendencies, know your self deeply and be willing to shine a light within any patterns you may have cycling connected to wealth, prosperity, and taking risks. This can be a fruitful time if the risks are taken through focused strategy and intention, not out of spontaneous or rushed reactions. Abundance is available, and also accessible when you ride with the current, not pushing against or fighting the flow. Open up to the flow that is already in motion and you will be immensely satisfied with the results.

April's Full Moon is also known as the Full Pink Moon. This name came from the herb moss pink, or wild ground phlox, which is one of the earliest widespread flowers of the spring. Other names for this month's celestial body include the Full Sprouting Grass Moon, the Egg Moon, and among coastal tribes the Full Fish Moon, because this was the time that the shad swam upstream to spawn.
(Farmers Almanac)

Full moons can cause heightened emotions, be mindful of purging and releasing anything from your life from a place of centered awareness, compared to releasing to clear out something this is trying to bring you a new level of insight.  Allow yourself to feel it fully, bringing it fully through the experience before letting it go. If there is resistance to feeling the experience more deeply, this may be an indicator you are rushing through and forcing the clearing instead of fully embodying the available wisdom. Honor your needs and discover a process for releasing in a manner that feels in alignment for you, know this process can shift with the various energy each full moon brings forth.

As spring approaches, new ideas, insight, and energy is born. Use this energy as fuel to find the vibrancy of life that was in hibernation during the winter months. Bring a fresh perspective into this month, be aware of what you "know" and how that can inhibit new ways of seeing the world around you. New passions and gifts can emerge from the fresh soil that has been tilled from the emotional work you have done over the last few weeks. Abundance will rise in various ways also, be aware and have gratitude for everything ounce of it, even if what you are asking for has not yet arrived or is seemingly trickling through.
Spring cleaning can help move the energy and you will feel guided to clear your space naturally. You may feel guided to begin dusting, moving furniture, and releasing objects to a new home. Fresh flowers in your home or office can remind you of the delicacy of life, honoring the change of the season, turning a new leave, and the abundance of beauty through nature. As you clear and clean your space, remember to do so with presence, do not rush through the process, as a full moon can sometimes cause erratic behavior that we can sometimes regret later. If you can release everything with love and blessings, you will be sure to shift into new experiences, releasing patterns and cycles that have brought value.


"Good luck is opportunity meeting preparedness."
~ Deepak Chopra
 
Tips for April 11th Full Moon in Libra:
 
            This is a month for new opportunities, and simultaneously to become mindful of previous patterns. Do not let the ego get in the driver's seat when it comes to major decision making. Take chances from a grounded place, let go of the need to rush or to move through experiences with a sense of urgency. When this occurs, it is a trick of the ego, fooling you by minimizing the depths of your feelings and your ability to be with them. Ignoring or suppressing is not an option at this time, full moons will always illuminate deeper emotions within the subconscious mind, and this time it will be hard for you to ignore. This is a gift, another one of the opportunities presenting itself for healing and transformation.
 
 Ways you can allow this Full Moon to support you:
Find out when the moon rise is in your city by going here: http://www.timeanddate.com/moon/
Find a place where you can see or sense the energy of the full moon. Preferably a comfortable position with the moon in sight. If you can sit outside, on the earth for this exercise you may notice a larger shift.
Have your journal, or a piece of paper and writing instrument nearby. The full moon is the feminine aspect of our being, she can help release and reveal all things ready to find a way to the surface.
Practice deep breathing: inhale slowly to the count of five, hold the breath for the count of five, then release the breath slowly for the count of five. Repeat this for five to ten breaths.
Imagine, dropping deeply into your body, and feeling the earth beneath you, supporting you. Feel the moon above you, illuminating your heart and subconscious desires.
On your paper, write the number 1- 5 with some space in between each line.
Now, ask your spirit, who around you is in need of compassion, love, or forgiveness? Take a moment to listen, and feel with all of your senses. Next to number one, write down whomever surfaces for you, and try not to judge it…. especially if it is not making sense right away.
Complete by writing out the next couple of lines, each one a different person.
Spend a few moments visualizing or imagining each person healed, whole, and complete. Trust that your efforts are being realized on a soul level and for the highest good of each individual.
If you feel guided, you may safely burn the paper to transform the energy and bring it into the light.
**Reminder: each full moon will impact you for up to 3 days prior to the full moon and 3 days after the full moon.
Full moons are always powerful times for releasing and letting go. Try creating your own ceremony or honoring of this time to embrace the energy that this time has to help you create space in your life for what you truly desire. As always remember, you are not alone in experiencing this phase, be mindful of this when encountering others over these next few days. Send them love as they are also shining a light on themselves and may be extra sensitive during this time. The next full moon is in the sign of Scorpio on May 10th, it is known as the Full Flower Moon.
Melissa Corter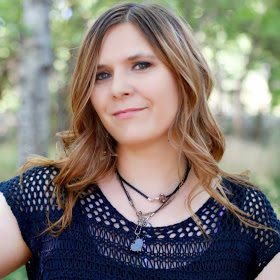 Melissa Kim Corter is the creator of Earth Moon Medicine, Soul Artistry™ and is a Certified Hypnotherapist and Shamanic practitioner certified in Elemental Space Clearing™, Gateway Dreaming™, and over 20 other healing modalities. She helps clients release fear & clear away the emotional clutter from their life experiences. Through various modalities coupled with her heightened intuition, she connects with your spirit for expanded truth and guidance on how to shift limiting beliefs. The earth, moon, and elements have been a channel for deeper levels of healing and connection for Melissa, stirring a passion within her to teach others to embrace the natural world.
One of her renowned gifts is taking people into deep levels of relaxation through guided meditations and Hypnotherapy, projecting her voice to take you on a peaceful and transformational soul journey.
Melissa offers private and group sessions to help you shift energy and perceptions to create change. For more information on spiritual guidance & Hypnotherapy sessions you may go here: http://melissacorter.com/spiritualguidance/
Capture@melissacorter.com
www.melissacorter.com