Join Sunny Dawn Johnston & her team on a Western Caribbean cruise
April 18 – April 25, 2020
"We are made of stars. We are a way for the universe to know itself."
These are the evocative words of famous astronomer, astrophysicist and astrobiologist Dr. Carl Sagan. I first heard them 20 years ago, and I've never forgotten them.
They are a constant reminder of the extraordinary power and unwavering life force that inherently live within you, me, and all living beings.
Yet as we grow and experience life, we undergo some level of societal influence that clouds our perception of self.
External circumstances and events often bring density to our lives, prompting us to subconsciously create layers of internal defense mechanisms. These patterns take us off track and eventually cause us to forget our innermost truth…
That each of us is and will always be the magnificent expression of steadfast life, light, and love in their purest forms. And our capacity to overcome, grow, and thrive is far greater than what we are able to perceive.
But how do we dismantle those internal walls, peel away those self-limiting, protective layers and open the doors to full remembrance of our innate Universal power, nature, and wisdom?
Yes, Sunny! I Need A Dose of Vitamin Sea!
"Part of our being knows where we came from. We long to return. And we can, because the universe is also within us."
American astronomer, cosmologist, astrophysicist, astrobiologist, author
Historical Practices Still Heal
After Centuries and Generations, Ancient Antidote Still Heals
For centuries, doctors, therapists, and healers across cultures and languages turned to the proven powers of natural elements to heal and restore our physical, mental, and spiritual bodies back to their original state.
Medical and health professionals from all walks of life would actually prescribe sun and/or sea therapy for specific amounts of time to treat and cure ailments, diseases, and deficiencies.
Both science and medicine have researched and proven nature's ability to:
This seeming phenomenon is the result of negative ions, my friend. And they are essential to maintaining internal vitality and a healthy immune system.
You've likely experienced the benefits of negative ions without even realizing it.
Have you ever noticed how a simple walk outside helps clear your mind?
Maybe you breathe deeper and adopt a more relaxed state while watching waves crash ashore?
Perhaps the tension lifts from your shoulders or neck as you glare at the sunset?
And the fresh earthy scent after rainfall stimulates your senses and lifts your mood?
That is the power of these naturally occurring supercharged atoms, which can only be accessed in nature.
When we immerse ourselves in high concentrations of these purifying particles, by being at the ocean or beach for an extended period of time, true miracles of transformation happen—without intention!
And when we gather with like-hearted souls in such an energizing environment—and connect and celebrate the universal beauty of oneself, each other, and the planet's natural bounty—the healing amplifies and lasts.
So, if your soul has been yearning for something different, there's no coincidence that you are reading these words, my friend.
Are you ready for a unique, FUN, and therapeutic way to guide your mind, body, and spirit back to their natural state of wholeness?
Then join me for a once in a lifetime healing experience at sea!
Yes, Sunny! I Am Ready to Heal and Play at Sea!
"There are moments when all anxiety and stated toil are becalmed in the infinite leisure and repose of nature."
American essayist, poet, philosopher
For seven fun-filled, soul-nourishing days, we will sail across breathtakingly pristine waters to the Western Caribbean on a Carnival Cruise while reaping the endless benefits of nature's most purifying detoxifiers.
As the sun, sea, sand, starlit sky, and island breezes neutralize and revitalize your body at the cellular level, serenity and rejuvenation of the mind and spirit are imminent as you experience:
During your 7-day cruise, we'll visit the ports of Montego Bay, Grand Cayman, and Cozumel, where picturesque beaches, colorful marine life, stunning coral reefs, and dynamic cultures captivate and inspire you at the core.
The life-changing learning and healing you will undergo during this memorable spiritual retreat will be complemented with just as much energizing play, fun and relaxation, my friend. And it is my honor to be your guide through it all during the days we are sailing together.
Yes, Sunny! I Can't Wait to Set Sail and Heal With You!
"Everybody needs beauty as well as bread, places to play and pray in, where nature may heal and give strength to body and soul."
Scottish-American naturalist, author, environmental philosopher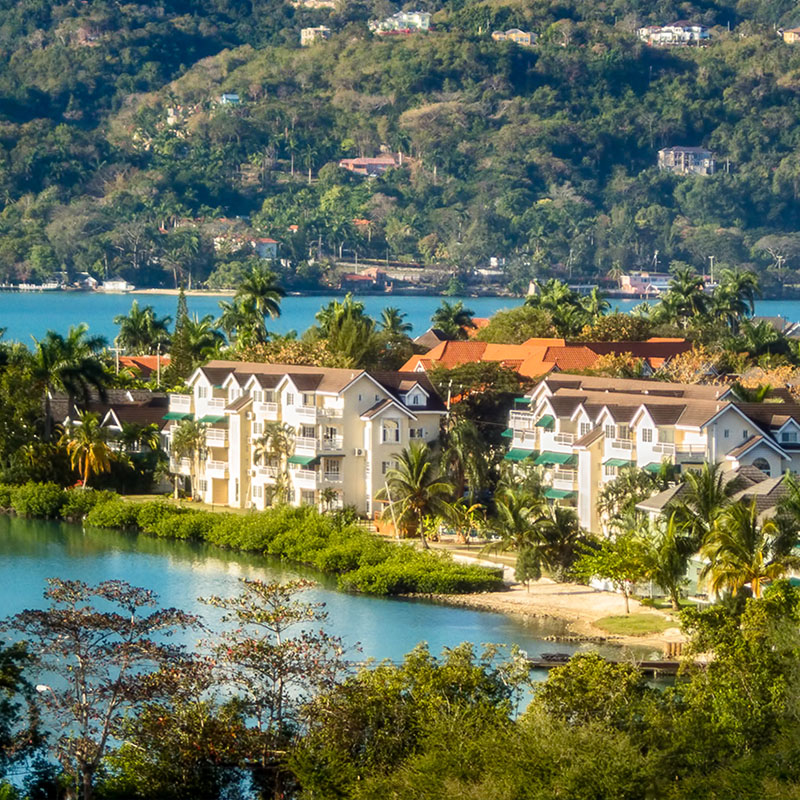 Enjoy The Pace of Island Life
Your first stop on your Caribbean excursion is Montego Bay, where lots of fun and sun await your arrival.  Jamaica's second largest city boasts the island's most scenic views, calm waters, and white sandy beaches, which are known to have therapeutic effects. Mostly all who visit Montego Bay are called to relax near its breathtaking coastline and bask under the sun with a refreshing tropical cocktail or tiki drink in hand.
Montego Bay is also known for its historic caves used during WWII, the mysterious Rose Hall Great House, which overlooks the bay, the vibrant 'Hip Strip' of Gloucester Avenue where art galleries, eateries, and shops abound, and many other sights and landmarks that tell this famous island's story.
Grand Cayman,
Cayman Islands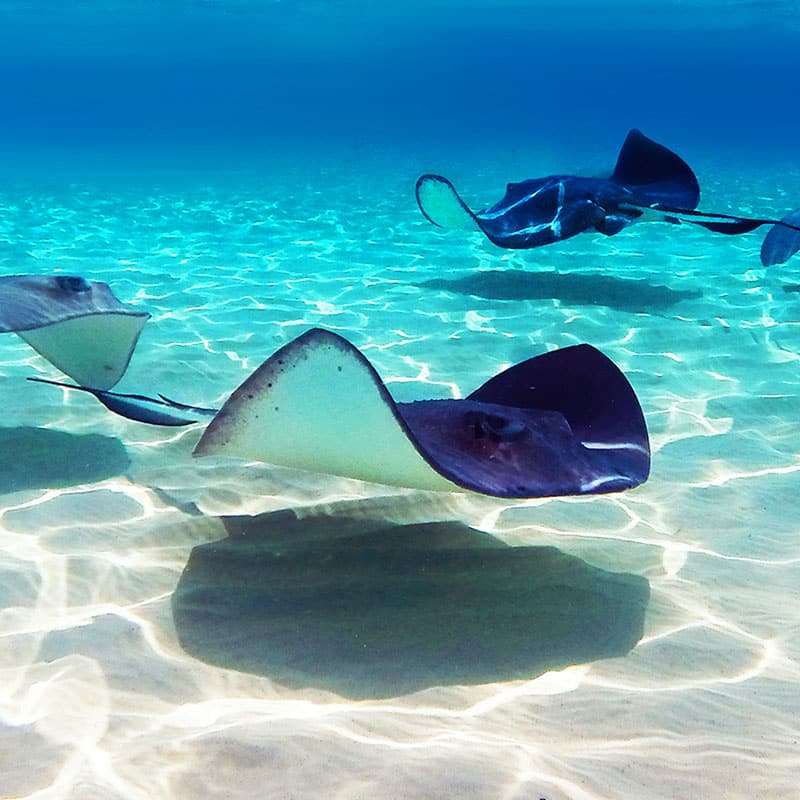 Resident Stingrays, Turtles (and more) Await Your Arrival...
Grand Cayman is widely known for its tropical diving. After all, it's where Caribbean diving started! Cruises to Grand Cayman bring you directly to the best scuba diving in the kaleidoscopic Cayman Islands. If you're ready to play, you'll want to explore ocean life by getting up close and personal with the resident stingrays and turtles. This memorable underwater interaction is why beach-goers and nature lovers rank cruises to the Grand Cayman as the best in the Caribbean.
Grand Cayman also hosts some of the most popular and fascinating Caribbean attractions, including the famous Seven Mile Beach—a public property that stretches past all the hotels, resorts, and public beach bars—the Cayman Islands National Museum, Rum Point, Cayman Turtle Farm, and the historic two-mile Trusts Mastic Trail.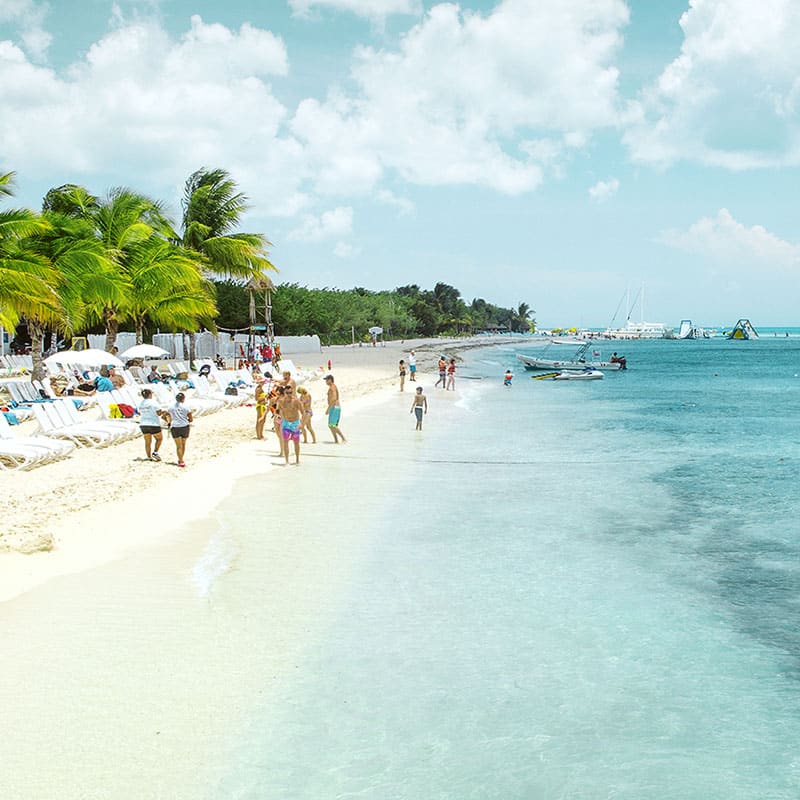 Snorkel, Scuba, Swim, Sight-See...
Cozumel is proof that Mexico can do 'island flavor' with the best of the Caribbean. It may not be the biggest island in the sea, but Cozumel offers a vast variety of things to do, see, taste, and explore. This island happens to be perched atop a coral reef, which promises hours of snorkeling or scuba diving fun. Cruises to Cozumel dock at the island's heart, minutes from San Miguel's seafront shops and the white sand beach at Chankanaab National Park.
Drift among star corals and sea fans on a Cozumel diving excursion or kick back on the beach beneath your own palm palapa as the turquoise waves roll in. With non-stop zip line action, ancient discoveries at the nearby Mayan ruins, or time spent with your toes in the sand, Cozumel may just top your best cruise trips list… before you even get home.
Pricing – Registration Details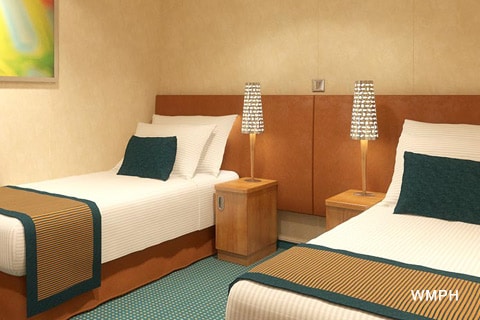 $599 per person
based on double occupancy
All cabins per person have an additional $98.52 in port taxes. The cruise price includes meals, accommodations, and entertainment on-board the ship. Prices quoted do not include Sunny's workshop fee, alcoholic beverages, or optional shore excursions.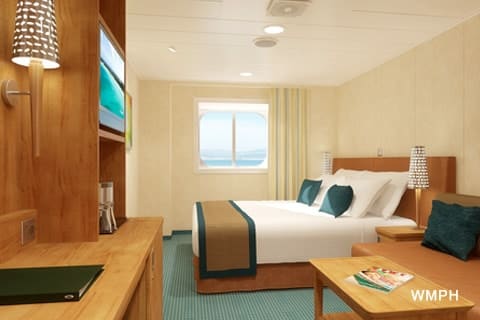 $759 per person
based on double occupancy
All cabins per person have an additional $98.52 in port taxes. The cruise price includes meals, accommodations, and entertainment on-board the ship. Prices quoted do not include Sunny's workshop fee, alcoholic beverages, or optional shore excursions.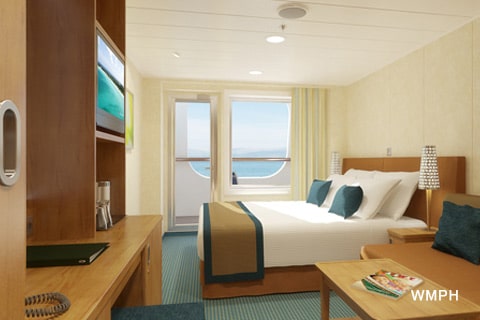 $919 per person
based on double occupancy
All cabins per person have an additional $98.52 in port taxes. The cruise price includes meals, accommodations, and entertainment on-board the ship. Prices quoted do not include Sunny's workshop fee, alcoholic beverages, or optional shore excursions.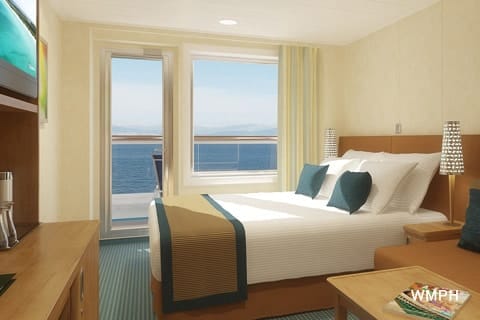 $969 per person
based on double occupancy
All cabins per person have an additional $98.52 in port taxes. The cruise price includes meals, accommodations, and entertainment on-board the ship. Prices quoted do not include Sunny's workshop fee, alcoholic beverages, or optional shore excursions.
The quoted cruise/cabin prices do not include the cost of enrollment for my workshops. My onboard workshops require separate registration, which you can do right here.
A set number of discounted cabins for my retreat have been blocked off and range from inside cabins for $599 per person (based on double occupancy) to balcony cabins for $969 per person (based on double occupancy). Prices quoted DO NOT include port taxes and transfers to and from the airport.
Some cabins can accommodate 3-4 passengers. Please reach out to our cruise specialist, Jerry Miner (details below), for pricing on the 3rd or 4th guests (which will be cheaper than guests 1 & 2). Please note: If you choose single occupancy for a cabin, you will pay twice the cost listed as prices shown are based on double occupancy. Cruise lines assume each cabin will have 2 people and don't offer discounts if you want a cabin to yourself.
The cruise price includes meals, accommodations, and entertainment onboard the ship. Prices quoted do not include fees for my workshops, alcoholic beverages, optional shore excursions, port taxes, transfers to and from the airport, or travel insurance, which is highly recommended. You will need a US passport for this cruise with a minimum of 6 months left before expiration.
A deposit of $250 per person is required at the time of booking. Final payment is due no later than February 1, 2020. If you choose to cancel prior to February 1, 2020, you will be refunded your deposit less a $50 processing fee. Cancellations after February 1, 2020, are non-refundable, unless you've purchased travel insurance. The $111 workshop deposit is non-refundable.
To register for the cruise with our travel guru, Jerry, click here.
| Day | Port | Arrive | Depart |
| --- | --- | --- | --- |
| Day 1 | Galveston, Texas | | 4:00pm |
| Day 2 | Sun, fun, shows and workshop time with Sunny | TBA | TBA |
| Day 3 | Sun, fun, shows and workshop time with Sunny | TBA | TBA |
| Day 4 | Montego Bay, Jamaica | 8:00am | 5:00pm |
| Day 5 | Grand Cayman, Cayman Islands | 7:00am | 3:00pm |
| Day 6 | Cozumel, Mexico | 9:00am | 5:00pm |
| Day 7 | Sun, fun, shows and workshop time with Sunny | TBA | TBA |
| Day 8 | Galveston, Texas | 8:00am | |
Yes, Sunny! I'm Ready to Cruise Into Healing Fun!
"The key to nature's therapy is feeling like a tiny part of it, not a master over it. There's amazing pride in seeing a bee land on a flower you planted — but that's not your act of creation, it's your act of joining in."
English writer, presenter and professional poker player
Exclusive Workshops To Enhance Your Experience...
In addition to our days of fun in the sun, you will have the option of joining my team and me for a total of 10 hours of intimate and exclusive workshops as we sail to and from the Western Caribbean.
My approach to teaching is organic and in the moment, so topics and themes will be determined by your needs and those of the group. Each lesson and offering co-created will cleanse and liberate the mind-body-spirit and enable you to receive nature's healing magic and magnificence at the deepest level possible. Because your voice will shape the nature and outcome of this wellness retreat, these workshops will be unique unto this group and will likely never be offered again.
A large part of your personal healing experience during our three days at sea will be what I call "A Journey To The Heart." This sacred process allows you to safely and openly explore areas in your life that have prevented you from knowing that you are, and will always be, a magnificent expression of steadfast light and love in their purest forms.
You will also learn the true meaning of unconditional love and how to express the freedom that comes with embodying it. Plus you will unearth the extraordinary power you possess when you realize that love is life's only driving force and it truly never ends.
Each day and every night, we will connect, heal, laugh and play as I lead the way to promote optimal health and wellness, spiritual growth, and harmony in your life. My incredible team will be present and by your side to deliver that extra boost of love, guidance, laughter, and support that keeps you uplifted and on track.
NOTE: I will be available for a limited number of psychic readings and angel readings during the sailing days. If you are interested in a personal reading, please check the box in the registration form to be contacted regarding your interest.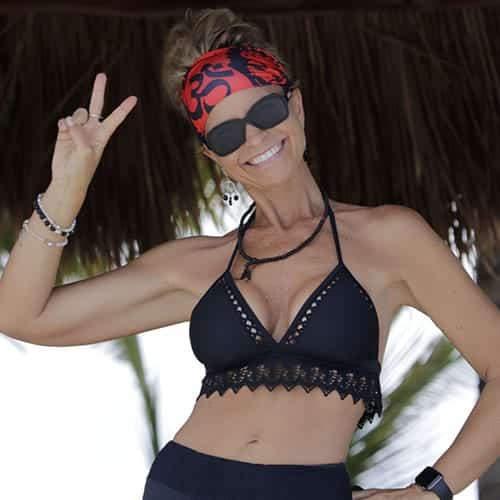 Bestselling Author, Psychic Medium, Angel Communicator, Spiritual Activist
Sunny Dawn Johnston is a bestselling author, acclaimed inspirational speaker, psychic medium, angel messenger, and spiritual activist. For almost two decades, she has touched audiences worldwide through her courses, workshops, readings, live events, talks, and books, including her flagship bestsellers, "Invoking the Archangels" and "The Love Never Ends." Dedicated to helping others achieve mind-body mastery and spiritual enlightenment, thousands who have experienced Sunny's tireless work have referred to it as life-changing and liberating. She resides in Glendale, Arizona with her loving family and a strong network of friends.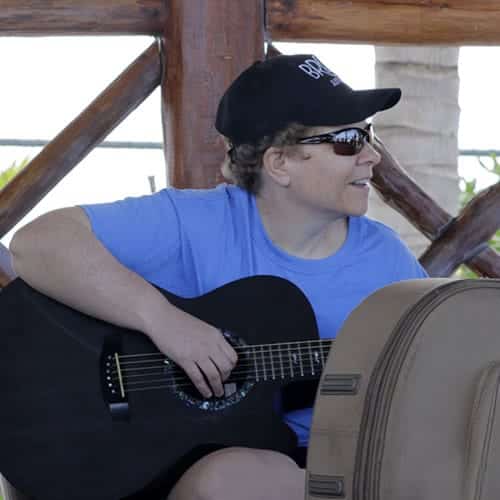 Soul Musician – Web Goddess/IT Gal
Kris is a soul musician whose music awakens the Spirit to a new level of awareness. Believing that there is a great need for music that supports higher consciousness and personal empowerment, Kris' distinct melodies and soul-soothing arrangements allow you to access and ignite your greatest potential and dream the dreams of your inner self. Through her music, Kris offers hope and inspiration, and her lyrics and melodies resonate with you long after a performance has ended.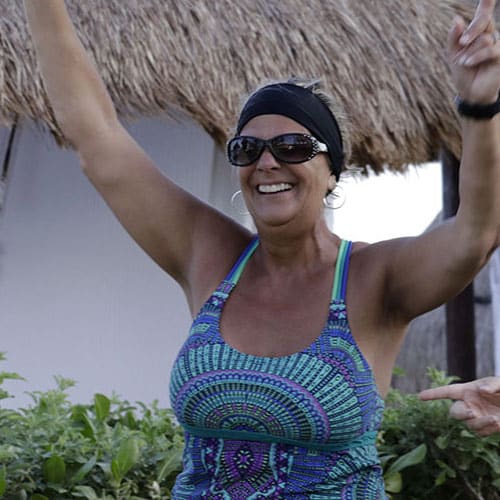 Sunny's Right Hand Gal – Yoga Instructor
Robin is an administrative assistant and healing contributor for Sunny. In addition to scheduling Sunny's appointments, managing class registrations, addressing customer service requests, facilitating emails and phone calls, assessing scholarship inquiries, and performing bookkeeping, Robin leads Yoga classes for Sunny's events and is always first to warmly welcome all who attend Sunny's live events.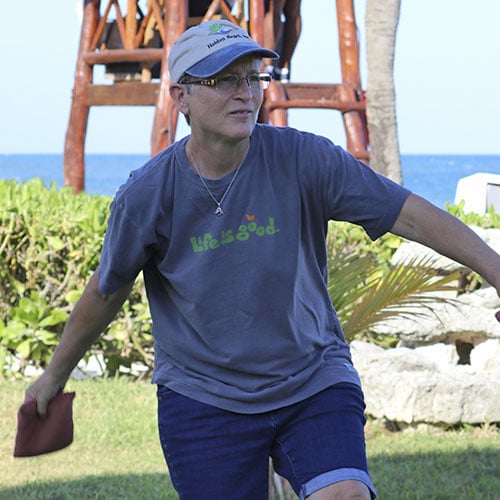 Massage Therapist – Big Ben/Task Master
Deb is a licensed massage therapist at the Sunlight Alliance Healing Center who joined Sunny's Healing Team in 2006 along with her wife Kris Voelker. Deb combines her unique healing touch with her playful spirit and her Virgo attention-to-detail in an attempt to provide some time management and structure to the otherwise free-flowing pace of Sunny's events.
Yes, Sunny! I Want To Celebrate My Spirit At Sea With You & Your Team!
Diana Cupp
I love traveling in general and traveling with Sunny and her crew just amplifies all of that.
Eli Harvala
Kissed a sting rays tail for 7 years good luck.
Staci Lee Mitchell-Randall
I've had a great time and learned a lot.
Vicki Martinelli
It's my first cruise and it has been a wonderful experience.
"There are as many atoms in a single molecule of your DNA as there are stars in the galaxy. We are, each of us, a little universe."
American astrophysicist, author, and science communicator
Our Cruise Specialist …
Our cruise specialist, Jerry Miner, will take care of all of your cruise-related questions and your registration for the cruise part of our adventure. Once you have registered with him, he will personally ensure that you are registered with Carnival for the special group rate. Upon registering on his website, you will be required to make a $250 deposit per person.
You must register with him here.
Once you register with Jerry, you will need to register
on my official site
for the workshops.
The $111 workshop deposit is non-refundable.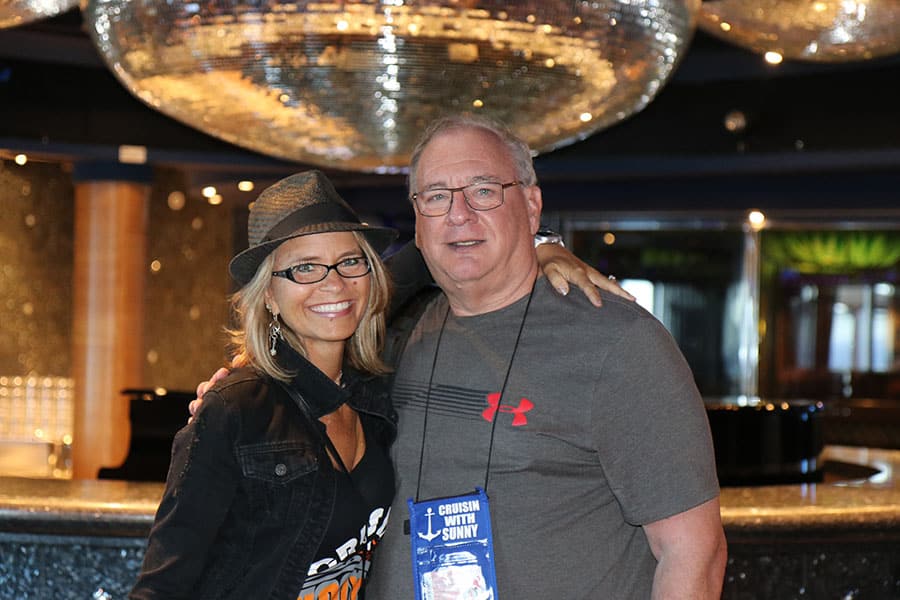 "What is the good of your stars and trees, your sunrise and wind, if they do not enter into our daily lives?"
English novelist, short story writer, essayist and librettist